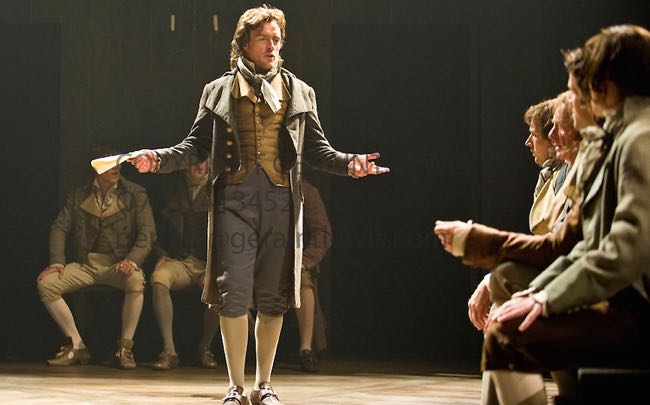 By Ray Bennett
LONDON – A guillotine towers over the stage at the end of the National Theatre's production of "Danton's Death" as several French revolutionaries are executed. It's a terrific illusion and it's just a shame no blade was applied to the play's many repetitive grandstanding speeches that precede the event.
Written in 1835 by Georg Buchner with a new version by Howard Brenton, the play's barrage of self-righteous bombast makes it no wonder that most of the real-life figures ended up losing their heads, although their tongues would have been sufficient.
Director Michael Grandage does his best to keep the plot moving from the discovery that the revolutionary leaders in France are instituting terror to support their coup to the inevitable death of the former allies who oppose them.
He is saddled, however, with a series of scenes that come to look and sound alike in which men declaim noisily their fealty to freedom, enthusiasm for libertarianism, and willingness to die for their beliefs. The essence of the conflict between individual and state gets lost in the clamorous shouting.
With never more than a dozen or so other people onstage, each of the principals is nonetheless required to raise his voice to the rafters and invoke the sky, the moon and the gods in an increasingly hysterical array of egregious similes that ultimately provoke mirth.
Set in 1794, the core of the play is the confrontation between two revolutionaries: George Danton (Toby Stephens, pictured), a lusty Byronic libertine who loves life a bit more than he loves the idea of a noble death, and Robespierre (Elliot Levey), a stringently pious and self-contained individual who argues that "vice must be punished, virtue must rule through terror."
Stephens is suitably handsome and swaggering as Danton, who loves his wife (Kirsty Bushell) and the accommodating whore Marion (Eleanor Matsuura), and loves his friends and his freedom too, but loves nothing so much as the sound of his own voice.
Levey is properly stiff and fussy as Robespierre, and he uses economy of speech and manner to portray a man who is wound up altogether too tight to run a revolution without sooner or later ending up with his own head in a basket.
The other male characters tend to blur and it's the women who are most impressive. Bushell captures nobility that's less obvious in her husband, and Matsuura embodies the earthly pleasures that Danton so casually casts away.
The talky production has a handsome look thanks to Christopher Oram's twin-levelled set and the play comes in at less than two hours without an interval. It's tough on the ears, though, and a long wait for the eye-popping, head-lopping finish.
Venue: National Theatre, runs through Oct. 14; Cast: Toby Stephens, Elliot Levey, Kirsty Bushell, Eleanor Matsuura, Barnaby Kay, Alec Newman; Playwright: Georg Buchner, in a new version by Howard Brenton; Director: Michael Grandage; Set designer: Christopher Oram; Lighting designer: Paule Constable; Music and sound: Adam Cork.
This review appeared in The Hollywood Reporter.