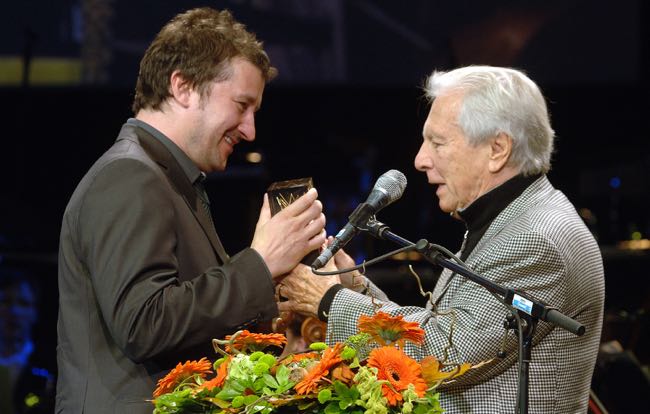 By Ray Bennett
GHENT, Belgium – "This is really great, fantastic," said British composer Clint Mansell as he struggled for words when he accepted his World Soundtrack Award  for best original score from three-time Oscar-winner Maurice Jarre. "Speak up, son," encouraged his retired business analyst father in the audience.
Mansell said later that he had been overwhelmed to receive the award from Jarre ("Lawrence of Arabia," "Dr. Zhivago," "A Passage to India"). He was a double winner for his music in Darren Aronofsky's "The Fountain" at the 7th World Soundtrack Awards presented here on Saturday as he also won the Public Choice Award.
France's Alexandre Desplat was named film composer of the year for scoring "The Queen" and "The Painted Veil" and David Arnold picked up the best original song award for "You Know My Name," written with Chris Cornell for the James Bond film "Casino Royale."
Greek legend Mikis Theodorakis ("Zorba the Greek") was given a lifetime achievement award while Daniel Tarrab and Andres Goldstein shared the Discover of the Year prize for their work on "XXY" and "Inheritance." The award for best young Belgian composer prize was awarded to Werner Viaene for "Belgium, the Movie" by Wim Robberechts.
When he won the Public Choice prize, Los Angeles-based Mansell, a former rocker with the band Pop Will Eat Itself, thanked Aronofsky for giving him the chance to write film music on "Requiem for a Dream" (2000) and the Kronos Quartet and the band Mogwai for performing his score. He thanked the orchestra: "When I think of all the man-hours they have put in to make me look good, it makes me very grateful."
The self-effacing composer from Britain's midlands seemed genuinely surprised when his name was later called for the best soundtrack prize as he triumphed over Mychael Danna for "Little Miss Sunshine," Philip Glass for "Notes on a Scandal," Harry Gregson-Williams for "Shrek the Third" and David Shire for "Zodiac."
Desplat was not on hand to accept his award as he is in London scoring Chris Weitz's upcoming fantasy adventure "The Golden Compass." In a video message, he thanked the directors of his films, Stephen Frears and John Curran, and praised the French composers who had inspired him, especially Jarre and Georges Delerue. Accepting the award for Desplat from Flanders International Film Festival chief Jacques Dubrulle, Jarre chided the absent winner: "Promise me next time you will be here!"
Theodorakis also sent a video message in which he said he was sending lifelong friend and collaborator, Turkish composer Zulfu Livaneli to accept his award. The two work hard in the cause of Greek and Turkish friendship and Theodorakis said Livaneli's appearance was intended to be symbolic of their work.
Livaneli praised his Greek colleague for using "his work, his art and his life to contribute to peace in the world."
Goldstein and Tarab said they shared their Discovery prize with "the great team in Buenos Aires that work with us," and Tarab added: It is overwhelming to be here among so many composers that I respect and admire so much."
The awards ceremony, hosted by Belgian Television film critic Roel Van Bamboost and British broadcaster, concert promoter and documentary filmmaker Tommy Pearson, featured performances of film music by Theodorakis, Mychael Danna, Harry Gregson-Williams, Evanthia Reboutsika, and Jeff Neve.
The WSA celebrations came at the close of 34th edition of the Flanders Film Festival. Awards in that event, handed out earlier, went to Stefan Ruzowitzky's "The Counterfeiters" for best film; Roy Anderson's "You the Living" for best music, and Tamara Jenkins's "The Savages" for best screenplay. Saverio Constanzo was named best director for "In Memory of Me" and actors Saleh Bakri and Ronit Elkabetz won a special mention from the jury for  "The Band's Visit". Kathleen Turner headed the jury at the festival, which ran Oct. 9-20.
A version of this story appeared in The Hollywood Reporter.
Here's more on the Flanders International Film Festival and the World Soundtrack Awards, and Mansell