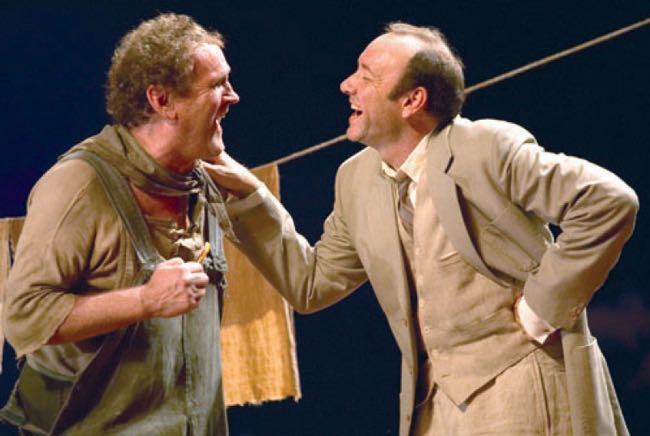 By Ray Bennett
LONDON – The Old Vic's revival of Eugene O'Neill's 1947 drama "A Moon for the Misbegotten" is a powerful demonstration of how superlative acting – in this case by Kevin Spacey, Eve Best and Colm Meaney  – can elevate a flawed play so that the whole thing resembles a masterpiece.
The story is of a mismatched couple who on one moon-spangled night finally cut through the false images they present to the world and each other to find deep but transitory solace.
The characters are rooted in Irish romantic fatalism and the stereotypes of a self-loathing poet and a long-suffering earth mother. Their desperate loneliness and longing are universal but O'Neill's mournful indulgence of weakness and obstinacy is illuminated on stage by the passionate humanity invested in them by Spacey and Meaney (pictured top) and Best (pictured with Spacey below).
Irish coot Phil Hogan (Meaney) has buried his wife and driven off his three sons with his hard ways. Only daughter Josie (Best) remains and that is due largely to the fact that she is tougher and more ornery than her father.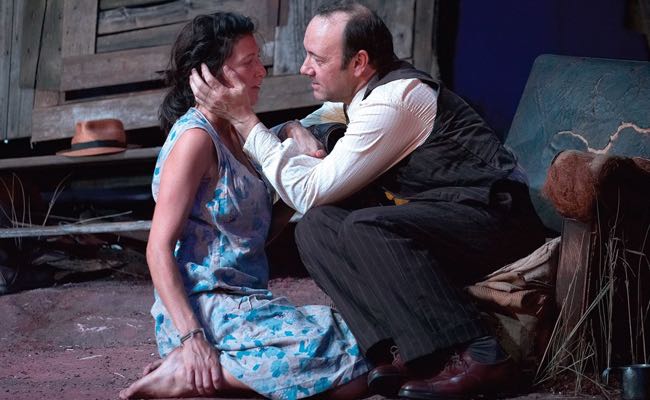 Their landlord is a loquacious traveler and sometime actor named Jim Tyrone (Spacey), who spends his inheritance on drunken Manhattan frivolity but stops by now and then to engage in fierce banter with Hogan and to flirt with his daughter.
Never without a drink, Tyrone claims to find the rough and ready Josie, who boasts of her easy way with men, the most beautiful woman in the world. Josie harbours a great love for the wastrel but she buries her feelings beneath the pretense that she is too hard-bitten to care.
When father and daughter humiliate their rich neighbour, T. Stedman Harder (Billy Miller), he seeks payback by offering a fortune to buy the land from Tyrone, who has promised never to sell it except to the Hogans.
Outraged, Josie joins in a plot to seduce Tyrone and cause a public scandal in order to blackmail him into giving them both the land and the money that Harder has offered.
The clunky plot and motivation in all of this does not bear close inspection but they are merely pegs on which O'Neill hands his story of self-deception and compassion with some gorgeous words and phrases to light the way.
Spacey wears Tyrone's defeat like a whiskey-soaked suit. He spurns the obvious temptation to be lyrically Irish and shows instead the ruin of a man too far gone to save himself. Best in no way resembles O'Neill's description of Josie as being "so oversized for a woman that she is almost a freak" and so she takes as her guide another of the author's phrases: "the map of Ireland is stamped on her face." With breathtaking simplicity, she inhabits a character whose inner strength emerges only when she sets aside the carapace of denial.
Meaney anchors the story of the two younger walking wounded. He commands the stage as Hogan and finds the humour in the man's bluffness and the sadness in his jokes.
Director Howard Davies deserves some credit for these three extraordinary performances and the look and feel of the production. Bob Crowley's atmospheric design, Paule Constable's subtle lighting and Dominic Muldowney's bluesy music similarly are first-rate.
What begins as a folksy tale that threatens a cup full of blarney ends up as a deeply moving drama that brims with emotion and fortitude; made unforgettable by actors at the peak of their powers.
Venue: The Old Vic, runs through Dec. 23; Cast: Kevin Spacey, Eve Best, Colm Meaney, Eugene O'Hare, Billy Carter; Playwright: Eugene O'Neill; Direcyor: Howard Davies; Designer: Bob Crowley; Costumes: Lynette Mauro; Lighting designer: Paul Constable; Music: Dominic Muldowney; Sound: Christopher Shutt; Presented by the Old Vic, Elliot Martin, Nica Burns and Max Weitzenhoffer.
This review appeared in The Hollywood Reporter.