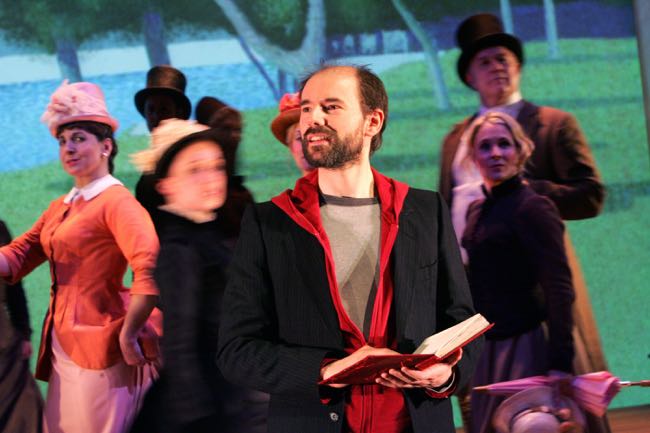 By Ray Bennett
LONDON – Sometimes it requires an impeccable production to reveal the true beauties of a difficult show and Stephen Sondheim's "Sunday in the Park with George" has that in the wonderful Menier Chocolate Factory staging now at Wyndham's Theatre in the West End.
The revival is a delight to both eye and ear as Sondheim's ambition to meld his music with the artistry of Georges Seurat's sublime paintings is fulfilled by director Sam Buntrock and her excellent cast and crew.
The 19th-century neo-impressionist's most famous work, "Sunday in the Park," is presented onstage in a thoroughly convincing way thanks to set and costume designer David Farley and the projection work of designers Timothy Bird and the Knifedge Creative Network.
James Lapine's intelligent book draws together the characters that surrounded Seurat (Daniel Evans, pictured) and show him as not only an artist who marched to a different drummer but also a man who led a solitary life despite the love of the beautiful Dot (Jenna Russell).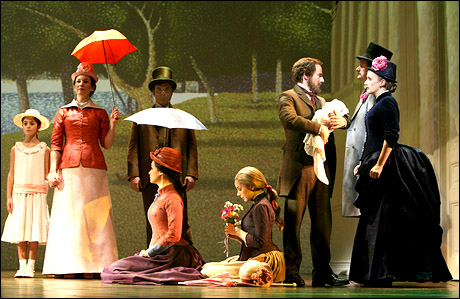 Sondheim's accomplishment is to match his music and lyrics to the very precise pointillist style of Seurat, who rendered people, animals and landscapes in pinpoints that together made images of extraordinary depth and color.
The entire first half of the show is taken up with George choosing the places and figures for his painting, moving back and forth from his studio and the park. Sondheim's songs reveal the obsession that drives the artist and the sacrifices he is prepared to make in the esteem of his fellows in the art world and in his relationships with others, particularly Dot.
The second half is set in the 20th century with Seurat's great-grandson working in new media and still striving to match the great artist's ability to bring a semblance of understanding to unruly life.
So unlikely is it that all of these elements will mesh that the Chocolate Factory's achievement is all the greater. Farley's set design is simplicity itself and yet conveys not only the sharp focus of the artist's studio but also the array of options complicating his work in the park. Farley's costumes provide transport to that island in the river in the Paris of the mid 1880s.
The inspired projection work by Bird and the Knifedge team allow monkeys and dogs as well as human beings to be fully realized as part of Seurat's imagination.
Caroline Humphries' musical direction is sharpness itself while the singing is glorious. Russell uses an accent from northern England that gives a deeper resonance to words such as "Sunday," while Evans is required to deliver some of Sondheim's most inventive lyrics and he does so masterfully and infectious joy.
Venue: Wyndham's Theatre, runs through Sept. 2; Cast: Daniel Evans, Jenna Russell, Gay Soper, Joanne Redman, Simon Green, Liza Sadovy, Alasdair Harvey, Christopher Colley, Sarah French Ellis, Kaisa Hammarlund, Mark McKerracher, Ian McLarnon, Steven Kynman, Anna Lowe, Lauren Calpin, Georgina Hendry, Natalie Paris; Music & lyrics: Stephen Sondheim; Book: James Lapine; Director: Sam Buntrock; Set and costume designer: David Farley; Projection designers: Timothy Bird and the Knifedge Creative Network; Musical director: Caroline Humphries; Lighting designers: Natasha Chivers & Mike Robertson; Sound designer: Sebastian Frost for Orbital. Menier Chocolate Factory production presented by Boyett Ostar, David Babani & Danielle Tarento for Chocolate Factory Productions, Caro Newling for Neal Street Productions, and Mark Rubinstein.
This review appeared in The Hollywood Reporter.