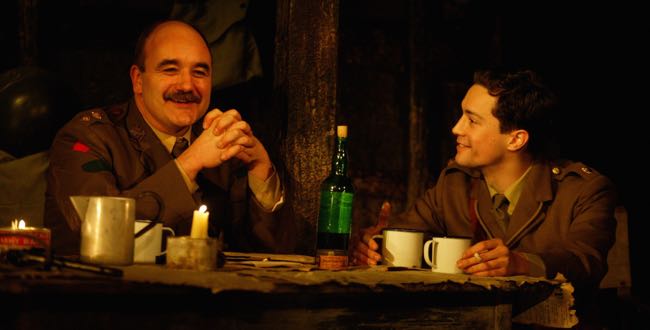 By Ray Bennett
LONDON – That war is hell is not a new theme in the theatre, or anywhere else. That World War I was an especially foul kind of hell is also not new but in R. C. Sherriff's "Journey's End" it is authentic as the play is based on the author's own experience on the front line.
Sherriff was at St. Quentin, France at the time of the Germans' last great offensive of the war. He wrote the play in 1929 and so this revival celebrates its 75th anniversary. His setting is stark, an officers' dugout less than 100 yards from the enemy front line.
In command is young Capt. Stanhope, a gifted winner in all life's races who's been at the front "far too long" and fears he's losing his mettle, steeling it with whisky. Bracing him loyally is the older Lt. Osborne, known as uncle, whose stalwart bonhomie steadies the men around him, especially Stanhope, as they await the German onslaught.
Then arrives fresh-faced young 2nd Lt. Raleigh who not only hero-worshipped Stanhope at school but also is the brother of the captain's fiancé. Terrified that Raleigh will portray him to his sister as a drink-sodden wreck, Stanhope fights the impulse to put the younger man in harm's way while at the same time threatening at gunpoint another officer he believes is malingering due to cowardice.
The tension ramps up when the company is ordered to make a raid behind enemy lines in order to bring back a prisoner to be interrogated ahead of the coming offensive. Two officers are to lead the raid.
This was a war of cruel paradoxes and astonishing bravery to achieve worthless ends – to win patches of land that would be abandoned a week later. The soldiers were "the men" and officers were "chaps" who everyone knew would "put on a good show." The men lived in watery, rat-infested trenches. The chaps had cots in the dugout with a servant to cook and make tea. There was whisky and champagne, and when they ran out of a condiment, say pepper, a signalman could be ordered to run down to headquarters to fetch some.
It's stiff upper lip stuff where being shelled every day "tells on a man rather badly," and it's easily lampooned. In fact, Rowan Atkinson's television comedy series "Blackadder Goes Forth" mocked it mercilessly. But here director David Grindley gives it his full respect and so do his actors.
Geoffrey Streatfeild is not quite shockingly young enough for the courageous but shattered Stanhope but he skirts cleverly close to the madness, his ashen features and shell-shocked expressions reminiscent of a young Leslie Howard or Robert Donat.
David Haig brings to the ill-fated uncle both gravitas and a convincing acceptance of a fellow's need to do the decent thing. Christian Coulson (pictured with Haig) is suitably dashing and appropriately dismayed by events as the new young officer and Ben Meyjes is persuasive as the cowardly Hibbert.
Designer Jonathan Fensom's finely detailed dugout set is claustrophobic and unsettling, safe haven promising imminent threat. And Gregory Clarke's sound design is outstanding in evoking the terror outside and at the end the mounting clamor as the bombardment commences.
Grindley freezes his cast at the final curtain as statues in front of a wall of the names of the fallen. The image bears the searing austerity of genuine memorials on the battlefields of World War I, and gives Sherriff's worthwhile play a resonance it fully deserves.
Venue: Comedy Theatre, runs through May 1; Cast: Geoffrey Streatfield, David Haig, Guy Williams, Phil Cornwell, Christian Coulson, Paul Bradley, Alex Grimwood, Ben Meyjes, Guy Williams, Rupert Wickham, Max Berendt, John R. Mahoney, Alex Grimwood; Playwright: R.C. Sherriff; Director: David Grindley; Designer: Jonathan Fensom; Lighting designer: Jason Taylor; Sound designer: Gregory Clarke; Casting: Sam Jones; Fight director: Paul Benzing; Dialect coach: Majella Hurley; Music advisor: Annette Battam; Presented by Phil Cameron for Background.
This review appeared in The Hollywood Reporter.