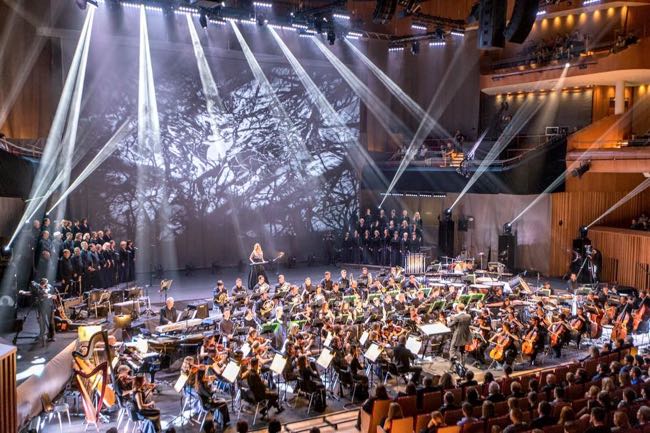 By Ray Bennett
KRAKOW – Powerful, melodic and mischievous, Elliot Goldenthal's music for the productions of his partner Julie Taymor was given full rein at an exhilarating Shakespeare in Concert performance as part of the Krakow Film Music Festival on May 29.
The two of them were on hand along with Oscar-winner Stephen Warbeck and Jocelyn Pook, whose enthralling Shakespeare themes also were performed sublimely by the Beethoven Academy Orchestra and the Choir of the Karol Szymanowski Philharmonic in Krakow, with youthful but commanding conductor Christian Schumann (pictured below).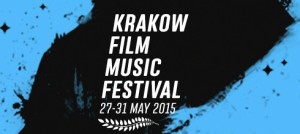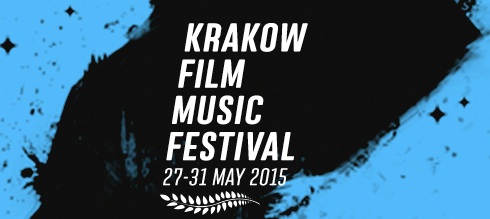 The concert opened with Miklós Rózsa's reverential old Hollywood "Caesar Now be Still" from "Julius Caesar" (1953) followed by Nina Rota's sweetly melodic "Romeo and Juliet Suite" and "Ai Giochi Addio" from Franco Zefferelli's 1968 film and Sergei Prokofiev's "The Montagues & the Capulets" from his 1935 ballet.
Next came Jocelyn Pook's ethereal and operatic themes from Michael Radford's "Merchant of Venice" (2004) and Sara Andon provided an angelic solo for an Ennio Morricone suite from Zefferelli's "Hamlet" (1990).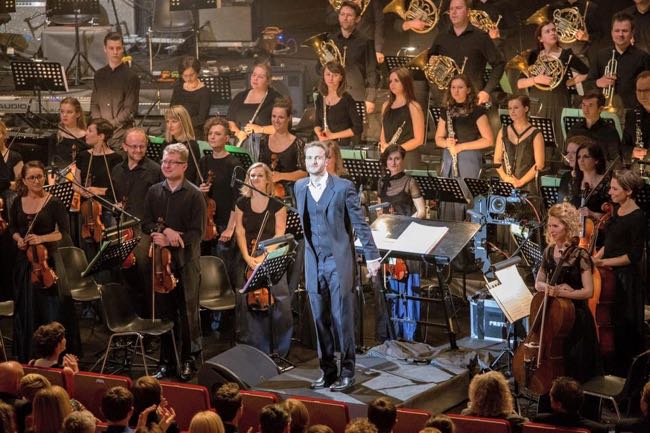 Stephen Warbeck's ruminative and mellow "Henry IV" suite from the BBC miniseries "The Hollow Crown" (2012) led to lush and playful themes from Warbeck's Oscar-winning score for John Madden's "Shakespeare in Love" with Andon on the flute and penny-whistle.
The Choir of  the Karol Szymanowski Philharmonic in Krakow was busy again for Patrick Doyle's lovely "Strike Up Pipers" from Kenneth Branagh's "Much Ado About Nothing" (1993) and the first half of the evening closed with Doyle's humane and inspirational song "Non Nobis, Domine" from Branagh's "Henry V" (1989).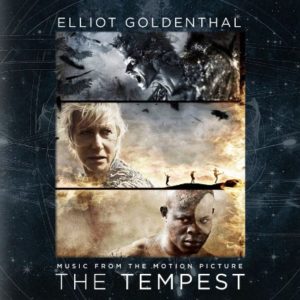 After a break, a trilogy of Goldenthal cues from Taymor's "Titus" (1999) evoked regal power, chaos and terror as dynamic and abrupt chords leapt and dived in unexpected ways. Lilting harmonies would splinter suddenly into dark sonics and erupt sonorously with subterranean tones filled with foreboding.
Reeve Carney, who originated the role of Peter Parker in Taymor's Broadway version of "Spider-Man", sang Goldenthal's profoundly moving songs from "The Tempest" with resonance and purity. Carney (who played Prince Ferdinand in "The Tempest" and is Dorian Gray in the Showtime TV series "Penny Dreadful") sang "Full Fathom Five" and "O Mistress Mine", which Ben Whishaw, as Ariel, sang in the film; and the Coda, which Portishead's Beth Gibbons did in the film.
Two pieces followed – "Carnival Dance" and "Desdemona and Othello Finale" – from the ballet "Othello", directed by Taymor with choreography by Lar Lubovitch. The evening closed with the delightully ragamuffin "Bergamask Dance" from Taymor's upcoming film version of her stage production of "A Midsummer Night's Dream", which won plaudits in its run at the new Polonsky Shakespeare Center in Brooklyn, NY.
The film will screen at the Curzon Soho in London on June 21 with Taymor on hand for a Q&A.