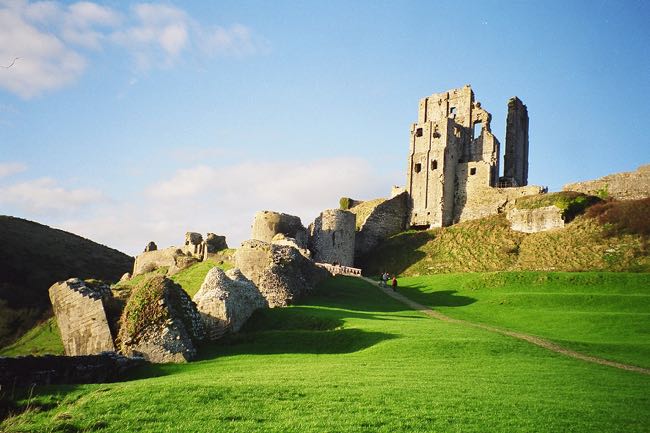 By Ray Bennett
I love London for its astonishing array of arts and entertainment and for the sheer zest of living in the capital, but when I get away I go in search of old stone.
I am enthralled by castles from Tintagel (my photo in the website header) in Cornwall to Corfe (my photo above) in Dorset to Lindisfarne in Northumberland, abbeys from Battle in Sussex to Tintern in south Wales to Dryburgh in the Scottish Borders.
Quoits, dolmens, neolithic burial chambers, earthworks, hill forts, and stone circles appeal to me from Stonehenge and Avebury in Wiltshire to Maiden Castle in Somerset to Wayland's Smithy in Berkshire to Callanish on Lewis in the Western Isles of Scotland and the Ring of Brodgar on Orkney (pictured below).
Thankfully, many of these are protected and preserved by charitable organizations such as English Heritage and the National Trust. Membership of both is invaluable.
Neglect is always a concern however, so it's good news that the British government has introduced a white paper that culture minister Tessa Jowell says will ensure the protection of these priceless treasures for generations to come.
The performing and visual arts require tax support too, but few things are as precious as the old stones of these beautiful islands. Here are the Top 24 sites the government plans to put on a new register of places to protect.
Osborne House, Queen Victoria's favourite retreat on Isle of Wight
Carlisle Castle, Medieval fortress
Stonehenge, Britain's most visited historical monument
Castle Howard, made famous by novel 'Brideshead Revisited'
Kenilworth Castle, among the largest castle ruins in England
HMS Colossus, part of Nelson's fleet
Holland No.5, first British-built prototype submarine launched in 1902 and sunk in 1912 off Beachy Head
London Wall, remains of Roman wall
Winchester Palace, remains of great hall of 13th century palace
Mary Rose, Henry VIII's flagship
Old Sarum, great earthwork site near Salisbury raised around 500BC
Whitby Abbey, ruined North Yorkshire monastery
Eltham Palace, inspired by Hampton Court, set in 19 acres of impressive gardens in southeast London, completed in 1936
Battle Abbey, site of 1066 battle of Hastings
Chesters Roman fort, one of a series of prominent military bases built along Hadrian's Wall
Kenwood House, the 18th century house with grand gardens on London's Hampstead Heath that was featured in 'Notting Hill'
Lindisfarne Priory, important centre of early Christianity in Anglo-Saxon England founded in AD 635 on Holy Island
Iron Bridge Gorge, world's first iron bridge now a world heritage site
Thornborough Henge, prehistoric ritual complex in North Yorkshire
The Jewel Tower, one of only two buildings of the original Palace of Westminster to survive 1834 fire
Whitely Court, Worcestershire country house surrounded by magnificent landscaped gardens