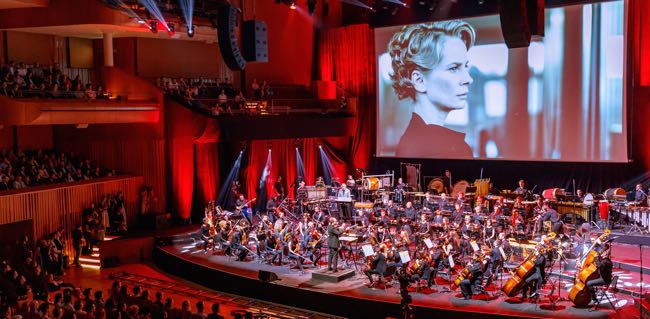 By Ray Bennett
KRAKÓW – The annual Kraków Film Music Festival continues to extend and deepen our appreciation of movie music and the life of film scores after the credits roll. The latest example was an outstanding concert of electronic film music by Americans Cliff Martinez and Joseph Trapanese, Iceland's Jóhann Jóhannsson and Poland's Łukasz Targosz .
The alterFMF Gala: Drone Sounds, in the vast Auditorium Hall at the ICE Kraków Congress Centre on May 27, featured the excellent AUKSO Chamber Orchestra of the City of Tychy conducted mainly by the U.K. maestro Anthony Weeden except when composers took over.
A key question about all film music, but especially the moody and less melodic ambient electronic form, is if it can work without the cinematic images that it informs. Movie clips certainly helped in this concert but also it was easy to close your eyes and become entranced by the mix of ethereal, vibrant and chaotic aural structures. With an array of solo artists on arcane instruments to replicate the composers' synthesized sounds, the harmonics kept the 16,000-member audience enthralled.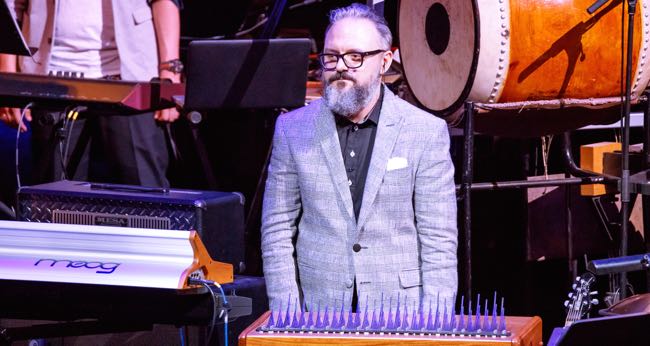 Kraków's Łukasz Targosz (above) set the bar very high with a suite from HBO Poland's political thriller series, "The Pact" and one from Polish director Patryk Bega's 2016 crime movie "Pitbull: New Orders".
Targosz, performing live for the first time in 10 years, played six instruments including keyboards, the Array mbira and a manual typewriter to reflect the journalistic aspect of "The Pact". The suite was a compilation of dark and drone pieces the composer wrote for the first season and the world premiere of cues from the second season.
The new pieces featured four type machines, two tank drums, xylosynth (electronic/MIDI xylophone), taikos, tubulars, bass drums, and anvils along with strings, harps and pianos. It was what Targosz calls "a drone body and an acoustic soul".
Targosz says that he tried to play live as many parts as he could and so he divided multi-voiced arpeggiators between performing musicians. With Robert Kubiszyn on bass guitar, Michał Dąbrówka on percussion instruments, Jacek Tarkowski on synthesizer, he added Görkem Şen's extraordinary Yaybahar, an acoustic instrument with fretted strings, coiled

springs and drum skins."The absolutely acoustic soul of this one-of-a-kind instrument was especially interesting for me," Targosz says.
His suite from "Pitbull" had a hard-rock beginning with baritone electric guitar, some electronic tones and the thrilling Polish singer Ania Karwan, plus acoustic arrangements he prepared for the symphonic orchestra.
Berlin-based composer, arranger and orchestrator Stefan Behrisch prepared the sometimes mesmerising Cliff Martinez suite for the evening, which included music from Nicolas Winding Refn's thrillers "Drive" (2011), "Only God Forgives" (2013) and "Neon Demon" (2016) and his documentary "My Life" (2014).
For the well-received live presentation, under conductor Weeden, Behrisch arranged the composer's completely electronic tones for the full symphonic orchestra with a large percussion section plus electric guitar and two keyboards. He says, "I tried to use the orchestra in unusual ways with contemporary playing in the strings, bows on mallets and so on. It still remained the orchestra and became a mix of modern orchestral sound and electronic. Cliff was super-open. He trusted me and let me do my thing. I sent him a final demo and he was excited about it and happy about it."
Anthony Weeden took the baton again for the closing suites of the programme with Jóhann Jóhannsson on hand to play electronics on his distinctive and exciting tracks from the crime mystery "Prisoners" (2013), narcotics thriller "Sicario" (2015), and romantic biography "The Theory of Everything" (2014).
The composer added several dynamic soloists to the mix including  Skuli Svergisson on bass guitar, Caroline Ehret on Odnes Martenot and Michele Deneuve on Cristal Baschet.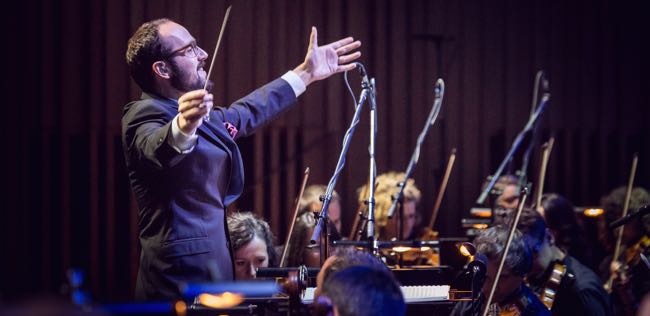 Classically trained U.S. composer Joseph Trapanese (above) stepped up to the podium to conduct selections of his absorbing and stirring music from sci-fi films "Earth to Echo" (2014), "Insurgent" sequel "Allegiant" (2016) and  "Oblivion" (2013) plus Disney's TV series "Tron: Uprising".
The fast-rising Hollywood composer says that he starts to write his scores the old-fashioned way at a piano with sketch paper. "But that's really just for my initial ideas. After I watch the film once or twice, I look at the broader dramatic statement that maybe the music can help with but I transfer to the computer very quickly as that's the method by which I need to deliver my music."
As he led the orchestra through his compositions, it appeared that he had reversed the procedure for live instruments and the audience showed its appreciation to bring another splendid Kraków Film Music Festival concert to a close.
The festival runs through May 31.
Photos: Top and centre: Wojciech Wandzel; bottom: Robert Slusniak