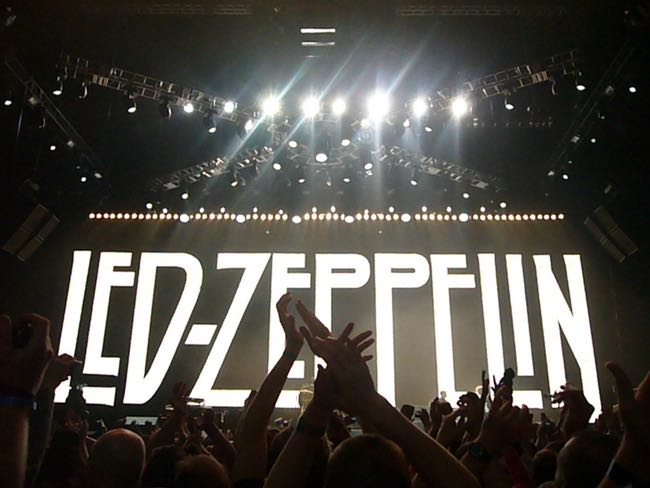 By Ray Bennett
LONDON – For two hours and 10 minutes Monday night, legendary British rock band Led Zeppelin had the privileged fans accommodated by London's O2 Arena ecstatic listening to 16 of its greatest hits. It was something not seen for almost 20 years.
The evening was to honor the late Atlantic Records founder and producer Ahmet Ertegun, and the band's devoted throng — many of whom had paid thousands of dollars and flown thousands of miles to see them — could not have been happier.
The Led Zeppelin part of the show began right on time with a giant screen showing clips from U.S. television when Led Zeppelin first toured the States.
Original members Jimmy Page, John Paul Jones and Robert Plant blasted onto the stage with drummer Jason Bonham taking the place of his father, John Bonham, who died in 1980. The stage was brilliant and the lighting looked great, with an excellent video display offering multiple images behind the live players.
Page, 63, is stout these days, with puffy features and frizzled hair, but his fingers move just as quick. Plant, 59, whose visage is more familiar with all the publicity he's been doing for his hit album "Raising Sand" with Alison Krauss, appeared like a well-fed Anglo Wild Bill Hickok, commanding the stage and still finding those elusive trills. Jones, 61, was clean cut, all business on keyboards or bass, and Bonham at the drums looked beefy but fit.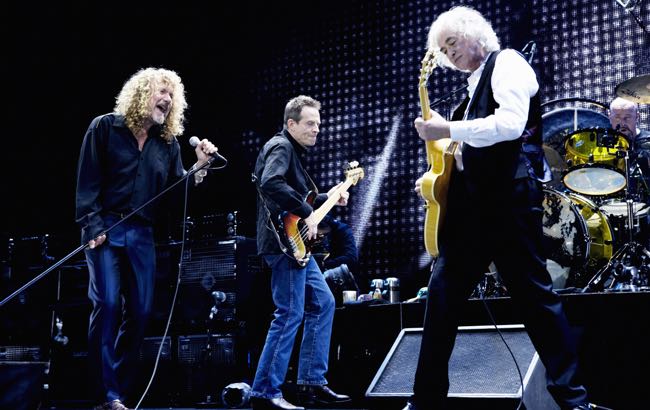 They began with a brisk version of "Good Times, Bad Times," with Page's guitar crisp and clear but Plant's voice cramped by feedback. When "Ramble On" followed, Plant's microphone was working better and he sounded in good voice, growling and snapping just like he used to.
Page swung into "Black Dog," with Plant teasing the crowd while the guitarist chopped left and right with industrial power. Classic blues chords summoned a long, dynamic delivery of "In My Time of Dying," and the years started to fall away.
Plant spoke of the "thousands and thousands of emotions that we've been going through for the last six weeks … and to be here tonight for Ahmet and with Jason here."
He said, "This is our first adventure with this song," and the band played "For Your Life," from its seventh studio album "Presence." It was the first time the song had been played live.
Plant then did something the band didn't always do: He paid tribute to Robert Johnson and his song "Terraplane Blues" ahead of a lively encounter with "Trampled Under Foot" from 1975's "Physical Graffiti."
The Staple Singers, the Blind Boys of Alabama and Blind Willie Johnson were name-checked by Plant as he introduced Johnson's "Nobody's Fault but Mine," also from "Presence."
"No Quarter," from the band's fifth album "The Song Remains the Same," which was always at the heart of their concerts back in the day, allowed plenty of time for rumination on strings by lead Page with Jones on keyboards and Plant finding the glittering high notes of old. "Since I've Been Loving You" followed.
Plant said, "It's peculiar to think of creating a dynamic evening and choosing songs from 10 albums, but there are certain songs that have to be here, and this is one of them."
"Dazed and Confused" then promptly ruled as Page used a violin bow on his guitar to erect a cathedral of dissonance while the crowd roared its approval. Another required number was "Stairway to Heaven," which Page performed on a double-necked instrument as Plant's surprisingly still-supple voice glided on the legendary hit.
"The Song Remains the Same" kept the crowd joyous, and Plant then tipped his hat to drummer Bonham for stepping into his father's shoes, leading into "Misty Mountain Hop."
Thanking all the people who had come from more than 50 countries, Plant declared, "This is the 51st country" and commenced "Kashmir," which was the song most Led Zeppelin fans said they wanted to hear in a music magazine poll. It left the singer in tears and the audience, which had been long on its feet, hollering for more.
Back onstage, the encore inevitably took the form of "Whole Lotta Love." At the end, Plant saluted Ertegun and Atlantic Records and said good night. It looked like it was all over, but then, Led Zeppelin burst back for a resounding version of "Rock and Roll," leaving the packed house celebrating the extraordinarily good fortune that allowed them to witness it.
All them good times. Yeah, you can say that again.
Concert set list: Good Times, Bad Times; Ramble On; Black Dog; In My Time of Dying; For Your Life (first time ever played live); Trampled Under Foot; Nobody's Fault but Mine; No Quarter; Since I've Been Loving You; Dazed and Confused; Stairway to Heaven; The Song Remains the Same; Misty Mountain Hop; Kashmir; Encore; Whole Lotta Love; Rock and Roll
This review appeared in The Hollywood Reporter.