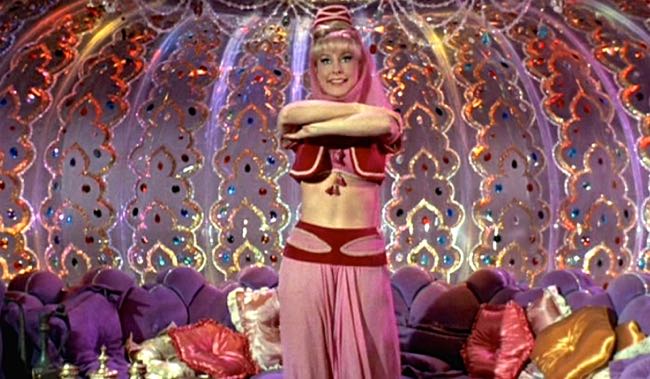 By Ray Bennett
LONDON – Barbara Eden, who turns 85 today, is remembered most fondly as the sexy genie in the Sixties sitcom "I Dream of Jeannie" but what she really wanted to be was a TV cop.
"We had a marvelous idea for a female police officer," she told me. "It really would have been terrific, an hour show that incorporated comedy and the usual cop-show thing. I thought it could very clever, funny and good for me. It was a cute idea because she was a fish out of water in a man's element and she often achieved her goals by using unorthodox methods, which gave us good comic material."
This was in the early Seventies and ABC executives were afraid it wouldn't work: "They said no policewoman would have blonde hair or fit her uniform, 'absolutely not, it would not be believable'. Then Angie Dickinson came along on NBC ("Police Woman") and proved them wrong. I guess NBC had more courage."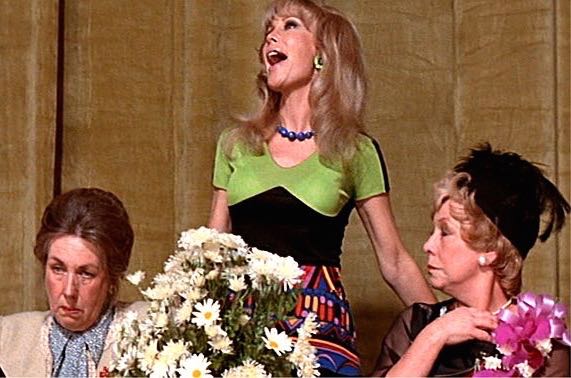 When I interviewed the vivacious star in 1981, she was about to do the TV series, "Harper Valley P.T.A." based on the 1978 movie of the same title in which she played a single mother who shakes up the pious leaders of a small town by revealing their secrets. It was drawn from a country song written by Tom T. Hall that was a major hit for Jeannie C. Riley in 1968.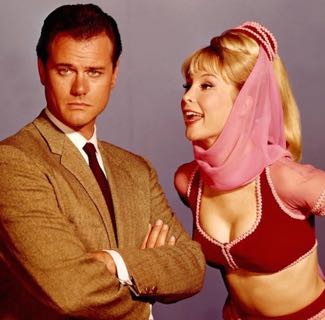 Eden had become famous as the mischievous Jeannie opposite Larry Hagman (left) in the Sidney Sheldon fantasy comedy series that ran for 139 episodes from 1965. Fans of the show will recall that the suits at NBC at the time were scared to death that in her skimpy, silky costume, Eden would show off her belly-button: "It started out as a joke and I didn't realise what a snowball it would become. I was always dressed. My belt was at the waist, at the normal waistline, so you didn't see my navel. I guess we really were square here."
The Texas-born actress and singer had already done a lot of TV from "Perry Mason" to "Gunsmoke" to "Father Knows Best" and she starred with Merry Anders in 52 editions of the syndicated sitcom "How to Marry a Millionaire" 1957-59. She played opposite Elvis Presley in one of the few of his films worth watching, Don Siegel's 1960 western "Flaming Star" and  made her first foray into sci-fi in Irwin Allen's "Voyage to the Bottom of the Sea" with Walter Pidgeon and Joan Fontaine in 1961.
Her favourite pictures at the time were two she worked on with stop-motion pioneer George Pal, first in "The Wonderful World of the Brothers Grimm", which he directed with Henry Levin in 1962. "I have very fond memories and a wonderful feeling for 'Brothers Grimm'," she told me. "It was a great experience, it really was. It was MGM doing things well and George, it was just all the way around a good experience. Then I worked with him again on '7 Faces of Dr. Lau' (1964) with Tony Randall, also at MGM. I was very proud of that picture."
Raised in San Francisco in a musical family, Eden had studied at the San Francisco Conservatory of Music and then she won a scholarship at the city's Elizabeth Holloway School of Theatre. She's had a very steady TV career despite divorces and family tragedy and has been busy as recently as 2009 in the TV movie "Always and Forever".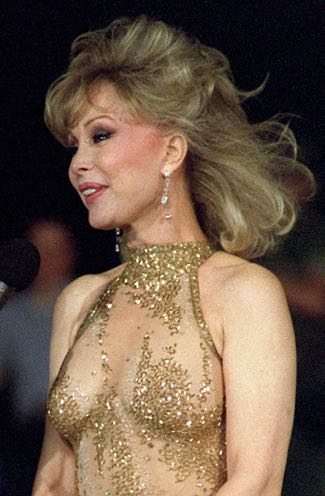 She also used to do USO shows (pictured right in 1987) and  tour regularly in plays and musicals such as "Blithe Spirit", "The Sound of Music", "The Unsinkable Molly Brown" and her favourite, "Annie Get Your Gun". "I like 'Annie'. It's such a well-written show, so well constructed and I had a big thrill when I did it. The man who had directed it originally, Joshua Logan, came to see it and said he wanted to do a version of 'Bus Stop' at the Theatre Royal Drury Lane in London but I didn't feel it would be right at the time because son was in school."
Most of all, Eden said, she just liked the work itself. "I enjoy it. I like my work. I'm always sad when a film is over. We have a great group of people in our industry and you become very, very close in a short period of time, and then, 'Poof!' you don't see anyone for a long time."
The only role she coveted was the female lead in George Bernard Shaw's "Caesar and Cleopatra". She said, "I've always wanted to do that. Somewhere, either on stage or TV or film. I recall vividly Vivien Leigh playing Cleopatra and she was so wonderful. I would like to do that."
To my knowledge, she never did, but Barbara Eden has given us many fond memories, and one of my fondest is what she said to me at the end of our interview. She was soon to begin shooting "Harper Valley P.T.A." on the Universal Studios lot, and she said, "Listen, come and see me on the set if you're in town. I'll share a boiled egg with you. I brown-paper-bag it to work. Our hours are so long, I nibble my lunch in the trailer and catch a few catnaps. The commissary is a long way from the set and we only have a half-hour for lunch."
How I wish I had.