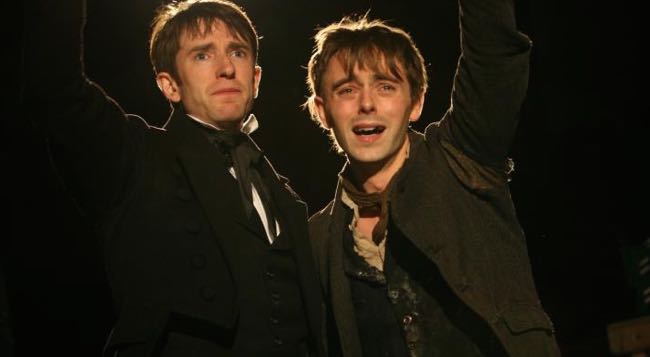 By Ray Bennett
LONDON – David Edgar has trimmed his nine-hour 1982 Tony-winning play based on Charles Dickens' "The Life and Adventures of Nicholas Nickleby" to two easily digested parts, but they should please audiences just as much.
Revived for the Chichester Theatre Festival, now at the Gielgud Theatre in the West End and headed to Toronto in February, the production has lost scenes and many of the musical numbers from the original but is no less entertaining.
A supremely talented cast of 27, several playing multiple roles, has as much fun as the audience in re-creating the tale of a young man trying to make his way in the world in the often cold and pitiless 19th century England.
As Tony winner Trevor Nunn did in the original, directors Jonathan Church and Philip Franks create a great whirling epic with swift-moving sequences sped along by characters narrating their episodes before entering a scene.
Simon Higlett's atmospheric design is aided greatly by Mark Jonathan's lighting and Matt McKenzie's sound so that clarity is never lost even when characters speak across one another in overlapping dialogue.
The players' enthusiasm matches their skill in creating an entertainment that establishes the cruelty of the period while retaining an optimism untarnished by oversentimentality.
The familiar Dickens yarn follows young Nicholas (Daniel Weyman, pictured left with David Dawson) as he steps up to take responsibility for his family after the death of his impoverished father. His sister, Kate (Hannah Yelland), and their mother turn to unscrupulous but wealthy uncle Ralph Nickleby (David Yelland) for help, but he sends the boy up north to work in a squalid school for foundlings while forcing the girl to take work with a seamstress.
Nicholas encounters a nasty operation in place at the school and more or less adopts a damaged young man named Smike (David Dawson). Rebelling against the cruelty of schoolmaster Mr. Squeers (Pip Donaghy), they run off and join a theatrical troupe.
There are many encounters with colorfully Dickensian characters in a tale that involves potential marriage partners for Nicholas and Kate, plus larceny, lechery and a great deal of inheritance money that the rich uncle plots to acquire.
All the performers do well, but Dawson makes a memorable Smike, David Yelland is a very polished villain, and Richard Bremmer provides an indelible portrait of knuckle-cracking clerk Newman Noggs.
Both three-hour parts are worth seeing, though the first show probably is the most fun, ending as it does with a funny spoof of "Romeo and Juliet" as performed by a theatrical troupe that wishes to please the crowd a little too much.
Shakespeare, like Dickens, can survive almost anything.
Venue: Gielgud Theatre, runs through Jan. 25; Cast: Daniel Weyman; David Dawson; Pip Donaghy; Veronica Roberts; Zoe Waites; Hannah Yelland; Abigail McKern; Jonathan Coy; David Yelland; Richard Bremmer; Playwright: David Edgar; Based on the novel by: Charles Dickens; Directors: Jonathan Church, Philip Franks; Set designer: Simon Higlett; Lighting designer: Mark Jonathan; Sound designer: Matt McKenzie; Movement: Shona Morris; Music-lyrics: Stephen Oliver; Duncan C. Weldon and Paul Elliott for Triumph Entertainment present the Chichester Festival Theatre production.
This review appeared in The Hollywood Reporter.