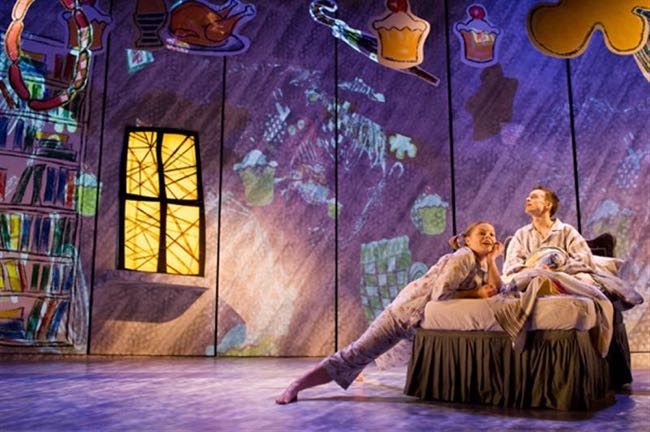 By Ray Bennett
LONDON – Known for provocative productions, the Almeida Theatre has taken a typically adventurous approach to its first seasonal show for youngsters, "Marianne Dreams," based on the 1958 novel by English writer Catherine Storr.
A fable about a 10-year-old girl's reveries while she is in quarantine having treatment for a mysterious illness, it was made into a 1989 Working Title feature titled "Paperhouse," starring Charlotte Burke, Glenne Headly and Gemma Jones.
For the stage production, Moira Buffini adapted the story into words, dance and pictures using colorful video projections and inventive lighting.
As a worried mother (Sarah Malin) and a fussy doctor (Jack James) oversee her care, young Marianne (Selina Chilton) is not happy that she must stay in bed all day, every day. But then she finds a pencil and encouraged by new tutor Miss Chesterfield (Siobhan Harrison), she begins to draw.
To Marianne's astonishment, the things she draws take on a life of their own so that when she draws a house and forgets to put in stairs, the next time she draws them so she can go upstairs. There, she finds a young boy seemingly trapped against his will.
He turns out to be named Mark (Mark Arends), and he has polio. Moving in and out of her dreams, Marianne sets out to rescue the boy from his leg irons and find a cure for her own ailment, an adventure that causes them to flee sinister strangers toward the sanctuary of a lighthouse.
Will Tucker's witty direction and choreography take Marianne into fantasies giddily but so spry is the writing and so persuasive the players – especially Chilton as the little girl – that they might not be dreams at all.
It's another juvenile success for the grown-up Chilton, who played an artistic prodigy recently in "Lotte's Journey" at London's New End Theatre. Harrison also is very good as the governess while Lorna Heavey's video art and projection design borders on the magical.
Venue: Almeida Theatre, runs through Jan. 26; Cast: Selina Chilton, Sarah Malin, Jack James, Siobhan Harrison, Mark Arends (Marianne in some performances: Sarah Boulton); Playwright: adapted for the stage by Moira Buffini from the novel by Catherine Storr; Director, choreographer: Will Tuckett; Lighting designer: Neil Austin; Music: Paul Englishby; Sound designer: Paul Groothius; Video art/projection designer: Lorna Heavey.
This review appeared in The Hollywood Reporter.