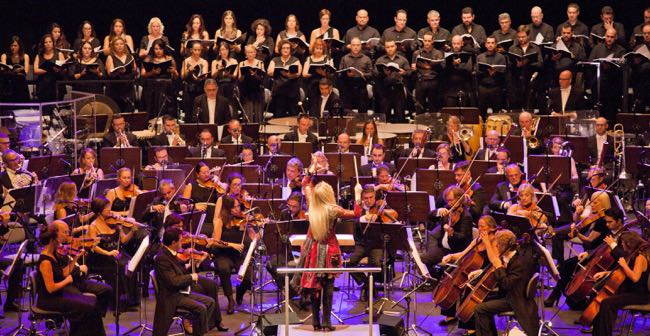 By Ray Bennett
TENERIFE – Movie composer Trevor Jones (below left), whose credits over an almost 40-year career include "Labyrinth", "Angel Heart", "Mississippi Burning", "The Last of the Mohicans", "Brassed Off!" and "Notting Hill", was celebrated for his scores for fantasy films in a Fimucité concert titled "Sword & Sorcery: Symphonic Chronicles of a Legendary Era" at the Auditorio de Tenerife Adán Martín in Santa Cruz on Friday night.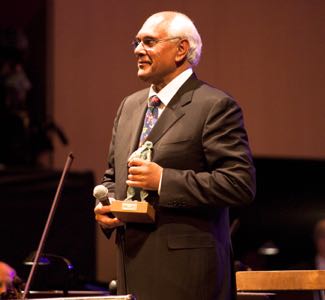 The South Africa-born, British-based composer's themes for John Boorman's "Excalibur" (1981), which had their world premiere in a concert hall, Jim Henson's "The Dark Crystal" (1982) and Steve Barron's two-part television show "Merlin" (1998) were highlights of the evening during which he was presented with the festival's Antón García Abril Award, which honours significant contributions to film music.
Fimucité lauded Jones along with composers such as the late Basil Poledouris and Michael Kamen plus Lee Holdridge and Ennio Morricone for helping to establish "the creative personality of the Sword and Sorcery genre".
Poledouris's "Main Theme" from "Conan the Destroyer" (1984) was among the cues featured in the concert along with a suite from Kamen's "Highlander" (1986) with a medley of Queen songs from that picture performed hauntingly by "Spain's Got Talent" winner Cristina Ramos.  A Morricone suite from "Red Sonja" (1985) also had its world premiere and Holdridge was represented by a suite from "The Beastmaster" (1972).
Ireland's Eímear Noone (pictured top) conducted the Orquesta Sinfónica de Tenerife and the Tenerife Film Choir with choirmaster Javier Jonás Díaz. Soloists included Fernando Fragoso, violin; Héctor González, lute and baroque guitar; Anatael Herrera, mandolin; and Francisco José Hernández, medieval flute and recorder.
The evening began with the world premiere of suites from "The Lighthouse of the Whales" and "The Olive Tree" by Pascal Gaigne, who was named Best Spanish Composer in 2016 and won the award for Best Spanish Film Score.
Composers on hand for concert-hall world premieres of their film music included Iceland's Atli Örvarsson ("Chicago Fire") with "Season of the Witch" (2011) and the U.K.'s Daniel Pemberton ("Peep Show") with "King Arthur: Legend of the Sword" (2017).
Eímear Noone also conducted some of her own music from the "World of Warcraft: Warlords of Draenor" video game and a suite by her American husband Craig Stuart Garfinkle from the video game "Baldur's Gate – Dark Alliance". Suites from David Whitaker's "The Sword and the Sorcerer" (1982), in a world premiere, and James Horner's "Willow" (1988) rounded out the evening plus Alan Silvestri's "Main Title" from "Beowulf" (2017), which also made for a rousing encore.