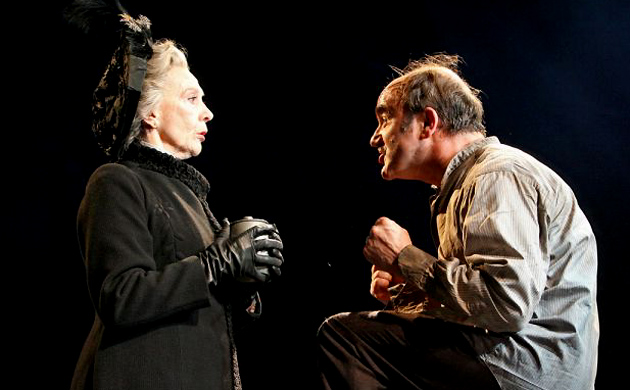 By Ray Bennett
A curious blend of Charlotte Bronte, Oscar Wilde and M. Night Shyamalan, Edward Bond's eccentric play "The Sea" brings together drawing-room comedy and alien conspiracies in a storm-laden English setting in 1907.
In the second production of Jonathan Kent's new artistic season at the Theatre Royal Haymarket, it's a combustible mix that would implode if not for the wonderful acting on display.
Bond is known for such earthy and provocative 1960s plays as "Saved" and "Early Morning," but "Sea," first produced in 1973, is more ambitious. It aims at worldly insights and cosmic truths but succeeds only in providing an excellent cast with some incongruous but very entertaining characters to play.
The imagery works well, too, with a bleak and rocky shoreline well rendered and the roiling sea depicted in video on a vast canvas. It begins with a huge storm in which a young man is lost at sea while his best friend Willy (Harry Lloyd) tries desperately to save him, not helped by the recalcitrant Hatch (David Haig, pictured with Eileen Atkins), a draper on nightwatch duty.
It turns out that Hatch — in what is perhaps intended as a foreshadowing of World War I — believes an alien invasion is taking place and that the dead man and Willy are in on the plot. Hatch bullies the locals, including a dolt named Hollarcut (Russell Tovey) and the gullible Thompson (Jem Wall), into accepting his wild imaginings.
Meanwhile, he must do business with the aristocratic and domineering Miss Louise Rafi (Eileen Atkins), who rules the village ladies with expert eyebrows and a punishing vocabulary. She torments Hatch with her demands for expensive cloth and fashionable gloves, often later rejecting her selections and leaving the poor man in debt to his suppliers.
Scenes shift from the draper's shop to Miss Rafi's parlor to the barren shore with an abruptness that is sometimes hard to follow, but the set pieces are often very funny. In one, Miss Rafi leads her pliable throng, including her addled companion Jessica Tilehouse (Marcia Warren), in rehearsals for a local dramatic society reading of the Orpheus myth. In another, the increasingly demented Hatch scissors an enormous amount of cloth to pieces while excoriating his pitiless customer. And there's a priceless scene involving the scattering of the dead man's ashes on a windswept clifftop.
It doesn't add up to much, but it looks great, and the performances of some gifted players, especially Atkins and Haig, make it well worth seeing.
THE SEA
Venue: Theatre Royal Haymarket, runs through April 19; Cast: Eileen Atkins; David Haig; Harry Lloyd; David Burke; Marcia Warren; Russell Tovey; Mariah Gale; Selina Griffiths; William Chubb; Jem Wall; Emma Noakes; Sarah Annis; Philippa Urquhart; Playwright: Edward Bond; Director: Jonathan Kent; Set designer: Paul Brown; Lighting designer: Mark Henderson; Sound designer: Paul Groothius; Music: Steven Edis; Projections: Sven Ortel.