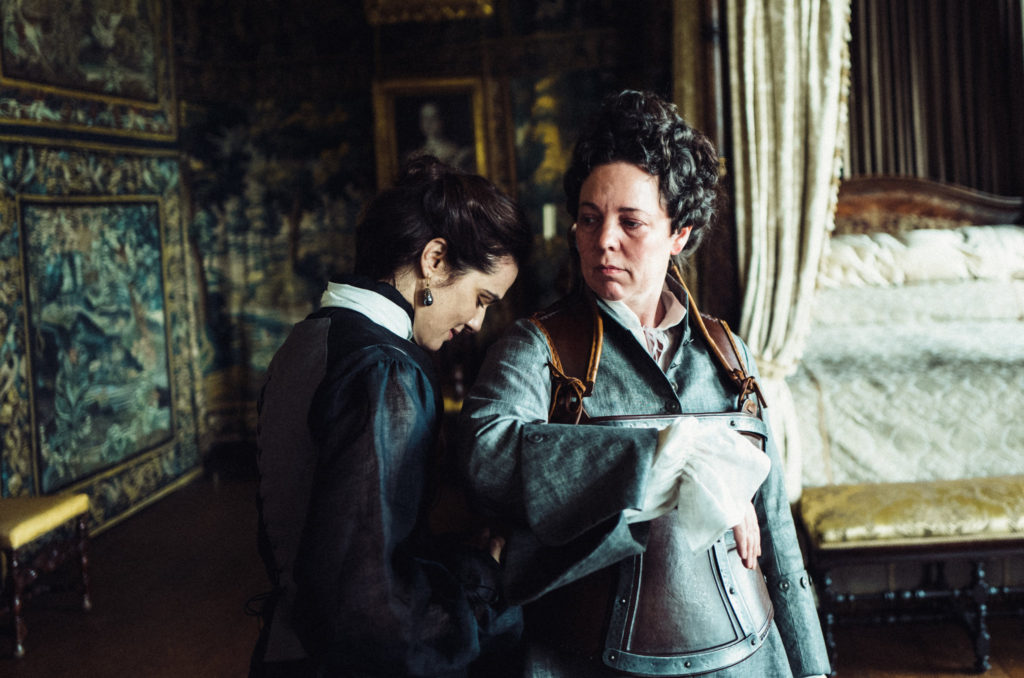 By Ray Bennett
LONDON – Fasten your corsets, it's going to be a bumpy night. Yorkos Lanthimos's costume romp 'The Favourite' is a cartoonish depiction of the fiery relationships between 18th century Queen Anne, her best friend and senior courtier Sarah Churchill, and a young woman who seeks to replace Sarah in the monarch's affection. Call it 'All About Abigail'.
Olivia Colman, as the flighty, ailing Queen; Rachel Weisz (top left with Colman and below) as the beautiful and intelligent but wilful Sarah, Duchess of Marlborough, and Emma Stone as the seemingly guileless but devious and determined newcomer Abigail Hill  (below) are all in top form. There is a great deal to enjoy with lots of intrigue, sex and filthy language even if director Lanthimos ('The Lobster', 'The Killing of a Sacred Deer'), fails to match the deft touch that Armando Iannucci brought to his wickedly funny 'The Death of Stalin'.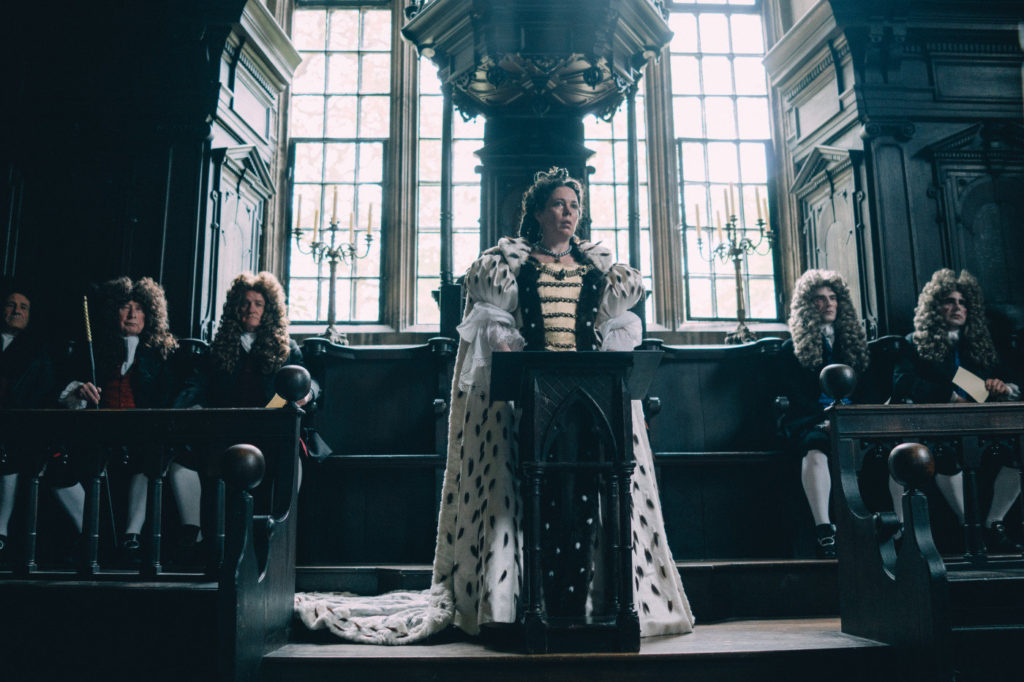 It is a crowd-pleaser so there was little surprise when it was named best film at this year's British Independent Film Awards (BIFAs). It succeeds as a raucous romp without any real historical context aside from references to military conflict with France and the monarch's squabbles with parliament. All the men are foppish and unthreatening twerps, the peasants and servants are as revolting as the landed gentry and aristocrats, and the ending is bathetic, but historical accuracy is not its aim.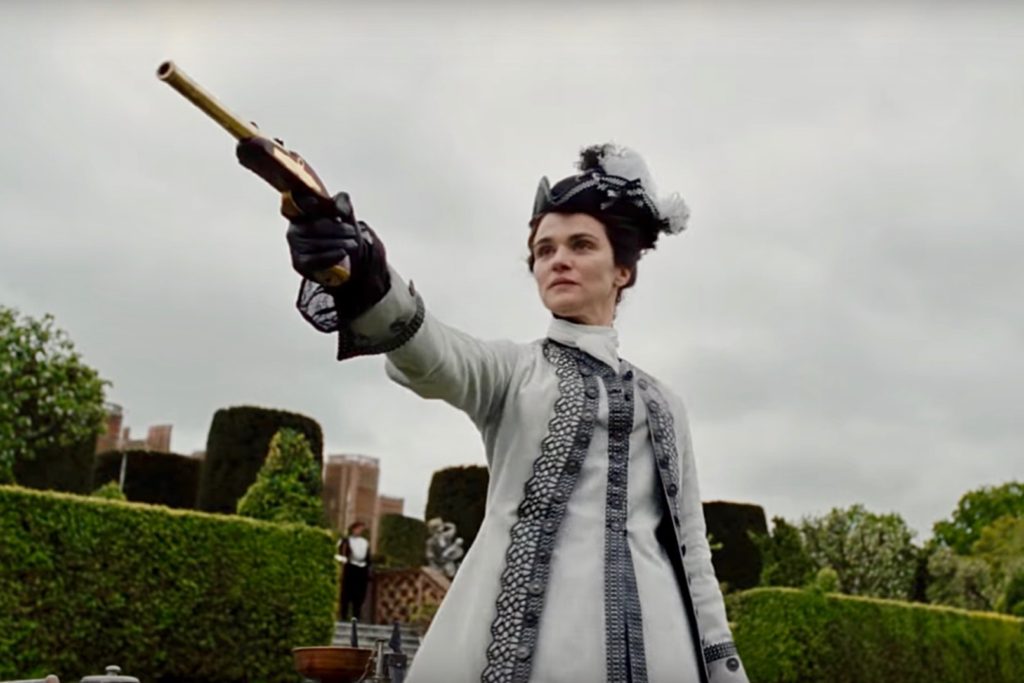 The film takes for granted Sarah's disputed allegation following the queen's death in 1714 that Abigail's affair with the monarch included lesbian relations and, to fit the bawdy narrative, insists that Sarah's did too. Abigail arrives at court to plead for a job after a rough life following the loss of of her family's aristocratic position. (In truth, her cousin Sarah invited her). She soon proves helpful to the Queen who is plagued not only by explosive mood swings but also very painful gout. Abigail's agreeable nature, eagerness to please and home-made potions applied to Anne's legs create an intimacy she's only too willing to exploit. Her rivalry with Sarah escalates to the point of physical violence and attempted murder.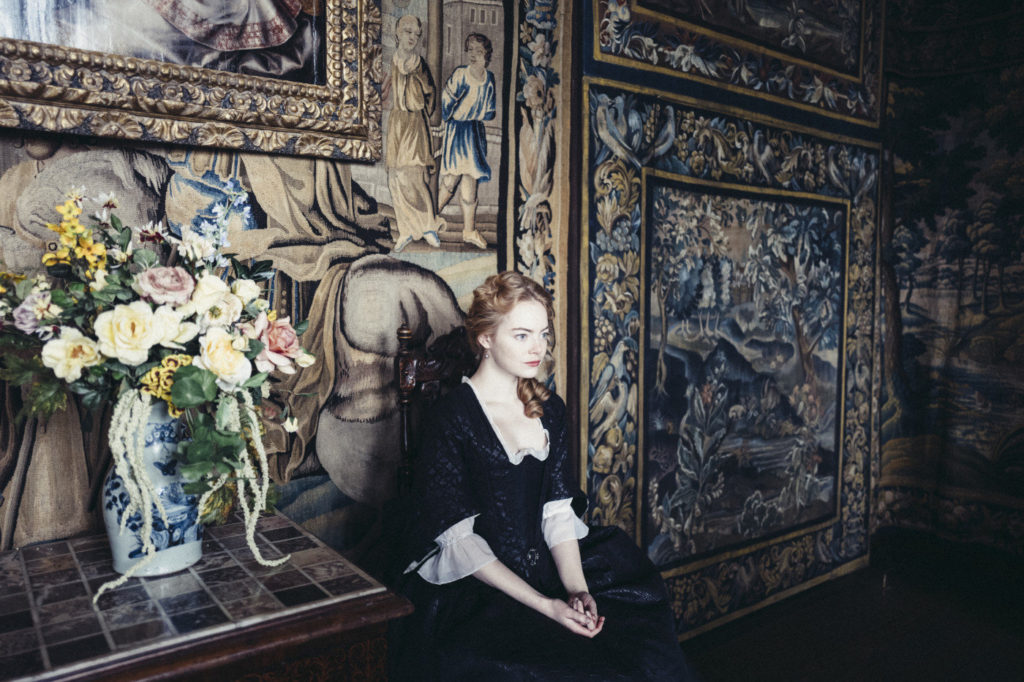 All three actresses are delightful and very funny. Colman and Weisz play it straight with exceptional skill and both should be in line for awards beyond their wins as best actress and best supporting actress at the BIFAs. Colman adds a human dimension to a character who could easily just be addled and amusing with occasional fits of demented rage while Weisz conveys Sarah's brilliance, shrewdness and fierce candour but also her sympathy for the queen and vulnerability. Stone's English accent is perfect and she does well too, playing canny and knowing while appearing to be sweet and innocent, although she does tend to wink at the camera as do many of the male members of the cast including Nicholas Hoult (below centre) as the Tory Robert Harley, Mark Gatiss as Marlborough, James Smith as the Whig Godolphin and Joe Alwyn as Abigail's suitor Samuel Masham.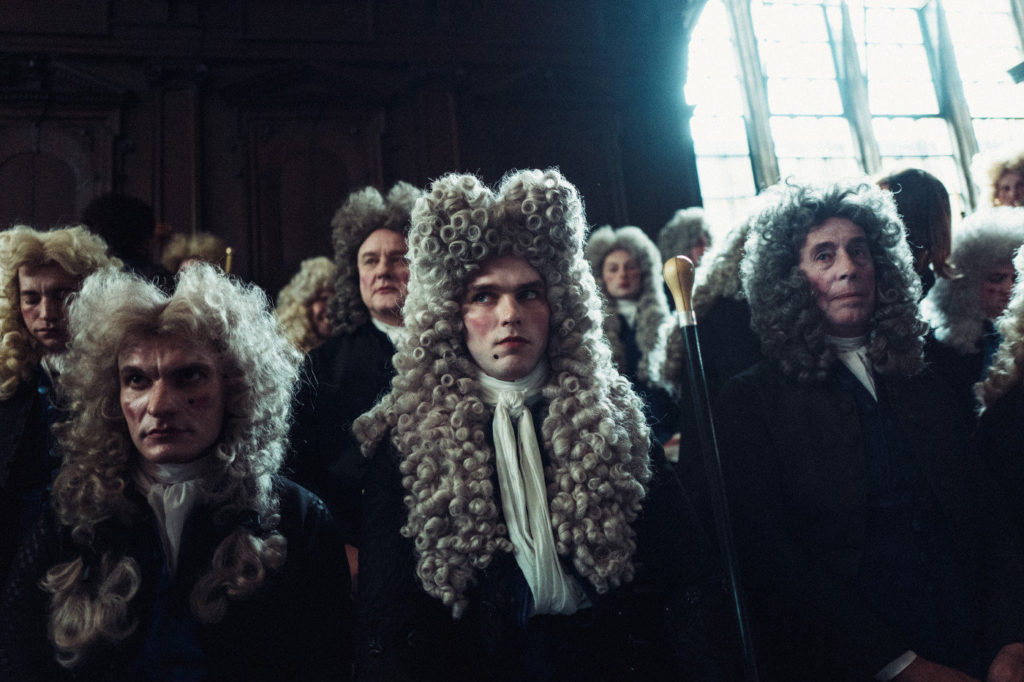 Cinematographer Robbie Ryan and production designer Fiona Crombie make the most of the gorgeous Hatfield House while triple-Oscar-winner Sandy Powell's costumes are ravishing. Works by Bach, Handel, Purcell and Vivaldi are joined on the soundtrack by pieces by such modern composers Luc Ferrari, Anna Meredith and Olivier Messiaen.
NOTE: One regret about the picture is that it probably rules out any chance of a serious movie about Sarah Churchill, who was one of the most powerful and fascinating women in British history. The script by first-time screenwriter Deborah Davis and TV writer Tony McNamara ('Puberty Blues', 'Doctor Doctor') plays fast and loose with historical facts. Sarah did pretty much rule the country during Anne's term after succeeding William and Mary as she was a brilliant woman married to the powerful Duke of Marlborough, hero of Blenheim.
Her relationship with the queen, however, foundered more over party politics than jealousy – the Queen decided to back the anti-war Tories while Sarah and her husband were Whigs and Abigail was a Tory – and it barely addresses Anne's deep religious feelings. The film omits entirely any mention of the Queen's consort, George, Prince of Denmark, and treats the fact that Anne had 17 pregnancies with no survivors as bearing only on Anne's wildly unruly mental state. In fact, had any survived to adulthood and taken the throne, then George 1 very likely would not have become the first Hanoverian monarch.
The film suggests falsely that Anne gifted Sarah with Blenheim Palace, birthplace of Winston Churchill, when it actually was a reward to her husband for his victories in the War of the Spanish Succession. It's true that the queen withdrew funds for its building and banished the Marlboroughs from court but they returned upon her death and were re-established in the highest echelons of what during Anne's 12-year reign had become Great Britain. The Duke of Marlborough died in 1722 and Abigail, who became Baroness Masham, died in 1734 aged 64. Sarah completed Blenheim Palace and died in 1744 aged 84 as one of the richest women in Europe.
Released: UK: Jan. 1 2019 / US: Nov. 23 2018 (Fox Searchlight); Cast: Olivia Colman, Rachel Weisz, Emma Stone, Nicholas Hoult, Mark Gatiss, James Smith, Joe Alwyn; Director: Yorgos Lanthimos; Writers: Deborah Davis, Tony McNamara; Director of Photography: Robbie Ryan; Production designer: Fiona Crombie; Editor: Yorgos Mavropsaridis; Costumes: Sandy Powell; Producers: Ceci Dempsey, Ed Guiney, Yorgos Lanthimos, Lee Magiday; Executive producers: Daniel Battsek, Deborah Davis, Ken Kao, Andrew Lowe, Tony McNamara, Josh Rosenbaum; Production: Element Pictures; Scarlet Films; Film4; Waypoint Entertainment; Rating: UK:15 / US: R; running time: 119 minutes