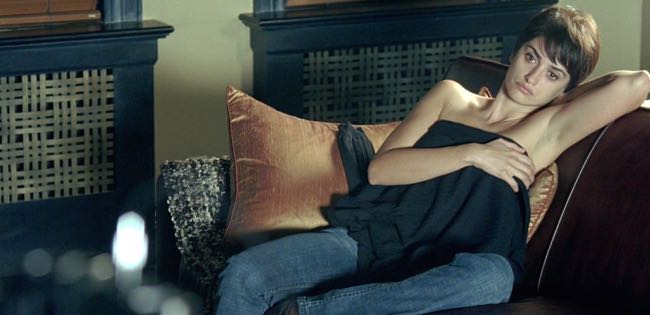 By Ray Bennett
BERLIN – With some fine naturalistic acting, Penelope Cruz just about saves Isabel Coixet's gloomy drama "Elegy" from drowning in the drippy male fantasies of author Philip Roth, on whose short novel the film is based.
Cruz plays a dignified and sheltered student from Cuba named Consuela whose vulnerability is exploited by literary professor David Kepesh, played by Ben Kingsley, in order to get her into bed. Common to Roth's fictional delusions, the clever and wildly attractive young woman falls for relentless flattery and what the ageing roué believes is sparkling banter with a virile bedroom manner.
Coixet takes the love affair at face value, larding it with plenty of Bach and Vivaldi to give it depth, but as revealed by Roth's original title, "The Dying Animal," it is all about him.
Cruz's performance deserves to be seen widely and it should place her again in line for prizes but the story's pretensions and downbeat mood will not endear the film to audiences.
Kingsley does not help, either, with a performance that is mannered and stagy, especially when paired with the apparently effortless grace of his costar. Miscast in a role that requires a great deal of charm to make the character something more than a randy old goat, Kingsley sometimes appears to forget there is another person in the scene.
Screenwriter Nicholas Meyer is unable to raise Roth's story, which is narrated by the professor, beyond the author's typically risible worldview. "When you make love to a woman you get revenge for all the things that defeated you in life," Kepesh gloats. "Can you find anybody that enchanting without sex? Nobody," he salivates.
Kepesh has a mistress (Patricia Clarkson) closer to his own age who visits his bed every three weeks and a fellow intellectual (Dennis Hopper) with whom he shares tomcatting tales. There's also a doctor son (Peter Sarsgaard) that he can't stand and seldom sees.
"She knows that she's beautiful, but she's not yet sure what to do with her beauty," Kepesh says early on in the certain belief that he's exactly what she needs. Cruz obliges the director and cinematographer Jean-Claude Larrieu by undressing frequently — Coixet poses her on a couch naked apart from stiletto shoes — but the sequences lack the sizzle that Pedro Almodovar would have given them. Not that he would have come within a mile of this story.
Cruz breathes life into every scene she's in but she cannot overcome the lack of chemistry with Kingsley to show what Consuela sees in him. When their story takes an inevitable sad turn, the script requires that she ask her lover to validate her beauty and only the actress' sublime skill prompts tears rather than inappropriate laughter.
Venue: Berlin International Film Festival In Competition; Cast: Penelope Cruz; Ben Kingsley; Dennis Hopper; Patricia Clarkson; Peter Sarsgaard; Deborah Harry; Director: Isabel Coixet; Writer; Nicholas Meyer; Producers: Tom Rosenberg, Gary Kucchesi, Andre Lamal; Director of Photography: Jean-Claude Larrieu; Production designer: Claude Pare; Costume designer: Katia Stano; Editor: Amy Duddleston; Production: Lakeshire Entertainment; No MPAA rating, running time 108 mins.
A version of this review appeared in The Hollywood Reporter.