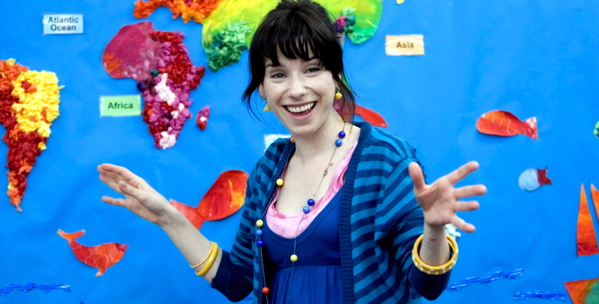 By Ray Bennett
BERLIN — No one expects confection from British sobersides Mike Leigh and so his light-as-air new film "Happy-Go-Lucky" is as surprising as it is delicious with an indelible performance by new star Sally Hawkins (pictured).
As breezy as the title suggests, the film is about as far as can be imagined from such bleak Leigh classics as "Vera Drake" and "Naked." Spun from the cheerful life of its central character, a smart, confident and goofball primary school teacher named Poppy (Hawkins), the film shares her optimism without being at all syrupy or sentimental.
Hawkins, who starred to great effect in a recent British television remake of Jane Austen's "Persuasion," is a marvel with her urchin looks and irresistible smile. She makes Poppy unforgettable.
Handsomely designed and shown on a widescreen filled with vivid colors, "Happy-Go-Lucky" has a serious point to make but measures its messages like calories to ensure a tasty and digestible treat. Once past the shock of it being a Mike Leigh picture, audiences everywhere will flock to enjoy a certified good time.
The film begins with Poppy bicycling carefree through the streets of London and discovering a new bookstore, in which she idles to enjoy the quiet and flirt with the dour chap at the till. Leigh places an enormous weight on Hawkins in the scene because if she weren't instantly captivating then the movie might sink before it got started. But the young actress delivers.
There is no plot to speak of. It's just a snapshot of a creative and caring young teacher at work being watchful of her flock, at home with her friends and family, and at play with the world.
Poppy joins a colleague in a Flemenco dancing class and Leigh provides a couple of hilarious sequences featuring an excellent comic performance by Karina Fernandez as the instructor.
A pain in the back takes the teacher to physiotherapy and she maintains her high spirits even when confronting an episode of bullying at school. Meanwhile, she has started driving lessons, getting them cheap from an extremely uptight individual named Scott (Eddie Manson).
Most people would hear the intimations of his racism, paranoia and anger and go for lessons elsewhere, but Poppy has been established as a plucky and compassionate woman so it's not hard to believe she would stick with him.
A social worker brought in to help deal with an angry little boy in her class turns out to be a nice guy but seeing Poppy with the man pushes the driving instructor over the edge. None of this is made melodramatic, however, and there's a sweet scene in which Poppy steps into a patch of urban wasteland and has a gentle encounter with a bewildered homeless man.
Leigh's fine touch with actors is well established and he draws wonderful performances from top to bottom with Alexis Zegerman as Poppy's flat-mate and Marsan as the wound-up Scott especially good.
Gary Yershon's music, which is not jolly but playful in the best way, adds to the pleasing mood of a lovable film that ends like the best confections leaving an immediate wish for more of the same, please.
Venue: Berlin International Film Festival. Competion; Cast: Sally Hawkins; Alexis Zegerman; Andrea Riseborough; Sinead Matthews; Kate O'Flynn; Sarah Niles; Eddie Marsan; Joseph Kloska; Sylvestra Le Touzel; Karina Fernandez; Director: Mike Leigh; Writer: Mike Leigh; Producer: Simon Channing Williams; Director of photography: Dick Pope; Production designer: Mark Tildesley; Music: Gary Yershon; Costume designer: David Crossman; Editor: Jim Clark. Production: Thin Man Films, Summit Entertainment; No MPAA rating; running time 118 mins.
This review appeared in The Hollywood Reporter.