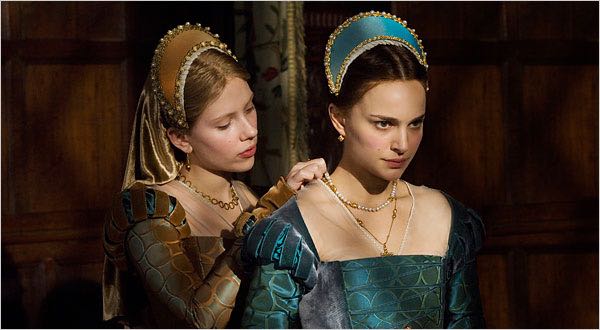 By Ray Bennett
BERLIN – Anne Boleyn was the one who managed to stay alive married to England's King Henry VIII for 1000 days but her sister Mary in "The Other Boleyn Girl" would have been his queen if only she'd been better at making babies.
That, of course, was always the problem. The Tudor line's grip on the throne was invariably threatened by the lack of a son even though it would be daughter Elizabeth who reigned in the nation's golden age.
In Justin Chadwick's handsome but glum film, based on the novel by Philippa Gregory, the focus is on Anne (Natalie Portman) and Mary (Scarlett Johansson) as their father Thomas Boleyn (Mark Rylance) and uncle, the Duke of Norfolk (David Morrissey) conspire for one of them to win the king's fancy while their mother (Kristin Scott Thomas) looks on in disgust.
Shot in high-definition and filmed at many historic locations, the film somehow still lacks the splendor of an epic and its urgency to get on with the next plot point leaves much unexplained while context goes out the window. Good performances by the female leads and all the appurtenances and costumes of the time may attract fans of period movies but there's not enough flash and fire to grab the attention of a wider audience.
Already given screen treatment in a 2003 BBC-TV film, "The Other Boleyn Girl" here gets a bigger budget, big-name stars and a script by Peter Morgan ("The Queen," "The Last King of Scotland").
Morgan already had a go at this particular monarch for Granada Television in 2003 with "Henry VIII" starring Ray Winstone and he's back presumably attracted by the opportunity to write for two dynamic actresses who play competing sisters.
His script lacks punch, however. Portman and Johansson are more than equal to the demands but with a tougher-minded script they might have soared. Portman comes to grips with the sharpest lines but she could have been given so much more. Johansson's character grows the most in the film and once again the star dazzles with her versatility.
Eric Bana as the king offers little help. Such is his lack of screen presence that the Australian film star virtually disappears whenever Portman, Johansson or Scott Thomas makes an appearance.
History is smoothed out for the story – Mary was actually aged 12 when she married her first husband, who was 24 – and some key figures are omitted including Cardinal Wolsey and Sir Thomas More.
The Duke of Norfolk becomes the main villain of the piece, determined ruthlessly to place one or other of his brother-in-law's pretty daughters into the king's bed in order to enrich the family. Scott Thomas's mother registers her disdain for the proceedings more with her powerful gaze than any pungency in the lines of dialogue. Ana Torrent makes a strong impression too as the dismayed and discarded Queen Katharine of Aragon.
Although the various homes and castles are lovely to see, the story feels rushed, a feeling made worse as the director cuts every couple of scenes to somebody on horseback riding furiously through woods or water. Like the film, it's not always clear why.
Venue: Berlin International Film Festival, Out of Competition; Cast: Natalie Portman; Scarlett Johansson; Eric Bana; David Morrissey; Kristin Scott Thomas; Mark Rylance; Jim Sturgess; Ana Torrent; Eddie Redmayne; Benedict Cumberbatch; Oliver Coleman; Juno Temple; Director Justin Chadwick; Writer: Peter Morgan; Director of photography: Kieran McGuigan; Production designer: John-Paul Kelly; Music: Paul Cantelon; Costume designer: Sandy Powell; Co-producer: Mark Cooper; Editors: Paul Knight, Carol Littleton; Producer: Alison Owen; Executive producers: Scott Rudin, David M. Thompson; Production: Focus Features, Columbia Pictures, BBC Films, Ruby Films, Scott Rudin Productions, Relativity Media; No MPAA rating; running time 115 mins.