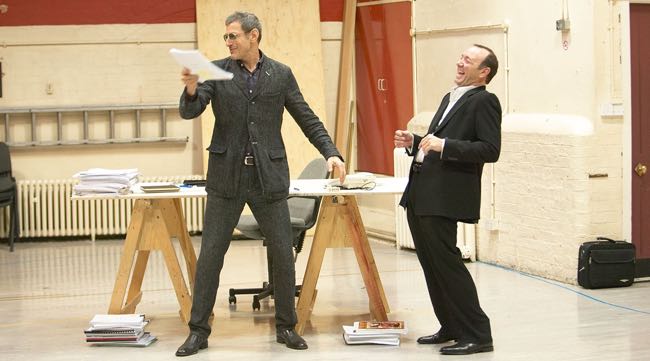 By Ray Bennett
LONDON – David Mamet's 20-year-old play "Speed-the-Plow," which uses the ruthless setting of a Hollywood studio to explore male chicanery and misogyny, looks fresh and scintillating in Matthew Warchus' new Old Vic production starring Kevin Spacey and Jeff Goldblum.
The two actors, with their intense stage presence and movie star grace, are as exciting to watch as a Jimmy Connors and John McEnroe tennis classic. Batting Mamet's coiled and dangerous words back and forth at high speed, they reveal all the hunger, envy and fear of men trapped in their own ambitions with only their egos and wallets keeping score.
Goldblum plays Bobby Gould, the new head of production who can greenlight one film a year with a budget less than $10 million but who needs clearance from the studio chief for anything beyond that. Along comes old pal Charlie Fox (Spacey) with a killer package involving a script with a tested formula and a surefire star ready to become attached.
Breathless and alternately cocky and desperate, Fox sells Gould the package. Wary of being promoted by opportunists, Gould senses a good thing but takes his time being persuaded. These opening exchanges show Spacey and Goldblum in immediate command of their characters and the pace never flags.
Mamet poisons the well of their self-satisfaction by introducing Karen (Laura Michelle Kelly), a temp manning Gould's reception desk who confesses she doesn't actually know what to do. Her boss does, however, and makes a $500 bet with his buddy that she will be in his bed that night.
His plan for seduction involves having the young woman give a "courtesy read" to an improbably earnest novel about the end of mankind. That night, at his home and on his bed, Karen convinces Gould that it would make a splendid movie.
The scene is set for an explosive climax in which Fox excoriates Gould for taking his eye off the ball and letting a duplicitous woman fill his head with the idea of playing the game nobly rather than going for another smash.
Director Warchus stages the encounters with great flair and the electricity of the two male stars is matched by Kelly who injects a sly ambiguity into the role that makes the outcome even more unsettling.
Mamet's observations about the way men and women manipulate each other and the bile that erupts when sparkling prizes remain just out of reach are now familiar but they retain their bite in the hands of the expert cast. The Old Vic has another hit.
Venue: The Old Vic; Cast:Jeff Goldblum; Kevin Spacey; Laura Michelle Kelly; Playwright: David Mamet; Director: Matthew Warchus; Designer: Rob Howell; Lighting: Paul Pyant.
This review appeared in The Hollywood Reporter.