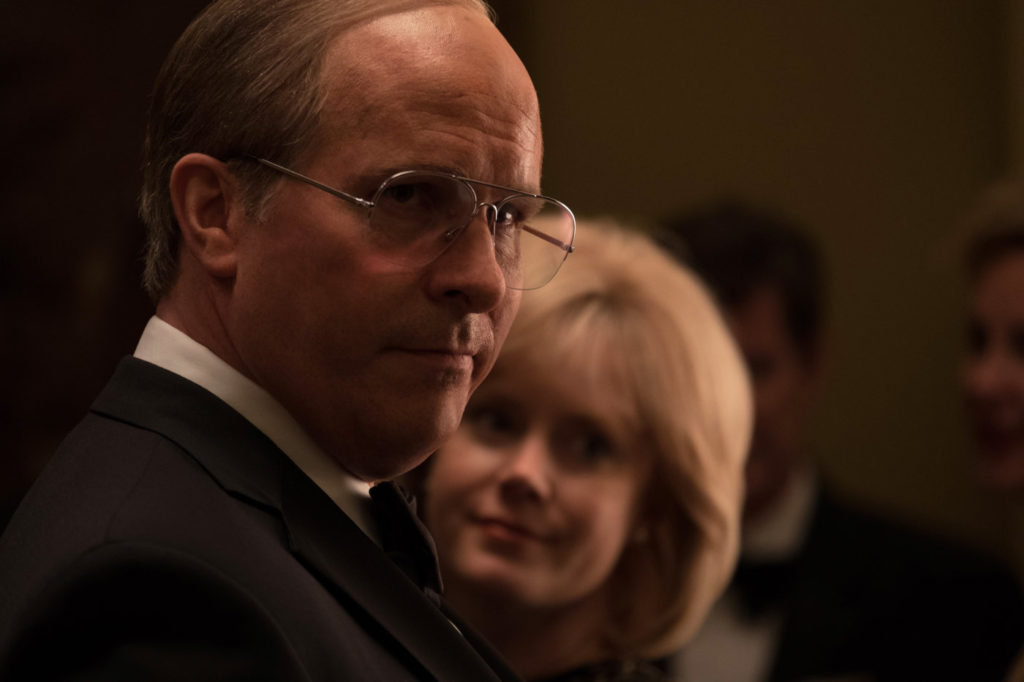 By Ray Bennett
LONDON – American writer-director Adam McKay's political satire 'Vice' does for Washington what his 2015 film 'The Big Short' did for Wall Street with the same mix of techniques that includes sharp humour, characters speaking to camera, flashbacks and sublime acting.
The title stands not only for the immoral and probably illegal mischief of the men who surrounded President George W. Bush but specifically to the humourless mastermind Vice-President Dick Cheney played with uncanny skill by Christian Bale. Like Gary Oldman in 'Darkest Hour', Bale overcomes heavy makeup and CGI to achieve marvellous subtlety in a performance in which silence is as powerful as dialogue. 'Vice' is much better than the Churchill film, however, and that increases the likelihood that Bale will match Oldman and pick up the major acting awards.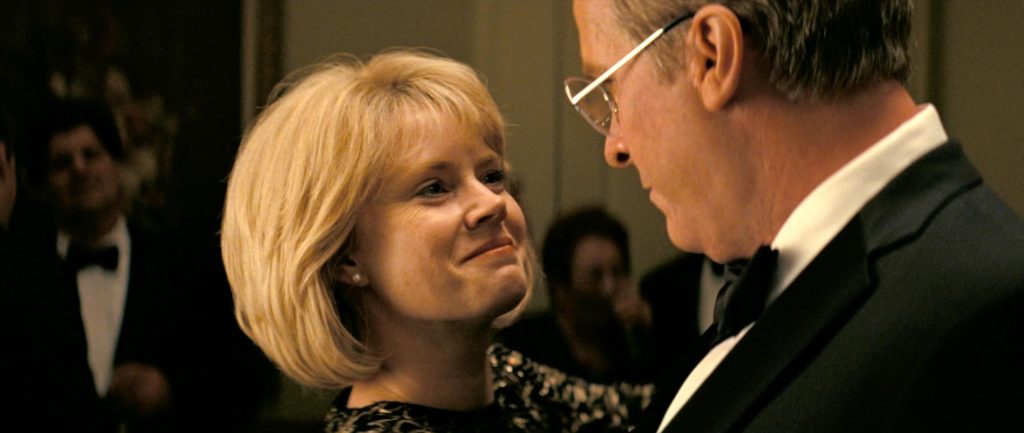 Just as good is the always inventive Amy Adams as Cheney's wife Lynne, who is even more Machiavellian than her husband. She played a role not too dissimilar in Paul Thomas Anderson's 2012 film 'The Master' but if anything her Lynne Cheney is slyer and more cunning than Peggy Dodd in the earlier picture. As good as Bale is, without histrionics she captures every scene she's in. Adams, too, will be in line for the top awards.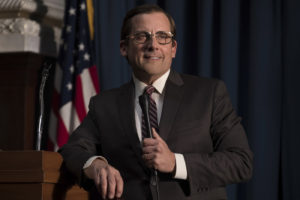 'Vice' follows the Cheneys as Lynne shapes her draft-avoiding, drunken loser husband into the kind of man who could go to school on shrewd cynics such as former Senator Donald Rumsfeld, who became George W.'s secretary of defence, and emerge as the most powerful creature in the White House zoo. Steve Carell also is priceless as Rumsfeld and his reaction when Cheney asks, "What do we believe in?" sums up the entire movie. Sam Rockwell draws smartly on his clueless character in 'Three Billboards Outside Ebbing, Missouri' for his depiction of W.
McKay's spry and insightful screenplay shows how Lynne Cheney steered her husband toward positions in the administrations of Richard Nixon, Gerald Ford and George H.W. Bush, 10 years in the House of Representatives and senior positions in big business. With a pleasing bit of trickery, McKay suggests that their public life ended when Bill Clinton became president until one day the telephone rang.
All the familiar faces of the era are portrayed – Eddie Marsan as Paul Wolfowitz, Justin Kirk as Scooter Libby, LisaGay Hamilton as Condoleeza Rice, Bill Camp as Gerald Ford, Tyler Perry as Colin Powell, Matthew Jacobs as Antonin Scalia and Alison Pill as the Cheneys's lesbian daughter Mary, whom they at first supported but then threw under a bus when their daughter Liz ran for election.
Cinematography by Greig Fraser, production design by Patrice Vermette and editing by Hank Corwin are all spot-on and Nicholas Britell's savvy score mixes jazz, funk and orchestral themes in total sync with McKay's cockeyed view of these particular affairs of state.
There's a great deal of comedy in the film – even when Cheney shoots a hunting pal in the face and has regular heart attacks – despite all the tragic implications of the wars the Nixon and Bush administrations pursued in the interests of big oil firms and, in the case of Iraq, for the benefit of multinational destroy-and-rebuild exploitation firm Haliburton, where Cheney had been CEO. Hunger for power is shown as the prime motive but, while it is touched upon, perhaps even more important was sheer, unmitigated greed.
Released: US: Dec. 25 2018 (Annapurna Distribution) / UK: Jan. 25 2019 (eOne); Cast: Christian Bale, Amy Adams, Steve Carell, Sam Rockwell, Alison Pill, Eddie Marsan, Justin Kirk, LisaGay Hamilton, Tyler Perry; Director: Adam McKay; Writer: Adam McKay; Director of photography: Greig Fraser; Production designer: Patrice Vermette; Music: Nicholas Britell; Editor: Hank Corwin; Costume designer: Susan Matheson; Producers: Megan Ellison, Will Ferrell, Dede Gardner, Jeremy Kleiner, Adam McKay, Kevin J. Messing, Brad Pitt; Executive producers: Chelsea Barnard, Jillian Longnecker, Jeff G. Waxman, Robyn Wholey; Production: Annapurna Pictures, Gary Sanchez Productions, Plan B Entertainment; Rating: UK: 15 / US: 18; running time: 132 minutes