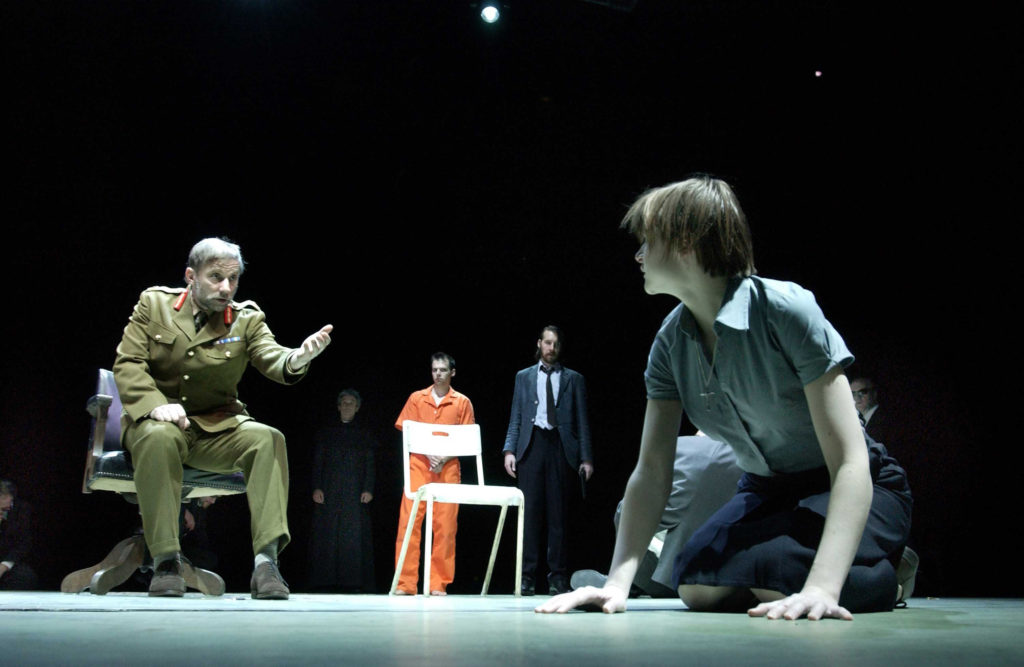 By Ray Bennett
LONDON – Simon McBurney's riveting modern dress production of 'Measure to Measure' at the National Theatre, using his team from Complicite, renders Shakespeare's play about the corrosively seductive nature of power dazzlingly pertinent.
McBurney creates a Vienna that could be any nation-state where the rigid rule of law is the thinnest illusion obscuring a society where fear gives way to the opposing extremes of fundamentalism and self-indulgence.
In typical Shakespearean fashion, the ruling Duke (McBurney) decides to investigate the state of his nation for himself and so, while pretending to leave the country, he masquerades as a monk while his ambitious deputy Angelo (Angus Wright) assumes control.
Angelo is a blinkered puritan who is determined to rid the place of its licentiousness and soon his righteous fury descends on the lovestruck Claudio (Ben Meyjes) whose transgressions are visited with a death sentence.
The Duke's government strives to mete out justice as pimps, thieves and whores thrive but Angelo is not content until necks have been stretched. He does not, however, reckon on the determination of Cladio's sister Isabella (Naomi Frederick), a novice nun, who will go to almost any lengths to free her brother.
Those lengths are tested to the extreme when Angelo discovers that he has lust not only in his heart and Naomi is confronted with the dilemma of exchanging her chastity for Claudio's life.
While it remains purest Shakespeare, this production has the look and feel of modernity with video screens, machine guns and the sounds of helicopters. It moves swiftly and runs without intermission for 130 minutes. There is not a slack moment although the monologues of Angelo and Naomi, and their explosive clashes, are given full rein.
Wright portrays superbly the coiled tension of the deeply conflicted Angelo, and Frederick's Isabella is an unforgettable portrayal of a woman whose ideals are challenged beyond her imagination.
Tom Pye's design is smart and functional serving to help director McBurney make the play's complexities easy to follow. In his performance, McBurney exploits the Duke's sardonic sense of comedy and gives the Bard's bracing cynicism another turn of the screw.
Venue: National Theatre, runs through March 18; Cast: Cast: Simon McBurney, Naomi Frederick; Ben Meyjes, Angus Wright, Ajay Naidu, Anamaria Marinca; Playwright: William Shakespeare; Director: Simon McBurney; Design: Tom Pye; Lighting: Paul Anderson; Sound: Christopher Shutt; Projection: Sven Ortel (for Mesmer). A co-production between the National Theatre and Complicite.