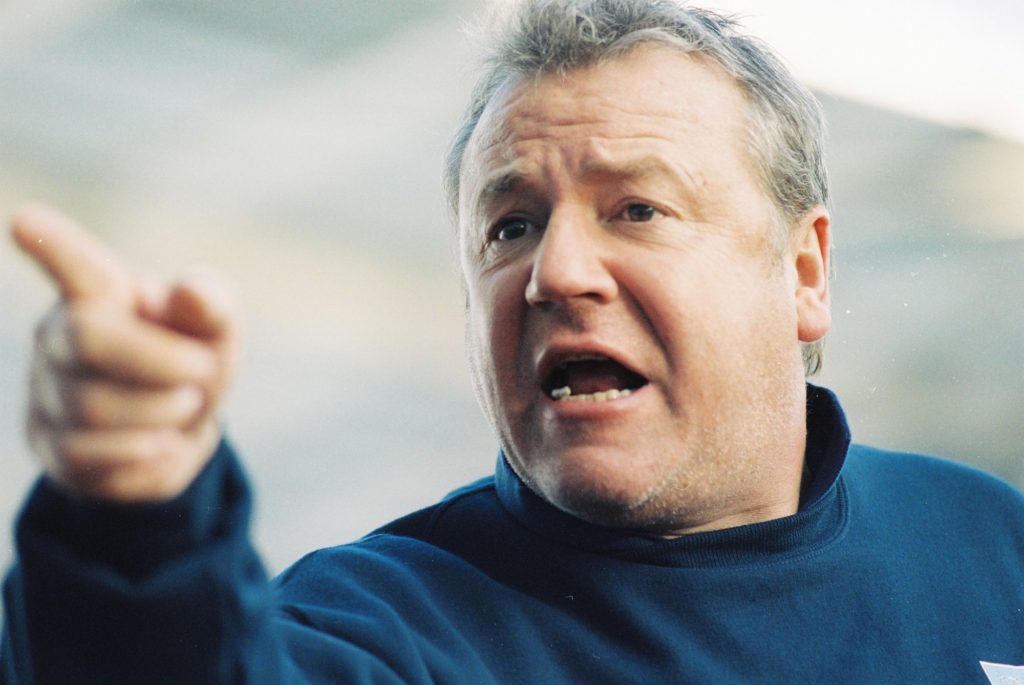 By Ray Bennett
LONDON – Ray Winstone at full throttle is like a force of nature and he's firing on all cylinders as a passionate but corrupt English Premier League soccer manager in the scalding sports drama 'All In the Game' on ITV Thursday.
Spurning the shenanigans of 'Footballers' Wives', this one-off telefilm also scythes down any romantic notions of football being 'the beautiful game' insisting instead that, as one character says, 'the very soul of the game is rancid'.
Frankie (Winstone) is the popular manager of an ambitious club that has been given an expensive makeover by self-made millionaire George Swaine (Roy Marsden) but remains $60 million in debt and must struggle to maintain its place in the top division.
But while George and his savvy director of football Paul (Idris Elba) worry about results and falling attendance, Frankie is up to his foul mouth in the corrupt world of player transfers and kickbacks.
Television rights to the games of the 20 teams in the English Premier League have just been sold for around £1.7 billion ($3.15 billion) and that kind of money has generated an appetite that Paul alludes to in the film: 'Wake up and smell the greed.'
Modern footballers, like American sports athletes, are paid huge fortunes and their written contracts are as worthless as one of Samuel Goldwyn's famous verbal ones. Being young and mostly uneducated and gullible, they are ripe for exploitation by ruthless managers and sports agents.
In writer and executive producer Tony Grounds's script, a gifted young player named Joel (Ike Hamilton) falls into the hands of not only Frankie but his sleazy son Martin (Danny Dyer), who hates football but loves the money it generates.
Grounds and director Jim O'Hanlon wisely spend very little time on the notoriously difficult task of simulating the game of football on film and focus on backroom treachery. Produced by the Manchester division of Paul Abbott and Hilary Bevan Jones's Tightrope Pictures, the film has the crackle and pace you would expect from the makers of 'Cracker' and 'State of the Play'.
It's a good cast and Marsden ('Dalgleish'), Dyer ('The Business'), Elba ('The Wire') and Nicola Stephenson, as the mother of a boy whose football career ends abruptly, all make vivid contributions.
It's Winstone's show, however, as he makes the manager swaggeringly, charmingly and obnoxiously unforgettable. Granada International is handling international sales and they might need subtitles for some of his authentic Cockney slang. Crude, uncouth, and bitter, Frankie cajoles, bullies, sweet talks and begs in order to get his way with every second word having four letters. It's a blistering performance.
Credits: Cast: Ray Winstone, Roy Marsden, Danny Dyer, Nicola Stephenson, Idris Elba, Ike Hamilton, Clare Perkins, Oscar Grounds; Writer and executive producer: Tony Grounds; Director: Jim O'Hanlon; Production designer: Donal Woods; Editor: Mark Thornton; Producer: Hilary Bevan Jones; Senior Commissioning editor for C4 Drama: Francis Hopkinson; Executive producer Tightrope: Paul Abbott; Director of photography: Peter Greenhalgh; Production designer: Donal Woods; Editor: Mark Thornton; Music: Johnny Clifford; Production: Tightrope North; Running time: 120 mins.