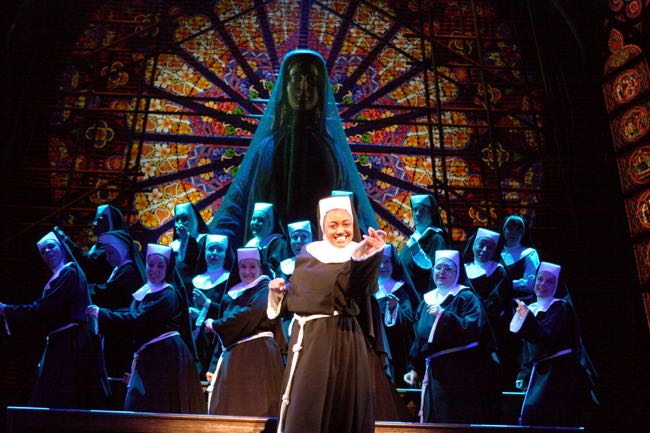 By Ray Bennett
LONDON – Brash and sentimental but witty and tuneful, the stage musical version of Whoopi Goldberg's 1992 comedy film "Sister Act" is a foot-stomping, hand-clapping success with great songs by multiple Oscar-winner Alan Menken and a star-making performance by American newcomer Patina Miller.
Originating at the Pasadena Playhouse, the show has a book by "Cheers' alumni Cheri and Bill Steinkellner and lyrics by Glenn Slater that draw on Joseph Howard's original screenplay. Now it's a major West End production with all the trappings at the celebrated London Palladium.
The most rousing songs are delivered by Miller, whose previous experience includes a stint on "All My Children" and a production of "Hair" in Central Park. With good looks, a splendid voice and terrific comic timing, she has catapulted into the big-time.
Miller has the Goldberg role of Deloris, a brassy lounge singer in 1978 Philadelphia, who witnesses a murder and is placed in a convent to keep her safe before the trial. British stage, film and TV veteran Sheila Hancock has the role of the Mother Superior played in the film by Maggie Smith.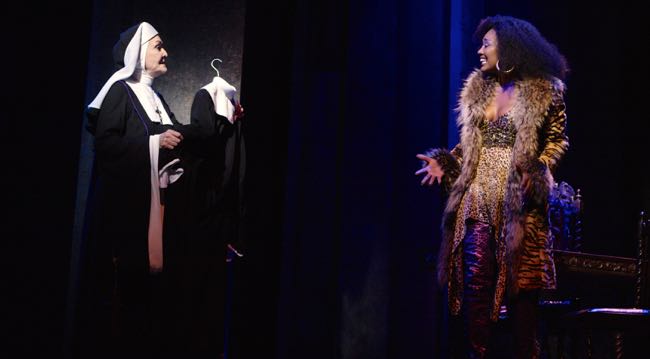 She tolerates Deloris by putting her in charge of choir practice and the nuns quickly become high-stepping, swinging sisters whose performances attract paying audiences that will save their decaying church. The publicity also attracts the killer, Deloris' manager Shank (Chris Jarman), who is determined to silence her.
The plot is simply a device on which to hang 17 songs and everyone in the cast gets a chance to shine. It's harmless and cheerful, but both book and lyrics are mildly disrespectful of the church exploiting iconography and an impersonator of the Pope, and the show more than the film takes the view that being a nun is not a great idea.
Hancock has a sweet song titled "Here Within These Walls" to evoke her sincerity but Katie Rowley Jones, as an orphan who is now a novice, sings a number titled "The Life I Never Led" in which she lists the freedoms she's been denied. "How I Got the Calling," in which the sisters first display their talent for soaring harmony, is more about the ability to sing than their devotion.
The theme of individuals revealing their true nature extends beyond Deloris to individual nuns including Claire Greenway as the plump and boisterous one and Julia Sutton channeling Ruth Gordon as a tough old bird. Deloris' mild-mannered boyfriend, a cop named Eddie (Ako Mitchell), and Shank's hoodlums also deliver songs that reveal them to be more than they at first appear.
Slater's lyrics are bright and sassy with many clever and inventive rhymes, and while Anthony Van Laast's choreography is more about keeping the nuns leaping than anything else, director Peter Schneider makes it all snappy, and the show has been rewarded with cheering and standing ovations.
Venue: London Palladium, runs through Feb. 10; Cast: Sheila Hancock, Patina Miller, Ian Lavender, Chris Jarman, Ako Mitchell, Katie Rowley Jones; Music: Alan Menken; Lyrics: Glenn Slater; Book: Cheri and Bill Steinkellner, based on the motion picture written by Joseph Howard;Director: Peter Schneider; Choreographer: Anthony Van Laast; Set designer: Klara Zieglerova; Costume designer: Lez Brotherston; Lighting designer: Natasha Katz; Sound designer: Mick Potter;  Producers: Whoopi Goldberg, Michael Reno, Joop Van Den Ende, Bill Taylor, Adam Spiegel.
end