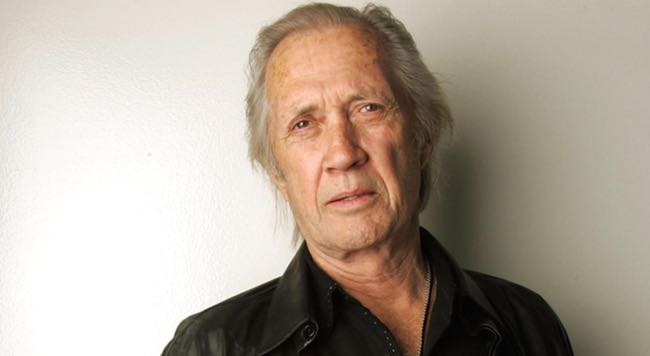 By Ray Bennett
LONDON – Associated Press has reported out of Bangkok that actor David Carradine, star of the 1970s TV series "Kung Fu" who had a wide-ranging career in the movies, has been found dead in the Thai capital. A news report said he was found hanged in his hotel room and he is believed to have been murdered. Investigation is ongoing. He was 72.
Carradine was always a forthright individual and he gave me one of the best interviews I've ever done. I ran into him at the Festival de Cannes at the opening Marché Party in May 2000 and he agreed to meet for a beer and a chat at the Noga Hilton.
"The secret to Cannes," he told me, "is: Don't hustle. Let everyone else hustle. Then you can have fun."
Carradine had been coming to the festival on and off for over 20 years. He had films in competition, he won a prize, and he usually responded when a producer asked him to help get attention for a picture.
He said, "Often I'll come without portfolio, as it were. I hang out; do an interview here and there; take a couple of meetings; go to a party or two and get bored instantly. I make so many independent movies that there are always two or three in the marketplace I don't even know about."
He said he always enjoyed it. Not least because in Europe he was associated more with such films as "Bound for Glory" and "The Long Riders," and having worked with Ingmar Bergman, than for his cult TV series, "Kung Fu."
Carradine said, "I had no idea that show would change things and mean so much to people, but my life has been very arbitrary. I wish it weren't. I wish I could direct my destiny. There are many things I wished I could do that I never did. Too old to play Hamlet now. Better hurry up and play Lear."
Like many of the genre actors who worked outside the studio system, he said he made B pictures because he enjoyed the work. He had one called "Nightfall" at Cannes in 2000, and he left mid-festival to head for British Columbia to make a western titled "By Dawn's Early Light" with Richard Crenna.
He said, "For me, I want to work, if there's something at hand to do. But something about the project needs to jog me. Even at my age, I'm still trying to make a name for myself."
He was in Cannes that year with his brother Robert Carradine, who was known for the "Revenge of the Nerds' films: "We don't get to see each other a lot because we're always off on location somewhere, so that was nice. Usually at a party there's a little meditating pool of quiet where I can talk, say, to Gene Hackman about cars and planes."
He had no time for people who went home from Cannes complaining: "People in L.A. say Cannes is such a drag. I say, 'What the fuck are you talking about?' The place is beautiful, the food is beautiful, the women are beautiful. It's because they were on the second floor of the Carlton sweating and praying, desperate. Fuck that."