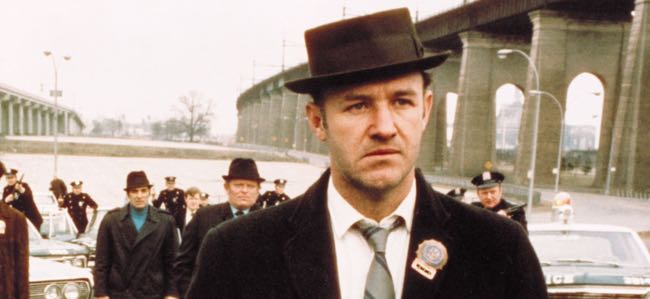 By Ray Bennett
With most movie stars it's not very difficult to sort out a Top 10 of your favourite films but Gene Hackman's exceptional 40-year career has included so many terrific performances in such a wide range of films that it's impossible. As the retired actor turns 85 today, here's an extended list of Hackman films from his 99 acting credits that are even more watchable than most.
Obviously there are his Oscar-winning appearances in "The French Connection" (1971) and "Unforgiven" (1992) and his nominated roles in "Bonnie and Clyde" (1967), "I Never Sang for My Father" (1970) and "Mississippi Burning" (1989) plus the sequel "The French Connection II" (1975) and pleasing turns in "Superman" (1978) and "Superman II" (1980). But there are so very many more.
I met him once at the Long Beach Grand Prix in 1980 when he was the celebrity winner of the Toyota Pro/Celebrity Race with Parnelli Jones the pro winner. Not known for his patience with reporters, I approached him gingerly as he stood quietly by himself but he turned out to be completely relaxed and happy to chat.
Hackman retired in 2004 after "Welcome to Mooseport" and director Alexander Payne said at a Bafta Q&A last year that he had declined repeated attempts to get him to play what became Bruce Dern's Oscar-nominated role in "Nebraska".
It was a great disappointment when he retired but a great pleasure to learn from William Friedkin, who directed the actor in the "French Connection" films, at dinner at the Locarno International Film Festival a few years back, that Hackman was hale and hearty and enjoyed his family and his painting in his retirement home in Santa Fe.
Here's my list of 20 other must-see Gene Hackman films.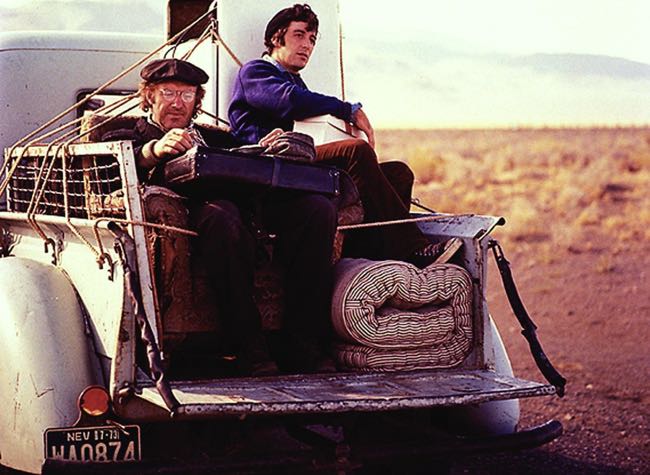 Scarecrow (above, 1973)
My favourite Gene Hackman movie in which he displays his extraordinary ability to be dangerous, sympathetic, vulnerable, and remarkably funny. He plays an ex-convict on his way back east where he aims to open a laundromat but his plans are diverted when he encounters a forlorn ex-sailor (Al Pacino) on the highway and decides to help him find his former sweetheart and their child. Directed by Jerry Schatzberg ("The Panic in Needle Park"), it co-stars Dorothy Tristan, Ann Wedgeworth and Eileen Brennan. Hackman's striptease in a bar is a joy to see.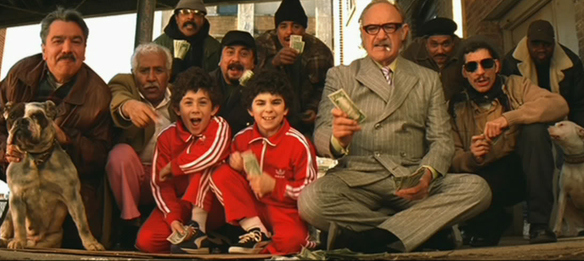 The Royal Tenenbaums (above, 2001)
Splendidly enjoyable Wes Anderson saga about the weird and wonderful Tenenbaum family whose estranged patriarch (Hackman) returns to announce that he is soon to die. Anjelica Huston plays his former spouse with Ben Stiller, Gwyneth Paltrow and Luke Wilson as their offspring. The cast includes Owen Wilson, Bill Murray, Danny Glover, Seymour Cassel, Kumar Pallana and Alec Baldwin. Hackman is marvellous and the entire cast raise their game delightfully.
The Conversation (1974)
Superb and highly praised study of a surveillance expert who comes to suspect that the subjects of one of his assignments will become murder victims. Paced deliberately by writer/director Francis Ford Coppola as the tension mounts, it shows Hackman at his quiet and observant best. John Cazale, Allen Garfield, Federic Forrest and Cindy Williams co-star.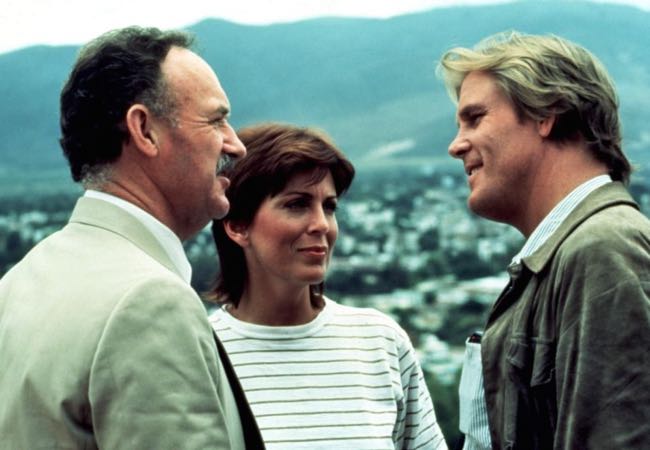 Under Fire (above, 1983)
One of the best films about dirty dealings by the United States in Central America directed by Roger Spottiswoode. Hackman, Joanna Cassidy and Nick Nolte play journalists covering the final days of the corrupt reign of dictator Somoza in Nicaragua in the 1970s. Ed Harris co-stars.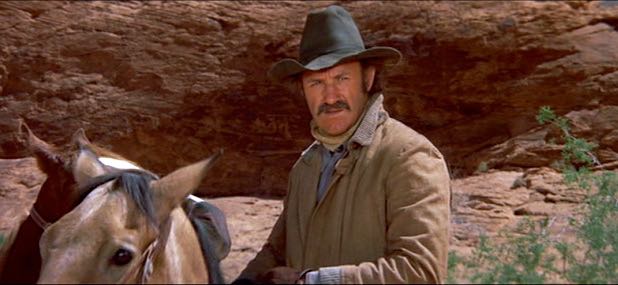 Bite the Bullet (above, 1975)
Richard Brooks writes and directs an epic and hugely entertaining western about a grand horserace across plains and deserts with Hackman as an ex-Rough Rider and a fine cast that includes Candice Bergen, James Coburn, Ben Johnson, Ian Bannen, Jan-Michael Vincent and Dabney Coleman.
Hoosiers (1986)
Hackman plays a basketball coach tarnished by scandal who goes to work at a small town highschool and inspires the team to go for the championships despite local whispers and naysaying. Directed by former "Hill Street Blues" producer David Anspaugh, it's a gentle and emotional film that co-stars Oscar nominated Dennis Hopper with Barbara Hershey and Sheb Wooley. Jerry Goldsmith also had an Oscar nomination for his evocative score.
Cisco Pike (1972)
Sex, drugs and rock'n'roll set in Venice, CA, with Kris Kristofferson as a faded star whose attempt to go straight after a jail term for dealing drugs is threatened by a crooked cop (Hackman) who blackmails him into another drug deal. Karen Black, Harry Dean Stanton, Roscoe Lee Browne co-star with Viva and Joy Bang.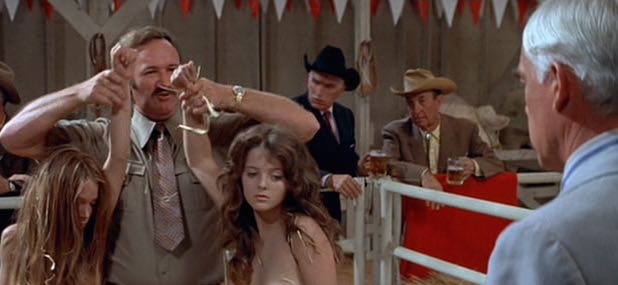 Prime Cut (above, 1972)
Gritty crime story about a tough Chicago hoodlum (Lee Marvin) who is sent to a cattle ranch in Kansas City run by a flamboyant criminal who uses his mincing machine to deal with miscreants and trades in women (including Sissy Spacek in her debut) that he keeps in his cattle pens. Seedy, sordid and hugely entertaining
Heist (2001)
Tense and inventive story with Hackman as a veteran jewel thief mixed up in a job with people he has no reason to trust. Written and directed by David Mamet, it co-stars Danny DeVito, Delroy Lindo, Sam Rockwell, Ricky Jay and Patti LuPone.
Marooned (1969)
Hackman is one of three US astronauts stranded in space in an exciting John Sturges picture that also stars Gregory Peck, Richard Crenna, David Janssen, James Franciscus, Lee Grant and Mariette Hartley. It won the Oscar for best effects that year.
Downhill Racer (1969)
Engaging sports yarn directed by Michael Ritchie about a US ski team led by Robert Redford, who won the Bafta for best actor, with Hackman as the coach.
The Gypsy Moths (1969)
John Frankenheimer's film of James Drought's 1955 novel about a July 4 weekend show in a small American town put on by a team of barnstoming skydivers. Burt Lancaster and Deborah Kerr are reunited 16 years after "From Here to Eternity" and the strong cast includes Bonnie Bedelia, Shree North and Scott Wilson.
Twilight (1998)
Hackman, Paul Newman and James Garner star in an elegant and elegiac tale about oldtimers mixed up in a 20-year old murder case directed by Robert Benton, who scripted with Richard Russo. Susan Sarandon co-stars along with Reese Witherspoon, Stockard Channing, Giancarlo Esposito, Liev Schreiber, Margo Martindale and M. Emmet Walsh.
The Firm (1993)
David Rabe, Robert Towne and David Rayfiel make cracking improvements to John Grisham's thriller about a corrupt Memphis law firm and Sydney Pollack keeps a furious pace. Hackman plays a weak and vulnerable crooked lawyer as newcomer Tom Cruise and his wife Jeane Tripplehorn attempt to bring justice to bear along with David Strathairn and Oscar-nominated Holly Hunter. Hal Holbrook and Wilford Brimley are among the bad guys with Ed Harris as a determined lawman. Terrific Oscar-nominated piano score by Dave Grusin.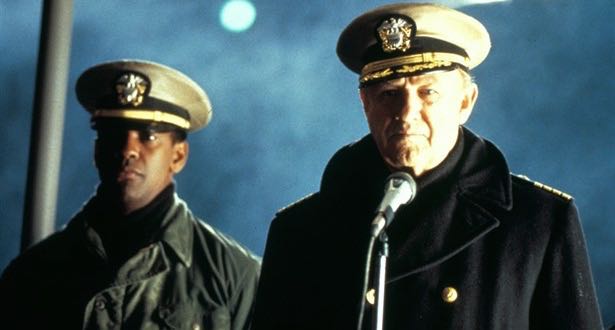 Crimson Tide (above, 1995)
Tony Scott directs a version of "Mutiny on the Bounty" underwater in a sturdy and suspenseful drama that pits an old-school taskmaster submarine captain (Hackman) against a formidable younger officer (Denzel Washington) who fears that his boss has lost his judgment. Matt Craven George Dzundza, Viggo Mortensen and James Gandolfini co-star.
Get Shorty (1995)
Savvy Elmore Leonard yarn directed wittily by Barry Sonnefeld about an East-coast hoodlum (John Travolta) who is beguiled by the easy takings on hand in greedy and gullible Hollywood. Hackman plays a not-very-bright producer and the cast includes Danny DeVito, Rene Russo and Dennis Farina. Terrific soundtrack with score by John Lurie.
No Way Out (1987)
Hackman's on the dark side as a weak politician in Roger Donaldson's tense little thriller in which a navy officer (Kevin Costner) must beat the clock in the hunt for the real villain after the politico's mistress is killed. Sean Young co-stars with George Dzundza, Howard Duff and Will Patton in a gripping turn as the politician's devious but increasingly desperate aide.
The Package (1989)
Andrew Davis, who went on to make "Under Siege" and "The Fugitive", directs a snappy little thriller in which Hackman plays a veteran Green Beret sergeant whose Airborne Ranger prisoner (Tommy Lee Jones) escapes as he escorts him back to the US. Joanna Cassidy, John Heard, Dannis Franz and Pam Grier co-star.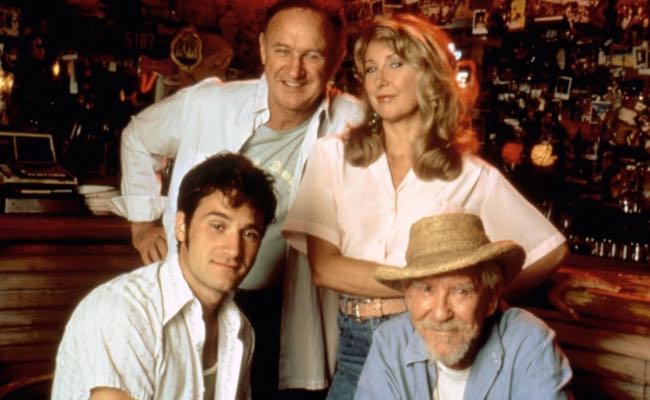 Full Moon in Blue Water (1988)
A sweet and moving story with Hackman as a widower named Floyd who owns a bar in a small Texas town on the Gulf of Mexico and struggles with a failing business, depression from his grief, and an aging father-in-law (Burgess Meredith) who suffers from dementia. Teri Garr and Elias Koteas play sympathetic workers at the bar with Kevin Cooney as a businesman who aims to take advantage of Floyd's dilemma.
Night Moves (1975)
Hackman plays a former football player turned private detective who is hired to find the wayward teenaged daughter of a faded Hollywood starlet. Directed by Arthur Penn, it co-stars Jennifer Warren, Susan Clark, Edward Binns, Harris Yulin and Kenneth Mars with a provocative debut by the then 18-year-old Melanie Griffith.