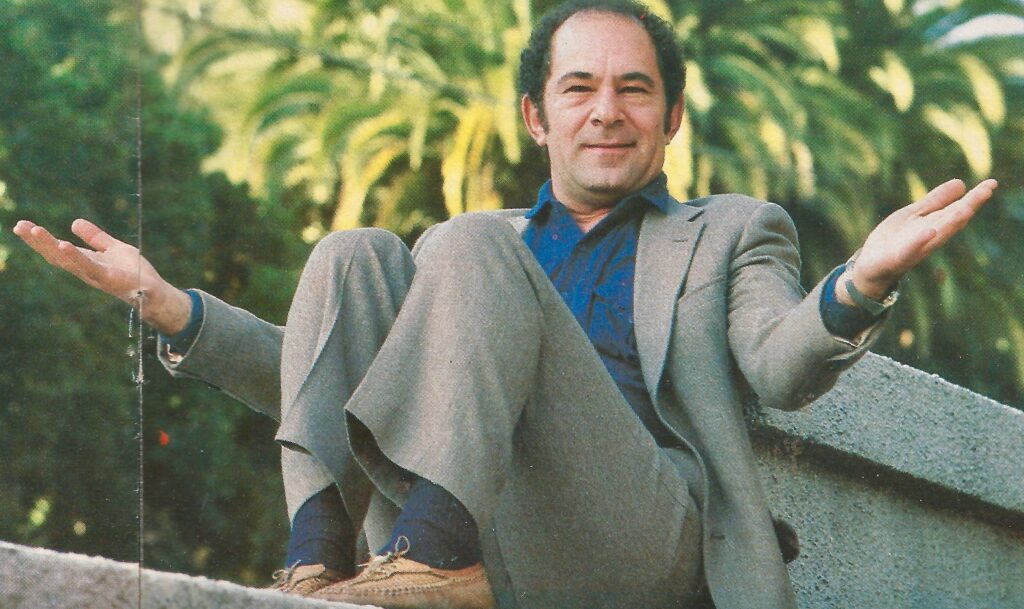 By Ray Bennett
LONDON – Stuart Margolin, who died today aged 82, was one of the great screen sidekicks working regularly with James Garner. Traditionally, in film and on TV, there have been two kinds of heroes – loners and those with sidekicks, There also have been two kinds of sidekick. Some sre there only to keep the hero from talking to himself. Others, the great ones, are there to drive the hero to distraction.
Stuart Margolin established himself as James Garner's sidekick in the great tradition of exasperating sidekicks such as John Wayne's Gabby Hayes in fifteen films.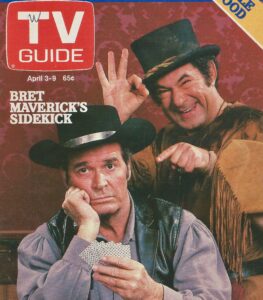 'That's how I like to think of myself,' Margolin told me in 1982 for a cover story in Canadian TVGuide. 'Some guys can take a sidekick, others can't. Jim didn't have a sidekick for many years and he doesn't need one but somehow this has evolved snd I think we work well together.'
Garner did exasperation very well and that's where Margolin, who knew exactly what a sidekick was for, came in. 'I have to be eccentric to the point that it gives Jim something to react to,' he said. 'He is the probably the best reactor in the business. I can be out there doing all manner of mad behaviour and it's Jim's reactions that will give the audience not only his character but my character too.'
Their partnership began when Margolin played a none-too-bright deputy named Mitch Mitchell on 'Nichols', Garner's 1971 western series. Margolin had arrived in Hollywood in 1960 in a road company doing the play 'End as a Man' and decided to stay. He was born by the Mississippi River near Davenport, Iowa, but was raised mostly in Dallas, Texas, where his father owned and operated an appliance store.
At 8, he played Puck in 'A Midsummer Night's Dream' with a professional company but he thought no more more about acting until he went to New York to live with his older brother Arnold,who was acting on Broadway un 'The Diary of Anne Frank'.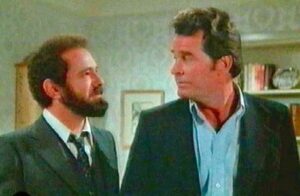 Taking voice lessons to lose his Texas accent, Margolin gradually won small stage roles leading to the road company that took him to Los Angeles in 1960. There, he dound steady work on TV series such as 'My World and Welcome to It' and 'The Partridge Family' and acting in movies including 'Death Wish' and 'Kelly's Heroes'.
In 1970, he appeared in a series of blackout sketches on 'Love American Style', a TV series co-produced by his brother Arnold. When Garner's manager Meta Rosenberg and Frank Pierson, creator of 'Nichols', were casting that series, they saw a clip from 'Love American Style' starring John Astin, whom they were considering for the role of a deputy.
'In the scene, there was an actor who was unknown to us,' Rosenberg told mee. 'It was Stuart and we both said, let's see him, he's terrific.' 
When Garner saw the clip, he agreed. 'It was a sketch in which they ended up slamming a jail door in Stuart's face and he made me laugh,' he told me. 'Anybody who could do that, have a door slammed in his face and make me laugh is doing pretty good.'
The show lasted for just one season but when Garner returned to television as a private eye in 'The Rockford Files', Margolin became a regular as Evelyn Martin, a chronic liar and reprobate known as Angel. Rockford had met Angel when he was wrongfully serving a prison sentence for a crime he did not commit and for which he was pardoned. Rockford has a soft spot for his former cell-mate despite his criminal nature. That series ran for seven seasons with Garner winning an Emmy Award as best actor and Margolin two Emmy Awards as best supporting actor.
His Emmy Awards took Margolin by surprise. 'It sure caught me off-guard,' he said. 'You always think that the people who win these things must know people or are well-liked. I don't hang around Hollywood so it came as a real shock to me.'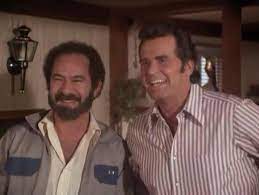 Margolin's sidekick eccentricity found its purest expression in Garner's reprise of his western show, 'Breat Maverick'. He played Philo Sandeen, a Yugoslavian who came to the New World, decided that he preferred to live the way the Indians lived and preferred to go by the name Great Scout Standing Bear. Philo Sandeen was much more capable than Angel and more dangerous. Margolin said, 'After a while, as Angel, it became incumbent to get a laugh on everything I did and I didn't want to fall into that.'
Margolin, of course, was much more than just a screen sidekick. He was a writer, director, composer and singer. He began directing TV shows in 1975 doing several episodes of 'Rockford' and a short-lived TV MTM comedy series, 'The Texas Wheelers'. He wrote the script and the song 'The Ballad of Andy Crocker' for a Lee Majors TV-movie snd he scored seven TV-movies including 'Evil Roy Slade'. In 1980, he released a country-rock album titled 'And the Angel Sings'.
He directed the two-hour opening episode of 'Bret Maverick', which was the NBC's highest rated new show of that season. He also directred Garner's NBC TV-movie, 'The Long Summer of George Adams'. It was well-received but Garner thought Margolin did not get the credit he deserved. 'It had the feel of a great European film,' he said.
Garner was Margolin's biggest fan. 'If I had to work with just one actor every day for the rest of my life, it would be Stuart,' he told me. 'I just think he's such a creative and talented actor and I want him around me.'