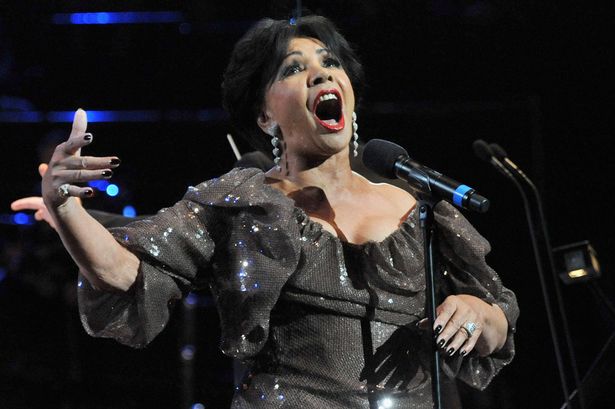 By Ray Bennett
Shirley Bassey received a five-minute standing ovation just for showing up at Wembley Arena on June 14 and that set the standard for the rapturous response that greeted all 22 songs in her 105-minute set.
It was the London leg of her 50th anniversary tour and the capital's fans were on their most demonstratively devoted behavior. Britain's premiere pop diva responded in kind and delivered a sunnily sophisticated performance with the confidence of an artist in peak form.
Honoured last year by the Queen of England, you wouldn't think that this gorgeous Dame, moving jauntily across the stage in a long shimmering gown with the skirt split to the thigh, was a grandmother in her 60s. Sassy and sexy and in complete control of her remarkable voice, gym-trained Bassey squatted in her high heels constantly to retrieve a steady stream of gifts delivered to the front of the stage.
"Goldfinger" set the bar high at the outset and musical director Peter Hagen put the strings and brass of his 21-piece orchestra to work in fine fashion. Bassey said she had chosen her songs from the five decades of her extraordinary career and the top songbooks were represented by such as Rodgers and Hart's "Johnny One-Note" and "Lady is a Tramp," Coleman and Fields's "Big Spender," and Jerry Herman's "I Am What I Am."
Always a flamboyant entertainer, the Welsh-born singer can still shiver the timbers at the back of a very large hall with something like Lionel Bart's "As Long as He Needs Me," arms outstretched, fingers dancing. She can kick out the jams on Al Timothy and Michael Julien's "Kiss Me, Honey Honey" or the Doors' "Light My Fire." But she can bring it all down and caress the shadows with George Harrison's "Something," Willie Nelson's "Crazy" and "(Where Do I Begin) Love Story" by Francis Lai and Carl Sigman.
Alex Gifford's "History Repeating," a '90s hit for Bassey with the Propellorheads, was fresh and challenging and her version of Lennon and McCartney's "Hey Jude" made it perfectly clear that you can't sing along with Shirley Bassey unless she wants you to. Making the song her own, she took its melody and rhythm beyond reach before lowering her voice to let everyone join in.
Ebb and Kander's "New York, New York" and Barry and Black's "Diamonds Are Forever" got the big treatment but it was never too much, always under control. And at the end, the tears seemed genuine when Bassey sang Andy and Elizabeth Neve's new song "Thank You For the Years," from her new Sony album.
There were very few empty spaces at the 12,000-seat auditorium and the multi-generational crowd clearly went home happy. "Eat your heart out, Catherine Zeta Jones," cried one fan, and no one disagreed.
This review appeared in The Hollywood Reporter.