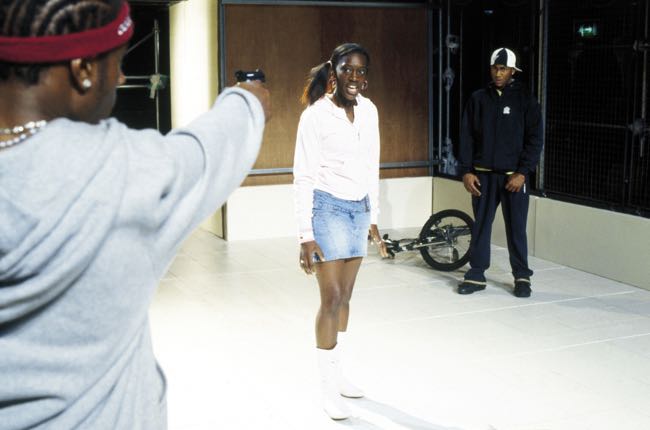 By Ray Bennett
LONDON – On an inner-city estate, in an opening more heard than seen due to clever staging, a straight-A black student is stomped to death, his head "used for a football," his running shoes stolen.
Four young black men flee the crime, one more guilty than the others, and it is the nature of their edgy and competitive existence as smalltime gang-bangers that occupies playwright Roy Williams' play "Fallout" more than any question of justice.
The same issues of respect and thwarted hope infect the two police officers who investigate the murder. Joe (Lennie James), a black detective constable, grew up in what the British call a "sink estate" and he hates the envy and resentment they breed toward anyone who wishes to escape. Matt (Daniel Ryan), his white detective sergeant, is a true-blue liberal who only waivers in his orderly pursuit of something resembling the truth when his constable forces the issue.
Central to the fate-driven story is the behavior of two young women involved with the tearaways. Shanice (Only Uhiara) is strong and bright and draws men and women to her confident beauty. Ronnie (Petra Letang), who is completely under Shanice's spell, is fearful and weak and her jealousy ultimately leads to betrayal.
Stark and spare on a stage created as a rectangular pit in the round with the audience mostly looking down on the action, the play moves quickly through 1 hour and 50 minutes. For the younger characters, Williams employs a believable argot that in its derivative poverty of language argues the tragedy of their limited horizons. He uses the curt and ugly lingo in fine staccato fashion, however, creating riffs of interchanging lines that achieve a form of poetry.
Director Ian Rickson uses the empty space to full effect with fight sequences that involve bodies slamming off cages protecting the closest audience members. He draws splendid performances from a thoroughly committed cast. Ony Uhiara is outstanding as Shanice, fully aware of the power of her sexuality but torn between her own aspirations and loyalty to her friends.
Michael Obiora, as gang boss Dwayne, and Marcel McCalla, as Shanice's troubled boyfriend Emile, convey intelligently the way their characters are mutually dependent, as leader and follower, each destined to play out his fate. James, as angry cop Joe, and Ryan, as well-intentioned Matt, bring taut intensity to their exchanges.
Williams blends in comic relief masterfully to offset what is clearly tragic. His dialogue lapses occasionally  into four-letter words and racial slurs that sound dated and unnecessary but for the most part it's a crisp and unsentimental piece of work.
Stephen Warbeck's music catches the urgency and sadness observantly.
Venue: Jerwood Theatre Downstairs, Royal Court Theatre, runs through July 12; Cast: Jason Frederick, Michael Obiora, Marcel McCalla, O-T Fagbenie, Lennie James, Daniel Ryan, Ony Uhiara, Petra Letang, Clive Wedderburn, Lorraine Brunning; Playwright: Roy Williams; Director: Ian Rickson; Designer: Ultz; Lighting: Nigel J. Edwards; Sound: Ian Dickinson; Music: Stephen Warbeck.
A version of this review appeared in The Hollywood Reporter. Photo by Gautier Deblonde.