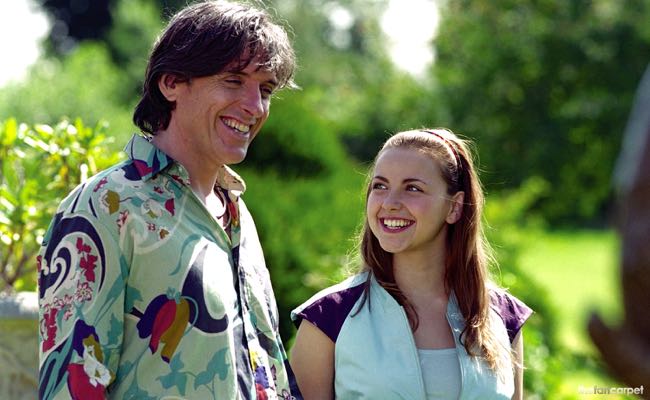 By Ray Bennett
LONDON – "I'll Be There" follows the Elvis Presley pattern of how to introduce a hot young musical talent to the movies – in this case, Welsh classical singer Charlotte Church – and it's the right way to go.
Like "Love Me Tender" all those years ago, it's a lightweight picture about a love triangle with sturdy character actors, and the young star sings just four songs including the title number.
As a result, there's little resting on Church's shoulders and as she's an immensely appealing teenager who can walk and talk, and especially smile, on camera at the same time, "I'll Be There" will do her no harm.
This is a small family film, however, and unless director, co-writer and leading man Craig Ferguson's "Drew Carey Show" fan base rallies around, it's unlikely to excite moviegoers as much as Church excites record buyers.
Fans of the "Voice of an Angel," whose Sony debut album of that name shipped 10 million copies around the world and was followed by three more hit releases, may even feel cheated that she doesn't sing more.
But even though it's innocuous and unmemorable, the film shows that Ferguson has promise as a director. It's his first directing stint, having co-written and co-exec produced "The Big Tease" and co-written and co-produced "Saving Grace" (2000).
Ferguson (pictured with Church) plays Paul Kerr, an '80s Scottish rocker who lives a lonely, self-destructive life in a very fancy pile in the Welsh countryside. In a nearby town lives a woman named Rebecca (Jemma Redgrave) who has a fiery old Ronnie Hawkins-style rocker named Evil Edmonds (Joss Ackland) for a father and a sweet-faced daughter named Olivia (Church) whom she has raised alone. When Kerr makes the papers for an apparent suicide attempt driving his motorcycle out of a second story window, Rebecca has to face the question of telling Olivia that her father is a drunken rock star.
Thus the love triangle as sweet Olivia and her dad meet and make up while fiercely protective mom fights to keep the girl away from the sex, drugs and rock'n'roll that made her own life so hard. But her daughter has kept a secret from Rebecca too, and of course that's her extraordinary voice. The outcome is entirely predictable and only a likeably quirky script by Ferguson and Philip McGrade and some naturalistic playing redeem the saccharine sentiments.
Ferguson's ageing rock star is appealing in his wasted self-regard that begins to change in a cuckoo's nest psych ward when he leads the fellow patients in a raucous piano-led jam. As the stalwart mother, Redgrave (Corin's daughter, of the famous dynasty) is pleasingly unglamorous and she captures Rebecca's ambivalence toward her old love effectively.
In a story close to her real life, Charlotte Church has no great stretches to make and she handles lines and movement with the aplomb of the outstanding concert performer that she is. As the old-time rock'n'roller, Ackland is a revelation viewers will either find quite captivating or maddeningly over the top.
In the end, the film exists to set the stage for Church to sing and she does, wonderfully, Gershwin's "Summertime" and a new tune by multi-Oscar nominee Diane Warren titled "Would I Know?"
Veteran music supervisor Budd Carr's savvy song choices help things greatly and Ferguson shows that he has a true director's eye with more than a few subtle touches that make the film quite endearing for all its blandness.
In the opening sequence, Church sings a gorgeous Celtic song alone in a beautiful old church and on the lectern the briefly seen text is "Apocrypha." At the end, when all the principals get up on a pub stage to bang out the Four Tops' "Reach Out (I'll Be There)," the clashing styles are noisily and engagingly out of tune, just as they would be.
We can hope that having made a benign start Church will find success in films but won't churn out the kind of movie musical pap that trapped Presley, but we can also hope that Ferguson's next gig gives him much freer rein.
Opens: UK June 20 (Warner Bros.); Cast: Charlotte Church, Craig Ferguson, Jemma Redgrave, Joss Ackland, Ralph Brown, Ian McNeice, Steve Noonan,  Imelda Staunton, Marion Bailey, Anthony Head; Director: Craig Ferguson; Screenwriters: Craig Ferguson, Philip McGrade; Director of photography: Ian Wilson; Production designer: Tim Harvey; Music: Trevor Jones; Costume designer: Stephanie Collie; Editor: Sheldon Kahn. Producer: James G. Robinson; Executive producer: Guy McElwaine, Executive music supervisor: Budd Carr; Production: Morgan Creek; MPAA rating PG-13, running time, 102 minutes.