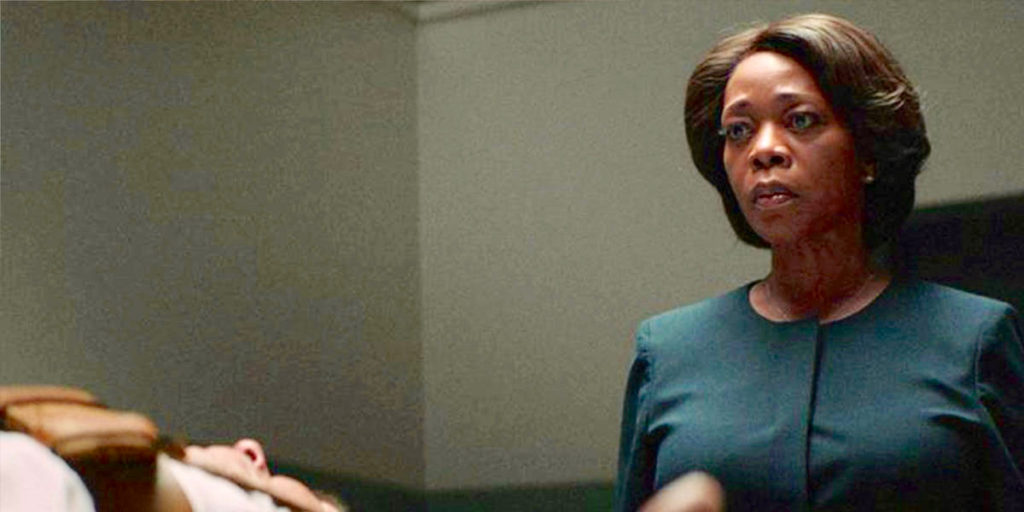 By Ray Bennett
TORONTO – Alfre Woodard gives a profound and memorable performance in writer-director Chinonye Chukwu's 'Clemency', a moving examination of the personal tolls exacted by the death penalty.
Most such stories focus on the victim and the condemned but Chukwu takes a rare look at the people whose job it is to carry out capital punishment. In particular, it's about Warden Bernadine Williams (Woodard), who carries out her grim duties with a calm authority that belies the increasing doubts and tumult inside her.
After overseeing a dozen executions, one goes seriously awry and while she remains committed to seeing through the procedures of state-sponsored killing, her sober resolve begins to fray. Compassionate but firm in carrying out every rule, she strives to remain aloof from the passions and emotions that engulf the families of both victim and convicted killer.
She meets the arguments of campaigning lawyer Marty Lumetta (Richard Schiff) with a rigid adherence to the laws and rules she is obliged to obey. Her coolness begins to affect her marriage, however, and she finds release only in solitary drinking.
When a condemned man named Anthony Woods (Aldiss Hodge) runs out of appeals that suggest he might be innocent, she must confront the fact that she is powerless as the state's regulations run their course.
The director draws fine performances from the entire cast with Woodard certain for awards attention if enough potential voters see the film. Shot without fuss by DP Eric Branco with a nuanced score by Kathryn Bostic, 'Clemency' makes its points subtly but is nonetheless powerful for that.
Viewed at Toronto International Film Festival; Released: US: Dec. 27 2019 (Neon); UK: TBA; Cast: Alfre Woodard, Aldiss Hodge, Wendell Pierce, Richard Schiff; Director, writer: Chinonye Chukwu; Director of photography: Eric Branco; Production designer: Margaux Rust; Music: Kathryn Bostic; Editor: Phyllis Housen; Costumes: Suzanne Barnes; Producers: Timur Bekbosunov, Julian Cautherley. Bronwyn Cormelius, Peter Wong; Executive producers: Kathryn Bostic, Johnny Chang, Emma Lee, Alfre Woodard; Production: ACE Pictures Entertainment, Bronwyn Cornelius Productions, Big Indie Pictures; running time: 113 minutes.