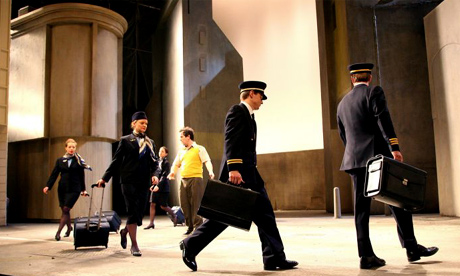 By Ray Bennett
We all know about silent movies, but a silent play? Peter Handke's "The Hour We Knew Nothing of Each Other" at London's National Theatre is mercifully not mime and it's not completely silent, but it is wordless even with 27 actors onstage playing 450 characters.
The Austrian playwright drew his inspiration for the production, which actually lasts for 95 minutes, from people-watching in a tiny square in Trieste in northern Italy. In Meredith Oakes' new translation, it's a cavalcade of people from all levels of society going about their daily lives.
Most are individuals crossing a square between tall buildings, possibly a restaurant, an opening to a subway and some pillars. One or two are together, and there's the odd group of tourists or characters linked by common dress.
Men and women of many races and walks of life stride, stroll or loiter, but if they speak to each other, we don't hear it. Events take place unexplained, including what seems to be a small earthquake and perhaps some kind of military uprising with uniformed men racing through bearing machine guns.
Workers haul statues and machinery to unknown places. Two well-dressed young women kick a soccer ball about and a young man falls off his skateboard. Several elderly folk find their way gingerly between the buildings.
People queue in a corner for an unknown purpose. The sky darkens and lightens, the wind blows, and there are the sounds of clatter and fuss from beyond the square. Sometimes the square is packed and at other times it's empty. Life goes on.
Director James Macdonald alters the pace intriguingly between furious haste and moments of idleness. Most of the characters are seen so briefly that no attempt is made to establish identity. There is one joker, played by Jason Thorpe, who earns laughter as he mimics other people, including a uniformed flight crew rushing presumably to an airport somewhere.
Anyone who has spent time gazing at humanity in all its weird and wonderful variations will see what Handke is getting at. For the most part the play holds attention, but it lacks dramatic cohesion, so that in the end it resembles daydreaming in some European square and feels just a bit like wasting time.
This review appeared in The Hollywood Reporter.