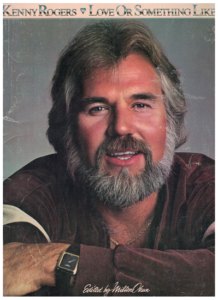 By Ray Bennett
We flew into LAX from Toronto, checked into the Sportsmen's Lodge in the Valley, went directly to the then open-air Universal Amphitheater and were led to seats in the front row just as the biggest entertainer in the world strolled onto the stage: Kenny Rogers, who died today aged 81.
It was in early May 1978. TVGuide's Canadian editions had just been purchased from the US parent company and art director Brian Moore and I were in Los Angeles to talk to freelance writers and photographers as we began to establish our own identity.
Journalist Sue Reilly, who wrote cover stories for People Magazine, was our stringer and she met us at the airport. Sue had arranged tickets to see Kenny Rogers, who'd just been on the cover of Time (or maybe Newsweek) as the highest paid performer in the world. It was unforgettable on that first evening ever in L.A. to see that genial man with modest talent keep a joyful crowd entertained beneath the moon and stars.
A few years later, 1983 I think, I saw Kenny Rogers perform again at the CNE in Toronto. I was still with TV Guide Canada and for some reason I was invited to go backstage either at intermission or after the show, to say hello to him. He was relaxed and very personable as we sat, just the two of us, and chatted over a couple of beers. He was far from being my favourite singer but I liked him immensely. He was still huge and it was quite something to reflect that there I was just having a quiet beer with the biggest star in the world.
That first trip to L.A. was the first time I met Sue Reilly, who wrote regularly for TV guide Canada and has remained a great friend, and she set up meetings with potential local contributors. One of them was writer David Gritten and I assigned him stories for every magazine I edited after that. When I returned to live in L.A. in 1989, David introduced me to Los Angeles Herald Examiner managing editor Andrea Herman, who hired me as Arts and Entertainment Editor for an incredible few months in which I began some lifelong friendships.
Also on that trip, I met future roommate and now longtime friend, photographer Maureen Donaldson, who introduced me to her pal TV Star Anne Lockhart. They took Brian and me to Olvera Street to celebrate Cinco de Mayo and on our last night took us to Dan Tana's (my first visit to what years later would be a regular drinking and dining spot) before driving us to LAX for the flight home.
We had great expenses and Sue had tried all the glam hotels but they were booked so she resorted to the old dependable Sportsmen's Lodge. On many subsequent visits, I stayed at places like the Beverly Hills Hotel, the Four Seasons and the Beverly Wilshire until I realised that the Lodge was perfectly fine in a good location close to all the studios with a good coffee shop where I ran into Jack Palance one morning. Robert Wagner told me later that the hotel had once been a favourite for rascals in the screen community for afternoon delights. But I digress.