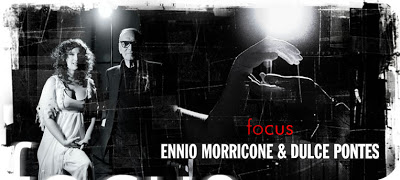 By Ray Bennett 
LONDON – The late Ennio Morricone was a giant in film music but the Italian composer could be a difficult man as I found out when I went to interview him in London.
He was in town for his 75th birthday concert at the Royal Albert Hall in 2004 and he also had a new album to promote. Titled 'Focus', it featured Morricone and the Portuguese Fado singer Dulce Pontes and so I was to interview the two of them.
I arrived at his hotel suite to find it crowded with various members of his family including children running about. I'm told that the maestro could speak English but chose not to, especially in interviews with English-speaking writers. It appeared that the vocalist also did not speak English.
They sat on a couch in the centre of buzzing activity and I joined them on a nearby armchair. We were joined by a young woman who apparenty was the only translator Morricone's people could find who spoke English, Italian and Portuguese. She was Japanese.
Morricone answered a few questions with 'si' or 'no' and said a few nice words about Dulce Pontes but he was then distracted frequently by family members who wandered over to chat with him and wanted to meet the vocalist. 
Pontes did her best to respond to questions but the situation soon became impossible. I closed my notebook and sat back to watch Morricone enage with his first love … his family.
The birthday concert was wonderful and the Pontes album is quite marvellous. My favorurite Morricone scores are for Roland Joffé's 'The Mission' (1986),  Giuseppe Tornatore's 'Cinema Paradiso' (1988) and 'The Legend of 1900' and Mike Nichols's 'Wolf' 1994).
 Here's my review of the concert: https://thecliffedge.com/?p=4145