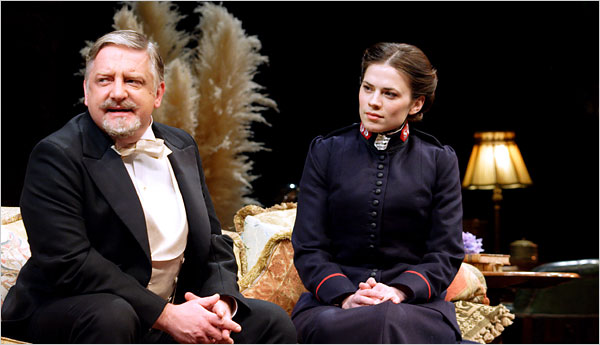 By Ray Bennett
LONDON – Bernard Shaw's play "Major Barbara" tackles themes similar to the movie "There Will Be Blood," but instead of the American Daniel Plainview it's a very English capitalist named Andrew Undershaft who takes on religion and wins.
President Eisenhower warned of the dangers of the military industrial complex in his farewell address in 1961, but it was on playwright Shaw's mind in 1905, when the play was first produced. Now, a major revival brings out all of Shaw's skill in creating interesting characters and writing well-structured and often very funny scenes.
Directed by Nicholas Hytner and starring, as Undershaft, Simon Russell Beale –surely the best stage actor in Britain – the play retains Shaw's cynicism and idealism and does not shirk his inclination to be didactic in respect to society and politics.
Undershaft manufactures weapons of all sizes and sells them to anyone that wishes to go to war. Immensely wealthy, he pays his workers an honest wage and provides homes, schools and health care. He does this not only because he believes treating them well will prevent revolution but also from his belief that the worst crime in life is poverty.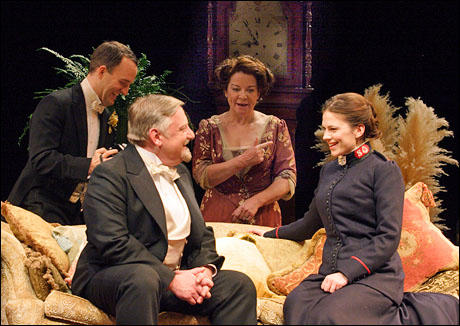 The mogul also provides for his estranged family, haughty wife Lady Britomart (Clare Higgins), feeble son Stephen (John Heffernan) and two daughters, giggly Sarah (Jessica Gunning) and the very independent and resourceful Barbara (Hayley Atwell, pictured with Beale).
Barbara, in fact, has rejected the trappings of wealth and joined the Salvation Army along with her doting boyfriend, Adolphus (Paul Ready), a scholar of Greek.
Shaw pits the father and the boyfriend against each other to win over Barbara; one to draw her towards capitalism, the other towards idealism. It's not a fair fight, and Hytner uses Shaw's text to illustrate exactly why with all its references to government, industry and world affairs remaining highly pertinent.
The play moves through three impressively detailed sets designed by Tom Pye as Shaw takes his characters from a cozy drawing room to an unsettling Salvation Army soup kitchen to a very scary weapons factory filled with bombs that might be nuclear.
Russell Beale relishes the chance to play a much darker character than usual, and Undershaft's exchanges with wife, daughter and Adolphus are riveting. Higgins and Ready respond in kind, and Heffernan shows the son's better colors before the play is over.
Oddly, Shaw doesn't give his title character many great lines, and while Atwell is fine, she's not given the chance to impress, as she surely will later this year as Julia Flyte in a new feature film version of "Brideshead Revisited."
Venue: National Theatre, runs through May 15; Cast: Simon Russell Beale; Hayley Atwell; Clare Higgins; Paul Ready; John Heffernan; Tom Andrews; Jessica Gunning; Playwright: Bernard Shaw; Director: Nicholas Hytner; Set designer: Tom Pye; Costume designer: Vicki Mortimer; Lighting designer: Paul Pyant; Music: Matthew Scott; Sound designer: Mike Walker; Presented by the National Theatre with sponsorship by Travelex.
This review appeared in The Hollywood Reporter.