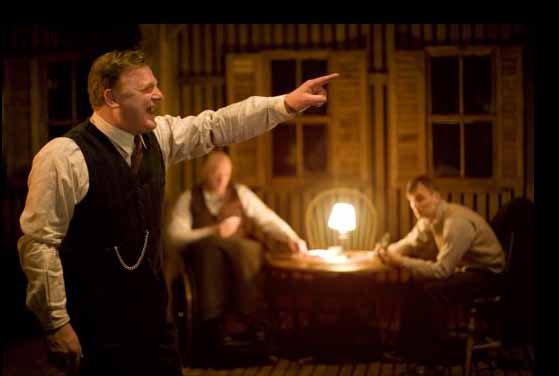 By Ray Bennett
London's Donmar Warehouse has taken a forgotten play by Arthur Miller, "The Man Who Had All the Luck," which folded after four performances on Broadway in 1944, and reveals that it deserves an honored place among the late American playwright's works.
A fable about a man who cannot believe his own good luck, the writing is sturdy and provocative, as you would expect from Miller. In his 30s at the time, he explores such themes as the conflict between fathers and sons and how life has a way of catching us out that he would explore further in his greatest plays.
Casting director Anne McNulty has supplied director Sean Holmes with a cast of fine actors who are not only relaxed in their serviceably generic U.S. accents but also somehow have the faces of hardworking rural Americans in the 1940s.
Designer Paul Wills' evocative sets — including a roadside garage with a period automobile that descends from the ceiling — are bathed in Paule Constable's autumnal lighting to amplify the play's mix of hope and despair.
Miller's central character, David Beeves (Andrew Buchan) is a man who has lucked into a job as a car mechanic but who believes that in America a man should get what he deserves. When good things always seem to come his way, he refuses to believe that he's earned them. It will spin him toward madness.
Miller said his parable was about a young man who has "succeeded in piling up treasures that rust, from which his spirit has already fled." The man's conviction that everyone has a curse that will one day emerge to blight life is deepened by the cruel fate that has been dished out to everyone else he knows.
His brother Amos (Felix Scott), who has a fine pitching arm, having been driven to train by their obsessed father (Nigel Cooke), keeps waiting for a scout from the Detroit Tigers to show up. Friend J.B. (Mark Lewis Jones) keeps drinking as his longed-for chances to become a father become slimmer. Girlfriend Hester (Michelle Terry) has a brute of a father (Roy Sampson) who threatens to shoot David if he comes near her.
There are other well-drawn characters, too, whose aspirations have been tarnished by one or another misfortune and a series of events that make compelling drama. The acting is exemplary, and it's hard to believe that if the Donmar's production takes Miller's play back to Broadway that it won't have much better luck this time.
Venue: Donmar Warehouse, runs through April 5; Cast: Mark Lewis Jones; Andrew Buchan; Aidan Kelly; Sandra Voe; Nigel Cooke; Felix Scott; Michelle Terry; James Hayes; Roy Sampson; Shaun Dingwall; Gary Lilburn; Playwright: Arthur Miller; Director: Sean Holmes; Set designer: Paul Wills; Lighting designer: Paule Constable; Sound designer: Christopher Shutt.
This review appeared in The Hollywood Reporter.