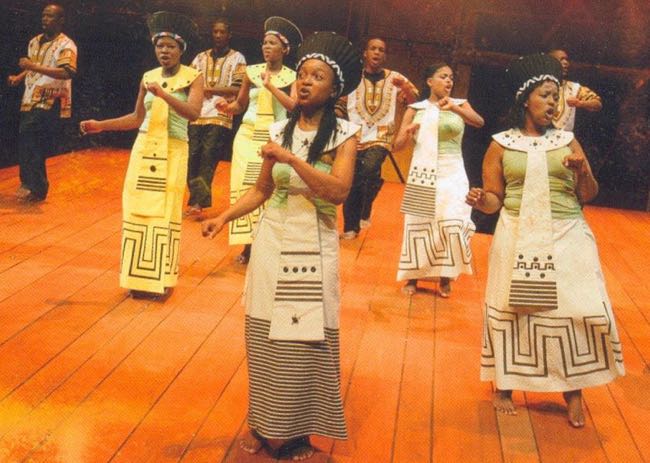 By Ray Bennett
LONDON – The joint was jumping at the Olivier Awards Sunday night with performances from the nominated musicals and a tribute to the works of lifetime achievement honouree Andrew Lloyd Webber.
Most unforgettable was the reaction of the young cast of "The Magic Flute – Impempe Yomlingo" (pictured) who had performed earlier. They were watching from the balcony of the ballroom at Grosvenor House and when the show was named best musical revival, boy, did they sing out in triumph!
It was exhilarating, and a grand advertisement for the Young Vic production, which sets the Mozart classic in South Africa, and is playing at the Duke of York's Theatre through April 12.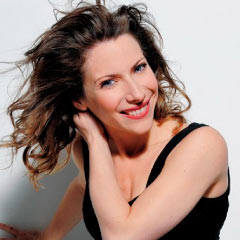 The casts of the Donmar's "Parade," "Fiddler on the Roof," "Little Shop of Horrors" and the night's big winner, "Hairspray", also were in top form. Connie Fisher from "The Sound of Music" sang "Take That Look Off Your Face" from "Tell Me On a Sunday" and Lee Mead did "Close Every Door to Me" from "Joseph and the Technicolour Dreamcoat" in the Lloyd Webber salute.
But the one who had the industry crowd standing in applause was Elena Roger (above). The petite Argentine star of the 2006 revival of "Evita" performed "As If We Never Said Goodbye" from "Sunset Boulevard" and blew the roof off.
Richard E. Grant was the droll host of the evening, dripping with sarcasm over many of the corny lines he had to deliver. Presenters included Kevin Spacey and his "Speed-the-Plow" costar Jeff Goldblum who was paired with a delighted Barbara Windsor.
All the winners were gracious although I didn't hear best actor Chiwetel Ejiofor ("Othello") name-check his Iago, Ewan McGregor. The best acceptance speech was by surprised choreography winner Toby Sedgwick, who devised the motion of the puppets in the National's hit "War Horse", which returns at the end of the year.
Sedgwick observed that working with the faux equines for so long didn't necessarily turn a person into a horse and then began to snort and stamp his foot.