By Ray Bennett
Noel Coward wrote "The Vortex" in 1924 as a cautionary tale about the price to be paid for overindulging in the roaring '20s, but his characters appear frightfully shallow and their antics tiresomely petty in the 21st century.
The eminent Peter Hall directed the current revival at London's Apollo Theatre, and Felicity Kendal of the 1970s U.K. sitcom "The Good Life" does her best as an impossibly self-obsessed aging beauty named Florence who is coming to terms badly with the passage of time. Kendal tries not to flounce too much, though she does at one point have to fling herself onto a large bed and almost tear her hair out.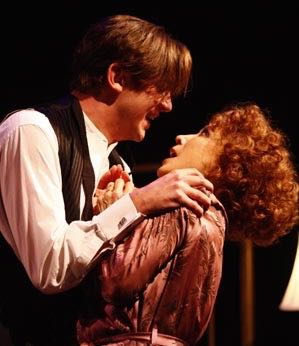 Dan Stevens has it worse, as her son, Nicky, a 24-year-old layabout who has just returned from Paris. There, he has picked up a coyly implied cocaine habit and is mortified to see that mummy is bonking yet another guardsman, Tom (Daniel Pirrie).
When Florence has a hissy fit about her escort's predictable betrayal with a mindless young thing named Bunty Mainwaring (Cressida Trew), Nicky erupts in anger, even going so far as to throw her rouge and face powder across the room!
Nicky had been passing off Bunty as his girlfriend, but having written the part for himself, Coward makes it clear that the young man's impulses lie in another direction. And with his taste for drugs, he feels that Florence has really done a terrible job as a parent.
His wealthy father (Paul Ridley), long accustomed to his wife's strident infidelities, wisely remains offstage most of the time, showing up every now and then to sigh and withdraw.
Florence has plenty of company in her posh residence, however, besides Tom. There's a party of jolly types including the fatuous Pauncefort Quentin (Barry Stanton), who is given insightful lines like "It's never too early for a cocktail," and close friend Helen (Phoebe Nicholls), who would prefer to become closer still.
Coward litters the play with dialogue intended to pass as wit. "He's terribly selfish," one says, "but so is everyone who is amusing." "Isn't Tom a darling?" "Yes, without being aggressively brilliant." "He's the very nicest type of Englishman." "I hate the nicest type of Englishman."
The play runs for less than 100 minutes, but here it's spread out over three acts with two lengthy intervals. It's a long time before Nicky sums it all up: "We swirl about in a vortex of beastliness!" How true.
Venue: Apollo Theatre, runs through June 7; Cast: Felicity Kendal; Dan Stevens; Phoebe Nicholls; Vivien Keene; Barry Stanton; Annette Badland; Daniel Pirrie; Paul Ridley; Cressida Trew; Timothy Speyer; Playwright: Noel Coward; Director: Peter Hall; Designer: Alison Chitty; Lighting designer: Paul Pyant; Sound designer: Gregory Clarke; Music: Mick Sands; Presented by Bill Kenwright.
This review appeared in The Hollywood Reporter.