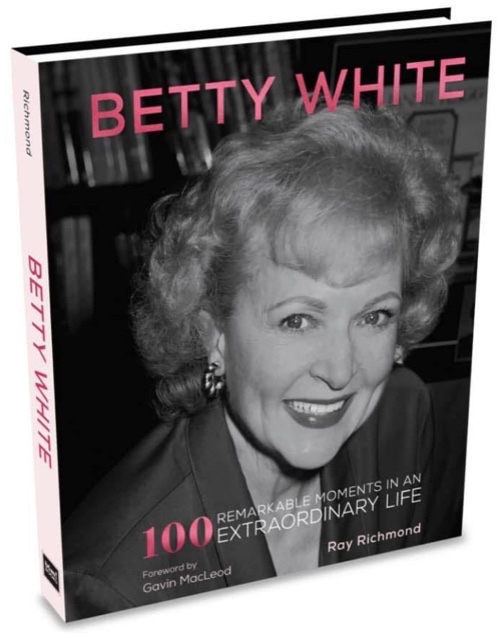 By Ray Bennett
LONDON – Betty White loves a good pun. At least, she did when I had lunch with her when she was on 'The Golden Girls' in the mid-Eighties. This was her favourite at the time: Why are protestors always allowed a way out in north-east Spain? Because you should never put all your Basques in one exit.
This comes to mind as today will see publication of a book by my friend Ray Richmond about the venerable multi-award-winning actress, whose 100th birthday will be on January 17.
Puns were not her greatest love. 'Animals are my life's work, TV is my hobby,' she told me. She was president emerita of the Colorado-based Morris Animal Foundation, which raises funds for medicine and vaccinations for dogs, cats, horses and wildlife. Despite all of her success, her favourite series was 'Pet Set', which ran in syndication for 31 episodes in 1971. 'I was working in an element I loved,' she said. 
'Golden Girls' was already her most consistent hit when we spoke and it would run for seven years. 'We're having such fun,' she said. 'We're having a ball.'  The show came five years after her time as snippy, judgmental Sue Ann Nivens in 'The Mary Tyler Moore Show' and she was first approached for the role of Blanche, the saucy Southern belle played by Rue McClanahan. Instead, she played the sweet and gullible Rose.
'I loved Sue Ann, rotten as she was,' White said. 'They were having trouble finding Rose. She is a far cry from Sue Anne but she's great fun to play.'  White had worked with McClanahan on Vicki Lawrence's sitcom 'Mama's Family' and she was good friends with Bea Arthur, who played Dorothy on 'Golden Girls' with Estelle Getty as her cranky mother.
'None of us knew Estelle but she was like finding gold,' White said. 'Going to work with pros – it would be great if it were just the professionalism but to have the whipped cream of them being so adorable. Whatever you throw out, they always come back.'
The wide demographic appeal of the show came as a surprise. 'It's one thing to appeal to other women of a certain age but we have kids and young girls. The beauty of all of us coming with established careers – it's just delightful to make the point that when you meet that certain age there's still so much life. It's only the outside facade because inside you don't feel a whit different from when you're 21.'