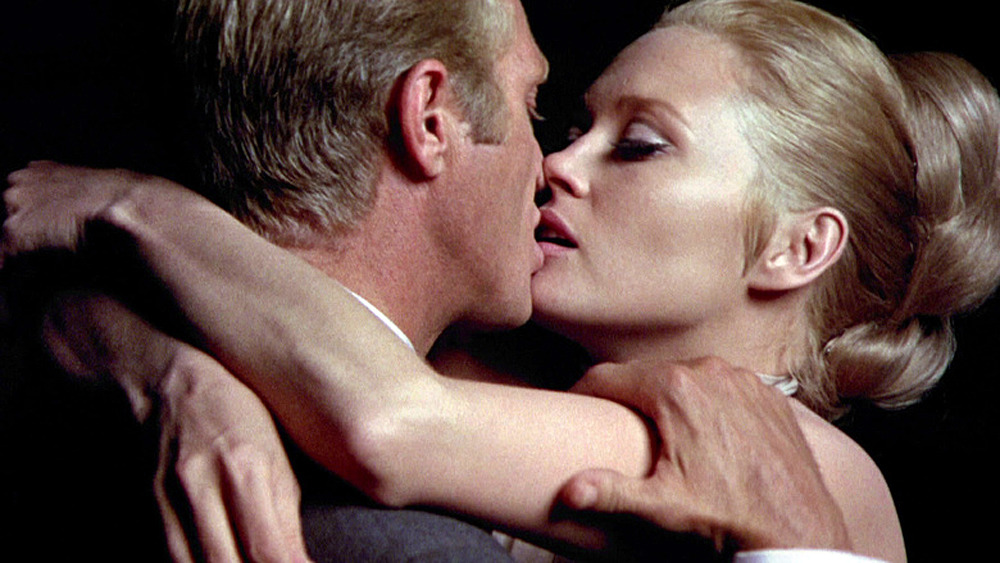 By Ray Bennett
LONDON – Lyricists Marilyn Bergman, who died today aged 93, and her husband Alan Bergman won the best-song Oscar in 1969 with Michel Legrand for 'Windmills of Your Mind' from 'The Thomas Crown Affair' but they owed a debt to the Beatles.
Norman Jewison, the Canadian filmmaker who directed the picture, told me he had used the Beatles' 'Strawberry Fields' as a temp track for the glider scene with Steve McQueen and Faye Dunaway. 'There's something repetitious about the song,' he noted. 'I said "I need something like this". That's when Michel wrote this strange piece and the Bergmans came up with 'Round, like a circle in a spiral, like a wheel within a wheel' and it was all inspired by "Strawberry Fields".'
Alan and Marilyn Bergman also won an Oscar for writing the lyrics to the title track from 'The Way We Were' with Marvin Hamlisch. In 2004, Beatles producer George Martin presented them with a lifetime achievement award at the World Soundtrack Awards in Gent. The WSA's Marian Ponnet noted, 'It's a very tough task to write a really brilliant song and they have mastered the element of simplicity that moves the heart.'
Marilyn Bergman, then president and chairman of ASCAP, thanked the many composers and filmmakers the pair had collaborated with naming Sydney Pollack, Mark Rydell, Barbra Streisand and Norman Jewison. Alan Bergman made the evening especially memorable when he performed their two Oscar-winning songs as scenes from the films screened behind him.