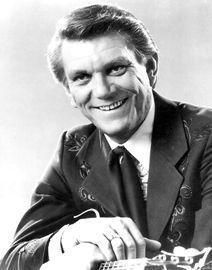 By Ray Bennett
LONDON – Country music singer Tommy Hunter, who turns 85 today, was one of the most popular entertainers in Canada for decades but he was never tempted to become a star in America.
He was the highest-paid performer on Canadian television – 'The Tommy Hunter Show' ran on CBC-TV from 1965 to 1992 and on TNN in the U.S. for its final ten years. He filled town halls from Come-by-Chance, Nfld, to Kamloops, B.C. and had hit singles including 'Mary in the Morning', 'Born To Be a Gypsy' and 'Love of a Good Woman'.
'I've had very high goals,' he told me, 'but going to the States is not one of them. I've no desire to move down there. A lot of guys go down there and don't enjoy it. If I did make the move, I'd need a manager who'd take twenty per cent of what I earn and an agent who'd take another twenty or thirty per cent. You need offices, buildings and a big staff just to keep the merry-go-round going. Here, I have no manager, no agent. I do all my own work. In the States, I might make $50,000 and see very little of it. Here, I might make $5,000 and it's all mine. I know what I can do in television. I know my limits and I sure don't need the high pressure of being down there.'
Artists featured on his TV show early in their careers included Gordon Lightfoot, Garth Brooks, Shania Twain, The Judds and Alanis Morissette. They went on to international acclaim but the day I spent watching Hunter tape a Christmas special in 1974 showed a man at ease with himself and his chosen path.
The singer had been going down his own road since he left his London, ON, home when he was 16. Then 37, he was very much his own man living in suburban Mississauga just west of Toronto with his wife Shirley and three children. He continued to tour after his show was cancelled and he was inducted into the Canadian Country Music Hall of Fame and made made a member of the Order of Canada. He retired in 2012.
A man who knows his limitations is rare in the volatile worlds of music and television. Hunter's head scriptwriter at the time, Windsor-born Gerry O'Flanagan, told me, 'They say that lovability is what makes a long-lasting television star. Tommy has that for his audience plus he has a rare awareness of what his audience expects and will tolerate from him. He's that rarity who knows just what works for him and what doesn't.'
Hunter could be stubborn. He stuck with one song, 'Love of a Good Woman', for several years before he was able to record it. 'I've had it lying around on acetate for seven years,' he said. 'My old record company wouldn't touch it. Now I'm with RCA-Victor and my producer likes it. When we tried to find the composer for the publishing rights, they said he'd snapped out after the song, which he thought was his best, was never recorded. At least, if the record sells it might bring some sanity back to one poor guy.'
It was the final day of taping the Christmas special when I was there and Hunter clearly was enjoying himself with his family and the families of the show regulars on hand. Fake snow in late summer was odd but curiously affecting. The taping went well and some of the Dickens production numbers were spectacular.
Hunter moved easily among the mass of people backstage. The door to his private dressing room remained open and the adjoining makeup room was filled with chattering people and excited youngsters.
'I have a philosopy,' Hunter said. 'My whole deal in the show is to pull all the people together. It's that type of operation. It's a well-honed show. When you have good people, ninety-nine per cent of the thing is already going for you. It's team work.
'When I go into a town hall somewhere, I can see everybody's face clear to the back. I'll change things in the show and if some old guy starts dancing in the aisle, I'll say, "Hold on, come on up here, Dad." With that kind of a crowd, you have great intimacy. We do things that are natural to us and it works. My whole thing is: don't bull, be yourself.'
(Adapted from a story that appeared in The Windsor Star on Dec. 14 1974)