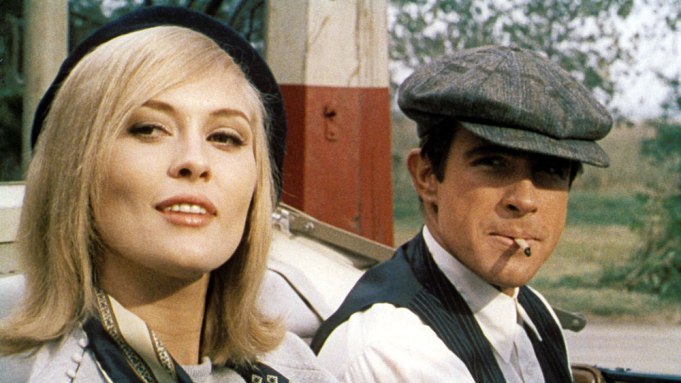 By Ray Bennett
LONDON – One afternoon early in September 1967, the film writers and critics of London gathered in a West End cinema for a screening of a gangster movie starring a pretty-boy Hollywood actor. The cinema was packed although few there believed the Warner Bros. crime picture would have any merit. 
The general mood was not helped when there was a problem with the projector. We were beginning to voice our impatience when on the screen suddenly came a series of snapshots of men and women in Thirties attire. 
Abruptly, the screen was filled with Depression-era cars racing and gunshots and a furious banjo playing. When the dust settled on Warren Beatty and Faye Dunaway (pictured above), Gene Hackman, Estelle Parsons, Gene Wilder and Michael J. Pollard, there was complete silence until all in the audience stood up and began to applaud the sensation that was 'Bonnie and Clyde'.
The film, directed by Arthur Penn, was nominated for ten Oscars with two wins for best supporting actress Estelle Parsons and director of photography Burnett Guffey. It also changed Hollywood forever.
Warren Beatty, who turns 85 today, went on to become one of the greatest actor-auteurs in Hollywood. His output wasn't extensive but his range has been extraordinary with fourteen Academy Award nominations for acting, writing, directing and producing. 
He was named best director for his epic 1981 political saga 'Reds' but working with some of the greatest filmmakers he has made ten classic pictures covering a wide variety of genres. 
That includes rite of passage ('Splendor in the Grass'), western ('McCabe & Mrs. Miller'), crime drama ('Bonnie & Clyde', 'Bugsy'), political thriller ('The Parallax View'), political satire ('Shampoo', 'Bullworth'), comic book ('Dick Tracy'), romance ('Heaven Can Wait') and comedy ('Ishtar').
His leading ladies include many of the finest on screen including Julie Christie, Faye Dunaway, Natalie Wood, Vivien Leigh, Eva Marie Saint, Jean Seberg, Leslie Caron, Susannah York, Elizabeth Taylor, Goldie Hawn, Annette Bening, Diane Keaton and Isabelle Adjani.
He has never been afraid to surround himself with topline actors such as Jack Nicholson, Dustin Hoffman, Gene Hackman, Harvey Keitel, James Mason, Jack Warden, Al Pacino, Hume Cronyn and Charles Grodin.