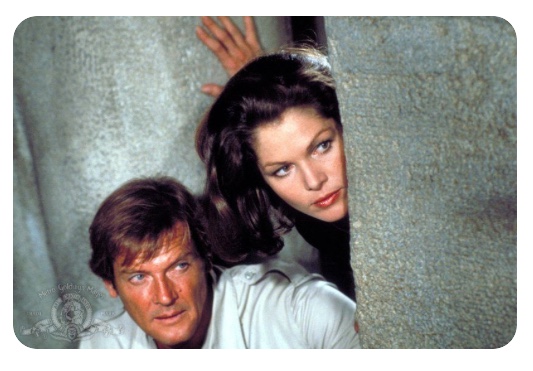 By Ray Bennett
LONDON – Lois Chiles, who turns 75 today, was the first American Bond girl as Holly Goodhead in 'Moonraker' opposite Roger Moore (above) but she told me that it hadn't done much for her career. 'Has it anybody's?' she asked.
She hoped it would catapult her into good film roles but, she said, 'it hasn't traditionally been a springboard because they are not necessarily films for actors. They're films for gadgets and sex and chases.'
She was not prepared for the hoopla that came with a 007 picture. 'We were in Paris for seven months,' she said. 'I got off the plane and all of a sudden all these people are coming at you asking all these questions with interpreters and everything and shoving lights in your face. Some people are great at it. Roger was super at it, great with one-liners but if you're a private person and you can only give straight answers, it's frightening.'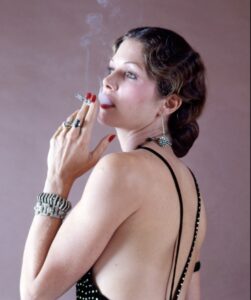 She liked her character despite the name Holly Goodhead because she was the first Bond girl who could run things as well as Bond could. It wasn't easy at first. 'They were absolutely lovely to me, sent me flowers and champagne and I had a beautiful hotel room,' she said. 'But they had been doing these films for a dozen years and there was a shorthand between Roger and the director Lewis Gilbert. They weren't used to the girl having any say-so in anything. It was always Roger and Lewis and hopefully you got on the set in time to hear what the deal was. It took me to about halfway through the film to say, wait a minute you guys, listen. It was fun after a while but it did take a while because you feel like an appendage or something.'
In fact, it was a comedown afterwards and she spent a long time in acting workshops before she joined the cast of the monster hit TV series 'Dallas' opposite Larry Hagman as J.R. Ewing.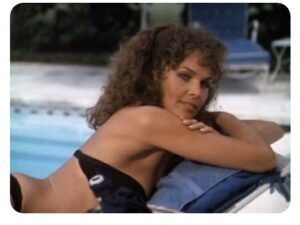 At first, she didn't know if her character, Holly Harwood, was a good girl or a bad girl. 'She was standoffish towards J.R. Ewing at the start but then she began to vamp him in a very skimpy bathing suit,' she said. 'It was strange because she was turning him down and suddenly now she's coming onto him. It was scary because you know, I'm not an exhibitionist  but then I decided, well, here goes. I put on that bathing and just walked out like I had a full dress on. Those love scenes were kind of tough. It's kind of embarrassing to be lying in bed with someone with a bunch of people watching you. But not with Larry because he is fun. It's not real romantic but we laughed and had some champagne.'
Born in Houston to an oil-rich Texas family, Chiles became a model in New York and Paris with the top agency Wilhelmina. She studied acting and landed her first movie role in 1972 opposite Clifton Davis in 'Together for Days', also noted for being the debut film of Samuel L. Jackson. She went on to a long career with many screen credits.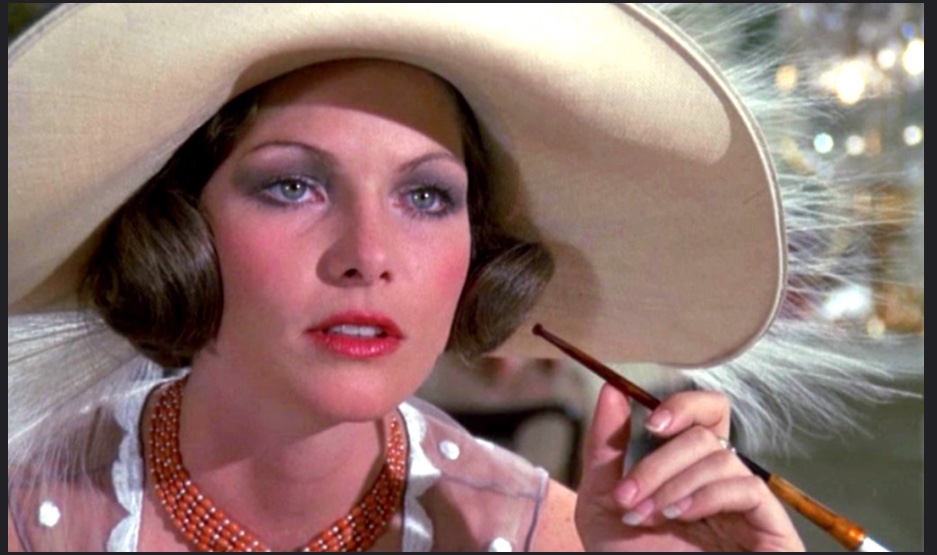 Her first real break was a featured role in 'The Way We Were' (1973) with Barbra Streisand and Robert Redford. Over a very pleasant lunch at Chez Helene in Venice, CA, in 1983, she told me that she didn't get to know Streisand well but 'I felt very protective of her, oddly enough. Me, protective towards her, right? But I did. I just wanted to hug her or something as she looked so fragile to me.'  
She played opposite Redford again as Jordan Baker in 'The Great Gatsby' (above) in 1974. Redford was wonderful, she said, but making 'Gatsby' was scary due to all the advance publicity the production had received. 'The whole fashion thing came out a year early and it was so over-publicised,' she said. 'I mean, when I got the film it was like the second coming because everything everywhere was about Gatsby. But I loved playing Jordan Baker. She was enigmatic but I always thought she was a great character.'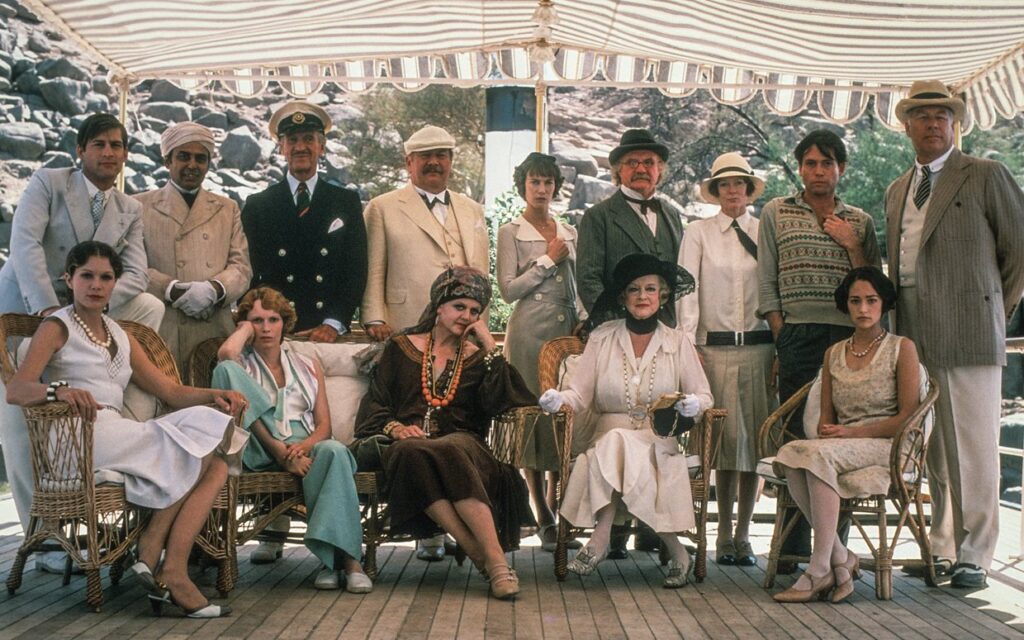 For three years afterwards, however, all she received were offers of lesbian roles. 'After a while,' she said, 'you get the semi-porn stuff, which I turned down although people thought I was insane.' She earned praise for her performance in Michael Crichton's 'Coma' (1978) and as part of the star-studded cast of John Guillermin's 1978 version of Agatha Christie's 'Death on the Nile' (above) with Peter Ustinov as Hercule Poirot.
'I was beginning to enjoy acting again and that was really something with Bette Davis and David Niven and all those people,' she said. 'It was fascinating going to Egypt and amazing to listen to their stories. Niven was so funny and Maggie Smith saying "I am not a well woman". She was so funny. All of us bumping around in this little boat on the Nile. Bette Davis was hysterical. This queen who had been on all the soundstages of Hollywood and now she's 70 or whatever, shrivelling up and just wonderful. I mean just such a trouper, her little bones creaking. I know my bones were creaking out there.'