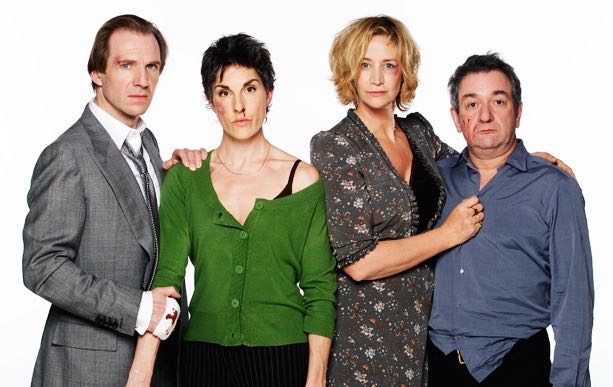 By Ray Bennett
A civilized meeting of two married couples to discuss the misbehavior of one of their children descends into an evening of virtual hand-to-hand combat in a star-laden production of Yasmina Reza's new play "God of Carnage" at London's Gielgud Theatre.
Ralph Fiennes, Tamsin Greig, Janet McTeer and Ken Stott play middle-class Parisians whose attempt to find out why one of their sons struck the other with a stick in a playground encounter begins with polite reserve and ends with blood on the floor.
The production is from the team that produced the 1994 theatrical hit "Art," which ran on Broadway for 18 months and won the Tony for best play. Christopher Hampton again translates Yeza's words, with direction by Matthew Warchus.
"Carnage" is entertaining and insightful with fine performances by the cast of four, but its examination of middle-class marriage and the thin veneer of civilization that holds society together fails to apply the scalpel where it would truly hurt. Edward Albee's George and Martha would have wiped the floor with this lot.
Alain (Fiennes) and Annette (Greig) at first appear keen to address the concerns of Veronique (McTeer) and Michel (Stott) over why their 11-year-old Ferdinand whacked his schoolmate Bruno in the mouth, causing the loss of a tooth or two.
It becomes clear, however, that lawyer Alain sees all children, including his son, as savages and wishes merely to pay for orthodontics and put the matter to rest. Veronique, a liberal author who writes about suffering in Africa, has something more in mind involving apologies and punishment.
Annette, who says she's in wealth management, and Michel, who runs a domestic hardware company, are supportive and conciliatory at the outset, each aware of the potential for sparks from their respective spouses.
But small haggling over whether Ferdinand was "armed with" or "furnished with" a stick or whether Bruno was merely bruised or disfigured for life lead to more serious disagreements until all-out war is declared.
There are some very funny lines, and all four performers delight in the power of well-constructed dialogue to both soothe and draw blood. At the end, the hypocrisies of both couples are laid bare, but at 90-minutes, the play hasn't enough time to go very deep and ends up offering neither catharsis nor harmony.
Venue: Gielgud Theatre, runs through June 14; Cast: Ralph Fiennes; Tamsin Greig; Janet McTeer; Ken Stott; Playwright: Yasmina Reza; Translated by: Christopher Hampton; Director: Matthew Warchus; Set designer: Mark Thompson; Lighting designer: Hugh Vanstone; Music: Gary Yershon; Sound designer: Simon Baker; Produced by David Pugh & Dafydd Rogers.
This review appeared in The Hollywood Reporter; Photo: Alastair Muir