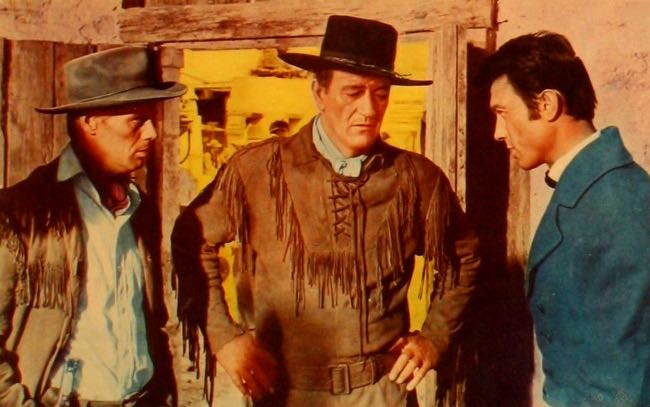 By Ray Bennett
LONDON – Richard Widmark, who has died aged 93, made an indelible impression as a psychopathic criminal in Henry Hathaway's 1947 Victor Mature vehicle "Kiss of Death". It won the Minnesota-born actor an Academy Award nomination as best supporting actor and kicked off a long career playing criminals and cops on America's mean streets.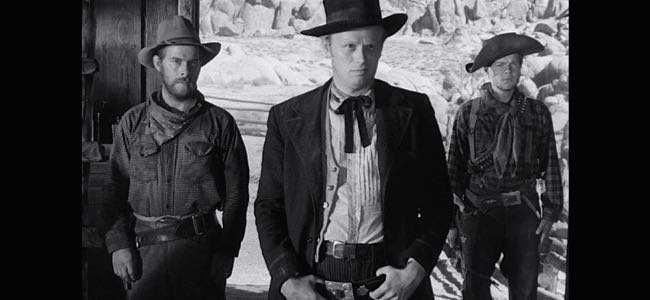 My favorite memories of Widmark with his killer smile and deceptively sly line readings, however, are in Westerns starting with William A. Wellman's "Yellow Sky" (1948, above) in which he competes with Gregory Peck for the charms of Anne Baxter. He's also outstanding in three Edward Dmytryk Westerns – "Broken Lance" (1954) with Spencer Tracy and Robert Wagner, "Warlock" (1959) with Henry Fonda (pictured with Widmark below) and Anthony Quinn, and "Alvarez Kelly" (1966) with William Holden.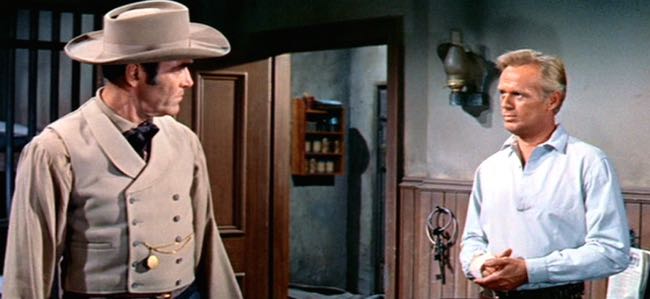 Widmark made "Backlash" (1956) and "The Law and Jake Wade" (1958) for John Sturges, the latter starring Robert Taylor and the redheaded Canadian beauty Patricia Owens. John Ford directed him in 'Two Rode Together' (1961) with James Stewart and "Cheyenne Autumn" (1964) but while Ford shot the opening Civil War episode of the 1962 Cinerama epic "How the West Was Won," Widmark is in the terrific railroad sequence directed by George Marshall.
The blond actor's performance as Jim Bowie is the best thing in John Wayne's bloated "The Alamo" (1960) with Wayne and Laurence Harvey (pictured top) and he has a good time with Kirk Douglas and Robert Mitchum in Andrew V. McLaglen's "The Way West" (1967), which also sees Sally Field's feature film debut.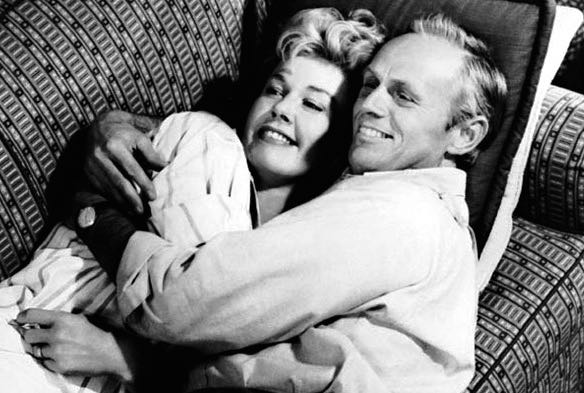 I have a soft spot for his stab at romantic comedy opposite Doris Day (pictured above) in "The Tunnel of Love" (1958) directed by Gene Kelly and for his wonderfully droll performance as a colorfully ruined dentist in Richard Quine's "The Moonshine War" (1970). An acquired taste, the latter is an oddball picture, scripted by Elmore Leonard from his own novel, that also features one of the rare movie outings by the great Patrick McGoohan (pictured with Widmark below) as a duplicitous ex-revenue agent.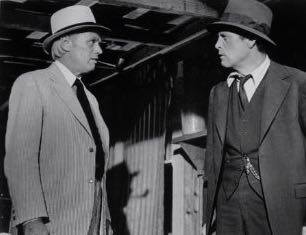 Widmark never quite made it to the top flight of Hollywood leading men but he ranks with the likes of Mitchum, Robert Ryan, James Mason and Jack Warden as performer who always make even bad pictures worth seeing, which is more than you can say of most.
Here's Widmark's obituary in the New York Times