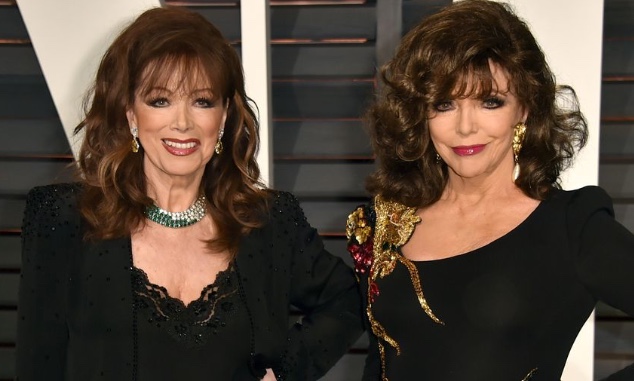 By Ray Bennett
LONDON – Novelist Jackie Collins, who was born 85 years ago today, wrote about the problems women faced in Hollywood long before the 'me too' movement came along.
Younger sister of Joan Collins, she was known for sexy blockbusters such as The Stud', 'The Bitch' snd 'The World Is Full of Divorced Women' and her tinseltown series including 'Hollywood Wives', 'Hollywood Husbands' and 'Hollywood Divorces'.
From the time her first book, 'The World is Full of Married Men' raised the ante on Sixties romantic novels with its sexual content in 1968, she grew to a level of fame that exceeded Joan's until her older sister was cast in the hit 1980s primetime soap 'Dynasty'.
Following Joan  to California, Jackie saw Hollywood as a mix of glamorous people and lots of struggling actors and actresses, she told me when I interviewed her for Inside Books magazine in 1988. More interested in writing than acting, she did go on auditions at first.
'There were a lot of fat old men saying, well, do you want the role? Pull up your skirt, let's see your legs, let's have dinner tonight – that sort of thing,' she said. 'Because I was an out-of-work writer trying to be an actress with no enthusiasm whatsoever for about a year, I got this wonderful insight into the way men treated women.'
She found most men to be completely predictable. 'It's the same in any business,' she said. 'Publishing is full of men in their 50s and 60s who hit on every little 22-year-old college graduate who comes to work."
The Seventies explosion in pornography, Collins argued, was in direct response to the women's movement as it gathered strength. 'That's when porno magazines got really, really bad,' she said. 'I'm not talking about Playboy and Penthouse but the really sleazy ones that were sold under the counter. It's like men said, okay, baby, you want freedom, we'll give you freedom. I think men had a problem with the fact that women wanted to be strong.
Men just didn't know what to do with Women's Lib. 'It's all very subliminal, of course,' she said. 'If you remember, when Women's Lib really came to the fore, that's when they started to make all those slasher movies. It was always young, beautiful girls out in the forest with some guy who would come along and kill ten or twenty college girls. They were very successful because men wanted their women to see these films to give them the subliminal message, if you get out of hand, baby, this is what's going to happen.'
What Collins aimed to show in her books, she told me, was to show the unfairness of the double standard and why women wanted a more equal sexuality. 'A lot of men have been frightened by the whole thing and become womanisers,' she said. 'What I like to do is show a guy who's an asshole and turn him around during the course of a book so he's a prince at the end of it.'
Jackie Collins died of breast cancer in September 2015.