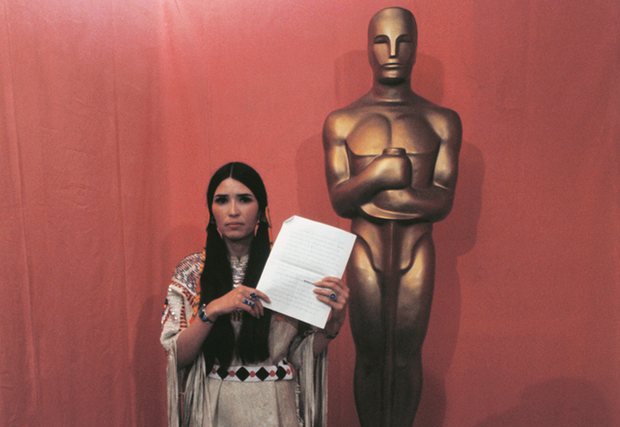 By Ray Bennett
LONDON  – Sacheen Littlefeather, who has died of cancer aged 75, was known as a very serious social activist on behalf of  Native Americans but she had a great sense of humour, especially regarding her upbringing and a brush with Playboy Magazine.
She was the Indian woman Marlon Brando sent along to theAcademy Awards show in 1973 because he thought that an Oscar as best actor for 'The Godfather' was an offer he could refuse. It was, he said, to draw attention to the treatment of Native Americans in movies and protests at Wounded Knee.
It looked like a marvelous publicity stunt for the young actress who was going nowhere fast in movies and happened to be exceptionally pretty and Native American. One year later, when I interviewed her in Detroit, she insisted that it wasn't for the attention. 'Publicity for me was not my reason for doing it,' she said. 'It was simply a favour for a friend.' 
The incident with the Academy Awards had good and bad results: 'On the positive side,' she said in 1974, 'I became known because of a sixty-second speech but the negative was that people began to think I was a militant activist, which I'm not. I got caught in a political crossfire and people were not offering me jobs.' 
Things improved for a while with small roles in movies including Tom Laughlin's phenomenally successful 'The Trial of Billy Jack', in which she played an activist Native American lawyer, and roles in 'Johnny Firecloud', with Ralph Meeker and Vic Mohica, and 'Winterhawk' with Leif Erickson. Later, she did focus on social activism and worked in the health field.
Littlefeather laughed a lot when she talked to me, her brown eyes shining above high Apache cheekbones. Things were not always so easy to laugh at. Her mother, the daughter of a German Catholic couple, married a White Mountain Apache named Cruz, who died when Sacheen was very young. 
'I was raised by my mother's parents,' she told me. 'My mother's name was Marie and I was named Marie too but everyone calls me by my nickname, Sacheen. My father was the Indian in the family and our tribe all have Spanish names because the Spanish Christians conquered us in the South West. They call us the "chili-eaters of the South West" and we are a different kind of Indian. The Plains Indians are pretty tall but we are not. My mother is five-feet tall and I have the build of my mother and the face of my father. People ask me, "Are you Indian?" and I say, "No, I'm Apache."' 
Growing up, her home in Salinas, California, was a cardboard shack. 'Poverty has a way of bringing down racial barriers,' she said. 'I had tuberculosis when I was 4 and trench-mouth and scabies; they were just a thing you got whether you were clean or dirty. I thought everyone got them. There was no indoor plumbing, no bathroom. When I was 7, we got our first toilet. I brought the neighbours in to show them. I used to flush the toilet as a treat. It was a crazy way to grow up but it taught me a lot. I thought I grew up in a neighbourhood but I found out it was a ghetto. When you grow up in poverty, you need a sense of humour to survive. That's one thing everybody can do … everybody can laugh and I love to laugh.'
A sense of humour came in handy when she found herself naked on Mount Tamapatas high above the Golden Gate Bridge in San Francisco posing for Playboy Magazine. She told me,  'People ask me if I got much exposure from doing that and I tell them, yes, and I also caught a cold.'
A freelance Playboy photographer had taken some pictures of her about a year and a half before the Oscar event, she said, 'but Hugh Hefner didn't think they were erotic enough. I told them that was as erotic as I got.'
After all the Oscar publicity, of course, Playboy's view of her changed. 'I had signed a model's release so I had to go along with the whole programme,' Littlefeather said. 'At the shoot, the photographer had been wearing a down coat but I was standing there with nothing on and it was 35F degrees. I was shaking, freezing. We did about 750 shots altogether. My husband had set up the working arrangements with Playboy and he didn't mind. He yawned. But I'd never do anything like it again. Not because of any criticism but because of the cold.'