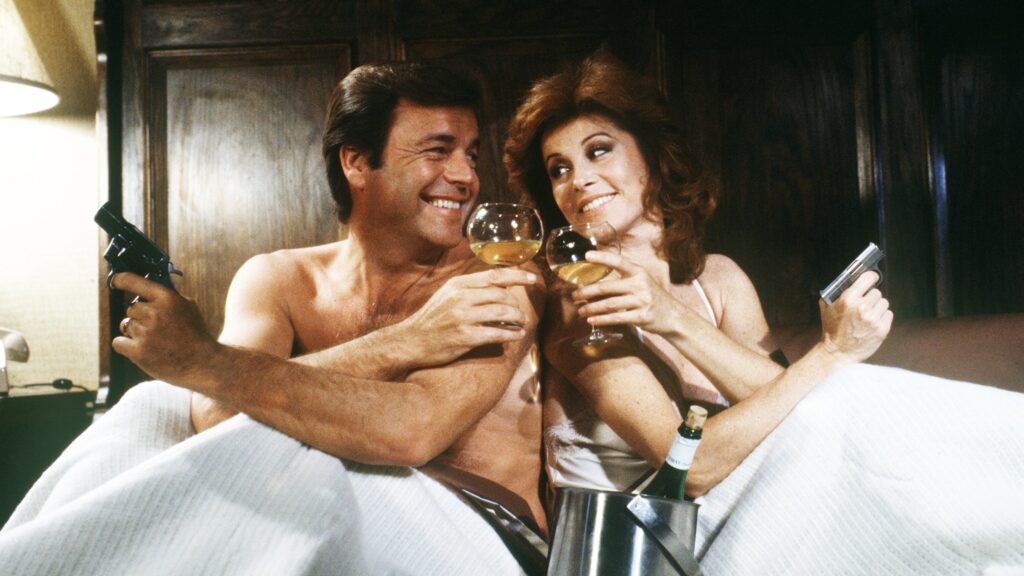 By Ray Bennett
LONDON – I spoke to Stefanie Powers, who turns 80 today, a few times on the set of her hit TV series 'Hart to Hart' with Robert Wagner (above) but my favourite encounter with her was an interview in which we barely spoke of showbusiness at all.
It was in March 1977 over lunch on the sunny terrace of a restaurant in Detroit. We were there to talk about her new ABC-TV series 'The Feather and Father Gang' (below left) for a story in The Windsor Star newspaper. The show's publicist grew increasingly exasperated as I encouraged Powers to talk about her travels with Bill, her then partner, movie star William Holden (pictured below).
The Oscar-winning actor was 59 at the time and he would die aged 63 in 1981. Powers would be married, divorced and have relationships with others over time but I had a clear impression of how she felt about him when we met. Then 34, she confessed to having been a longtime fan.  He was  less interested in the film world than she was,  'I love the movies and Bill always laughs at me. When I take "Jaws" or something seriously, he goes into hysterics. He's a wonderful man. He's terrific.'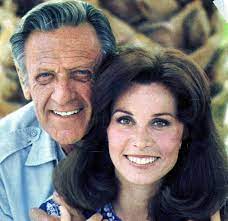 The actress was more than happy to oblige me  talking about pub-crawling in London with Holden and their regular Chinese driver acting as guide and she described taking hairy rides in single-engine planes to landing strips without radar in Papua, New Guinea
Powers and Holden had been busy the last little while trying to create and sustain a cottage industry in New Guinea based on its tradtional art forms.
Holden developed an interest in Papua in 1974 when he, along with oceanographer Jacques Cousteau and novelist James Michener, had gone there to try to save certain animal species threatened with extinction.
A show of the New Guinea art they imported had been staged at Bloomingdale's, the posh New York department store, the previous fall and a lot of pieces were sold. But the cost of doing it, Powers said, was almost prohibitive.
'The handling, the packaging, the brokerage fees were enormous,' she said. 'With the least amount of interest or impetus, we'd do it again but we'd have to have our own warehouse to store, clean and repair the works and send them off to particular markets. I don't know if I'm prepared to invest that amount of money. I'd get that much.'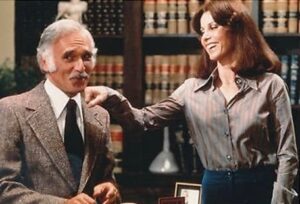 One of the things with primitive art, she noted, was that it needed someone to be able to talk about it. 'The value is in the fascination with where something originated,' she said. 'It's no good seeing something you'd like for your wall and when someone asks where it's from, you can only say you don't know, you got it at Bloomingdale's.'
Their attempts had not, she said, been completely successful but she believed it could be done. 'That, I think, would give me as much fulfilment as anything in my life. If we are successful in our endeavour there, because it started out as a dream. That would give me a lot of satisfaction.'
We were an hour into the interview before Powers saw the expression on the poor publicist's face and said, 'I guess we should talk about the show.' 
It turned out there was little reason to. 'The Feather and Father Gang' was one of the crime comedy capers popular at the time. Powers played the daughter of a con-man (Harold Gould), who became a lawyer and helped him go straight as her investigator. The show lasted fourteen episodes.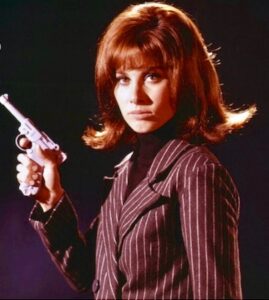 Daughter of a Polish emigant who settled for a time in Canada before going on to California where he met her mother. Stefania Federkiewicz was a cheerleader at Hollywood High School and when she began auditioning for roles changed her name to Stefanie Power. 
At 19, she landed a couple of Sandra Dee pictures and a year later won roles in Blake Edwards's 'Experiment in Terror', with Glenn Ford and Lee Remick, and 'McLintock!' With John Wayne and Maureen O'Hara.
TV parts followed in shows such as 'Bat Masterson', 'Bonanza' and 'Route 66' before she was signed for the lead in 'The Girl from U.N.C.L.E.' (above left), which ran for twenty-nine episodes in 1966-67. She appeared with David Janssen and Joan Collins in director Buzz Kulik's excellent little thriller 'Warning Shot' and co-starred in 'The Magnificent Seven Ride!' with Lee Van Cleef and George Kennedy and in 'Herbie Rides Again' with Helen Hayes and Ken Berry
She kept busy in the seventies with guest TV guest spots – 'Cannon;, 'The Mod Squad', 'Barnaby Jones', 'Harry O' and 'The Rockford Files' – before 'Feather and Father' came along and she was glad for the stability it offered. It was insight into what life was like then for jobbing actors.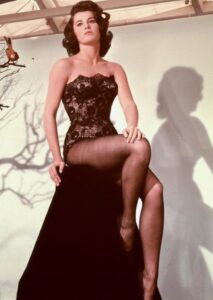 'I was doing so much television anyway and the advantages of a series are manyfold,' she said. 'Number one is that you always know where you're going when you got up in the morning. That is not said lightly. You feel like you have a home momentariy. You're not schlepping your baggage around the city to a different studio every week. Then, you are a sort of displace person, a magician who comes in with his bag od tricks, does his little magic act and goes away. In series TV, there's a sustaining gear you get into.'
Then there was the matter of money: 'The remuneration in TV is not what it once was for guest performers. Everyone's salary has been going up except the gues artists. We're getting paid less now than we were ten years ago. And, how many of those can you do in a year before people say everybody's seen too much of you. There's a law of diminishing return and that can be a dangerous thing when you make your living acting. It places you in a precarious position having to scramble. I don't think that's good for sustaining any normal emotional life and nor is it good for the brain. You begin to lose your perspectives and you can also lose a good performance that's wasted on a show that doesn't mean anything.'
The big performance in the family at the time was William Holden's in the feature film 'Network'. I asked if she thought he would win and she smiled. 'I don't know. I only know we have to go.'
If it turned out that way, Holden was hoping to accept the award for Peter Finch. 'He wants to say some things, he's told me, and they need to be said. Peter's death was so untimely. There was never really a kind of final statement, something that completed the act. God, it happened so fast at such a bad time. But, of course, there's never a good time for death, is there.' Finch won and Holden's words went unsaid.
Powers went on to co-star with Cliff Robertson, Jason Robards and Robert Vaughn in a well-received miniseres titled 'Washington Behind Closed Doors' and made the adventure film 'Escape to Athena' with Roger Moore, David Niven and Claudia Cardinale. Along came 'Hart to Hart', which ran for five seasons followed by several TV-movies, and over a long career her credits include  miniseries including 'Mistral's Daughter' and 'Hollywood Lives'.