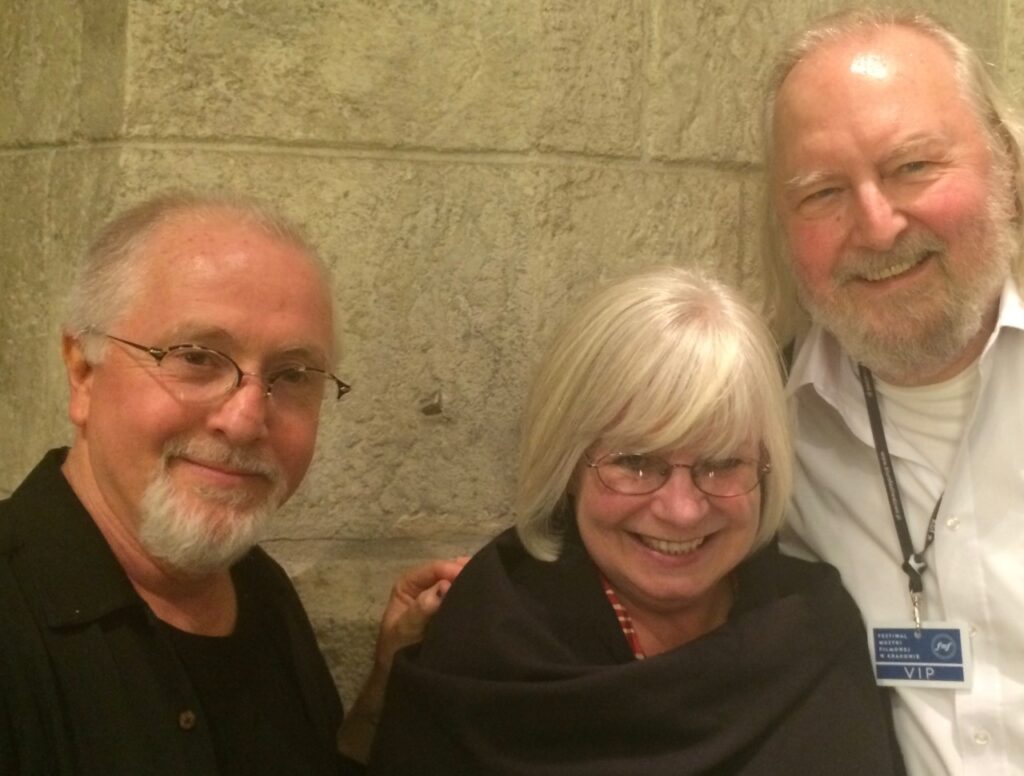 By Ray Bennett
LONDON – Anyone who has spent time with film composer Patrick Doyle (above with wife Lesley and me) knows that he is one of the funniest men alive. Not so many know that his sense of humour played a large part in keeping him from an early death.
The diminutive Scottish music-maker, who turns 70 today, has an ebullient personality with a ready wit and infectious laugh. They match the thrilling themes and melodies he has conjured for a wide variety of films from the fantasy of 'Harry Potter and the Goblet of Fire' to the romance of 'Sense and Sensibility' to the perils of 'East/West', the irony of 'Gosford Park' and the drama of 'Hamlet'.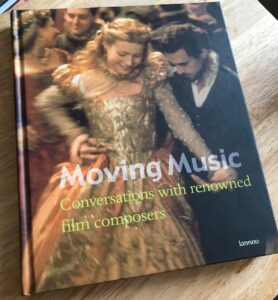 His cheerfully mordant view of mortality along with the love of family and friends and a gift for creating music sustained him through a five-year fight against myeloid leukemia diagnosed when he was in his 40s. In 2003, I spent an afternoon with Patrick at his office/studio at Pinewood Studios for an interview commisioned by the Flanders International Film Festival in connection with the World Soundtrack Awards for a book titled 'Moving Music: Conversations with renowned film composers'.
He described his illness and the precise day of his full recovery in his inimitable way.
'My wife, Lesley, and I, between us, virtually diagnosed myself. She looked it up in a family health book, all the symptoms. She said, "I think you have leukemia." I'm a hyponchodriac anyway so I asked for a blood test and got in right away. I was told on the phone. I couldn't believe it. It was horrible. You're supposed to be told that stuff gently.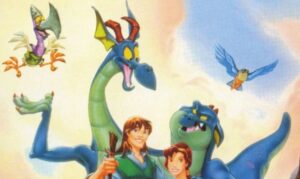 'I was in hospital on and off for five months, St. George's in Tooting. It was a horrific time of my life but I managed to write a film score while I was doing my first two months of chemo. It was for "Quest for Camelot" (left). When people go into hospital, they go stir crazy, as you can imagine. I couldn't read. I couldn't watch TV. I couldn't watch videos. I couldn't listen to tape-recorded books. I couldn't even read The Sun. The only thing I could do was write music.
'I had my builder come in and he replicated a synth/computer set-up and above the bed he made shelves of melamine board because your environment is completely sterile. You have special filtered air because you have no immunity. They destroy all your white cells because they're camcerous so every day they gave me a special solution and I had to wipe it down. No one was allowed near it.
'I "presented" very well. You hear this word a lot in "E.R." I presented very well. I always thought that was a funny word. People would come in wearing their good suit. "How does he present?" "He presented very well." Nice hat, nice shoes. Lovely. Dying of leukemia but he looked fabulous. That word "presented". They'd come in and ask how I was feeling. "Hi, I've got leukemia, how do you think?" It's all these stage terms they use in hospita;s – the theatre, he presented very well.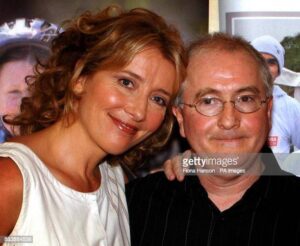 'I heard it and said, excuse me, what is this, a fashion show? "He presented very badly. Even though he was dying of cancer, he presented very badly." I couldn't help but see the funny side of it, I don't know why. Emma Thompson (with Doyle left) sent me a long black wig and a wee coffin with a skeleton in it. The staff were horrified. I laughed like a drain. She sent me a photograph from a horror movie she did. There was a guy lying in a bed and she lifts the covers. A bubble quote said, "Ohmygod, it's Pat Doyle!" Of course, the staff were horrified.
'The director of "Quest for Camelot", Frederik Du Chau, was great. Because it was animation, it was a locked picture; no changes. They pushed the schedule another four weeks for me, which was fantastic. That was Warner Brothers. All the hospital staff and everybody came to the premiere. It was bizarre. The three professors said they'd never, ever, in their whole experience seen anyone be able to do anything intellectual during treatment. One said, " I just can't believe you did all this while you were there." Don't ask me how I managed to do it. It was wall-to-wall music, more than an hour.
'But then came the third treatment and that's an horrific treatment. That's when the deperession came. That was a tough, tough time but you get through it. The third of the third '03 was D-day for me: five years. It was a horrible time of my life. After that, the theory is that if you're ever ill again then it's a new disease. I feel fantastic now.'
I was with Patrick in Gent, Belgium, when 'Moving Music' was published. When fans asked him to autograph their copy he said with typical generosity, 'You should ask Ray, he's one of the writers.' He signed my copy.