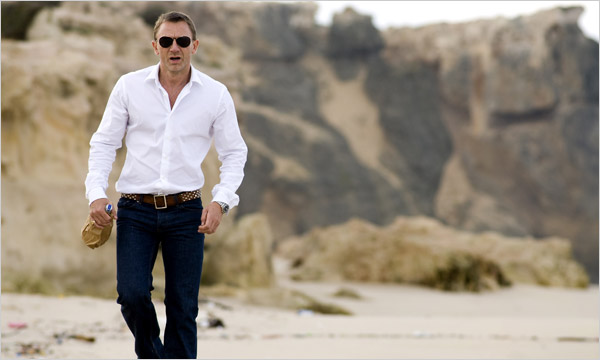 By Ray Bennett
LONDON — A burned-out movie star recalls the youthful trauma that drove him away from home in "Flashbacks of a Fool," which despite a clunky title and a conventional structure proves a welcome diversion from 007 for Daniel Craig.
Debunking his own superstar image, Craig plays Joe Scot, a Hollywood hunk whose taste for high-priced drugs, liquor and hookers is ruining his career. When he gets word of the death of a childhood friend, he swims into the ocean and floats not only out to sea but also back in time.
Set in England but filmed on the west coast of Cape Town in South Africa, the film has attractive scenery and appealing players, and new writer-director Baillie Walsh, a music video veteran, delivers surprises amid the flashbacks. Craig's name and a soundtrack that features Roxy Music and David Bowie should help drive the picture to rewarding if not spectacular boxoffice returns.
Harry Eden plays the actor as a young man and it's a good piece of casting as he not only looks as if he might grow up to resemble Craig but also he has some of the James Bond star's charisma. The story is of young Joe, his best buddy Boots (Max Deacon) and their rites of passage involving the winsomely innocent Ruth (Felicity Jones) and the sinfully seductive Evelyn (Jodhi May).
Walsh creates a credible little seaside community with Joe's widowed mother (Olivia Williams), sister Peggy (Helen McCrory) and a bothersome but kindly old neighbor (Miriam Karlin). Craig features in the first and last acts showing the movie star's corruption in the beginning and his attempt at redemption at the end, and he does a solid job. The middle act is all about the kids, and Eden does well in the company of two fine young actresses, Jones and May.
The dramatic event at the core of the story is staged powerfully. While the film leans toward sentimentality, the strength of the performers makes it palatable.
Cast: Daniel Craig; Ophelia Franklin; Harry Eden; Olivia Williams; Helen McCrory; Jodhi May; Keeley Hawes; Emilia Fox; Mark Strong; James D'Arcy; Claire Forlani; Felicity Jones; Max Deacon; Director, screenwriter: BaillieWalsh; Director of photography: John Mathieson; Production designer: Laurence Dorman; Music: Richard Hartley; Costume designer: Stevie Stewart; Editor: Struan Clay; Producers: Lene Bausager, Damon Bryant, Genevieve Hofmeyr, Claus Clausen; Executive producers: Daniel Craig, Robert Mitchell, Sean Ellis, Brian Avery, Susanne Bohnet, Jay Jopling Production: Left Turn Films; No MPAA rating; Running time, 113 minutes.
This review appeared in The Hollywood Reporter.