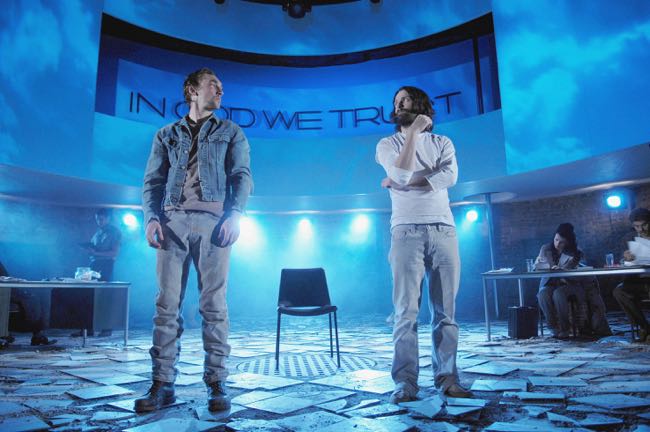 By Ray Bennett
LONDON — An appeal in the case of the apostle who ratted on the messiah in the story of Jesus Christ becomes an electrifying examination of faith and redemption in Stephen Adly Guirgis's excoriating play "The Last Days of Judas Iscariot" at London's Almeida Theatre.
Directed by Rupert Goold ("Macbeth") and featuring a sensational performance by Scottish actor Douglas Henshall ("Primeval") as Satan, the play is set in a kind of cosmic night court with a floor of cracked shale and a dungeon that leads to hell.
Saints testify on a balcony while video images play in the background. Witnesses include Pontius Pilate (Ron Cephas Jones), Mary Magdalene: Poppy Miller; Mother Theresa (Dona Croll) and Sigmund Freud (Josh Cohen).
American playwright Guirgis, a member of New York's LAByrinth Theater Company, comes to grips in the play with important questions of betrayal and forgiveness while mixing moving testimonies with wildly comic exchanges.
Each character is paying one penance or another for real or perceived sins including the impatient judge (Corey Johnson), neurotic defense counsel Cunningham (Susan Lynch) and tortured Egyptian prosecutor El-Fayoumy (Mark Locker).
The play begins with Iscariot's mother (Amanda Boxer) plaintively mourning her son and questioning a God of love that would condemn her misguided son to eternal torment. Then begins the hearing that pits God and the Kingdom of Heaven against a Judas Iscariot (Joseph Mawle, pictured top with Edward Hogg as Jesus) who is portrayed as catatonic with guilt and grief.
Jesus is seen as an ethereal presence as the various characters rely on the four gospels to establish what might have happened. But the cunning examination and frequently outrageous interplay, with a great deal of scurrilous language, reveals a fine intelligence at the play's heart.
Director Goold manages sudden changes in mood and tone with remarkable assurance, which serves to blend seemingly incongruous elements smoothly, especially in the ruminative final scene.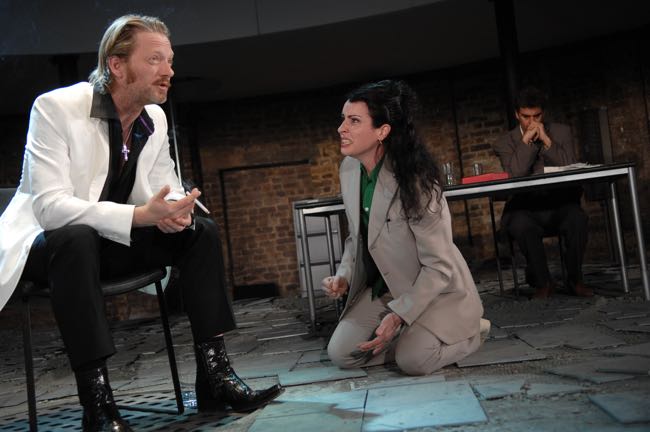 The acting is fine throughout with Henshall (above with Lynch) devastating as the smoothest, most debonair Lucifer. Elegant with a touch of goatee and the air of a southern gentleman, he scorches the stage with sentences that emerge with delicacy and appear to catch fire as their meaning penetrates.
Mawle has several scenes in which Iscariot's suffering is made plain through agonized silence while Lynch and Lockyer spar with increasing comic savagery. Jones is a suave and manipulative Pilate; Gawn Grainger is haunting as a deviously self-justifying Caiaphus the Elder; and Jessika Williams delivers needed respite as a wise and sassy Saint Monica.
Venue: Almeida Theatre, runs through May 10; Cast: Joseph Mawle; Douglas Henshall; Edward Hogg; Amanda Boxer; Dona Croll; Corey Johnson; John Macmillan; Susan Lynch; Mark Lockyer; Jessika Williams; Poppy Miller; Ron Cephas Jones; Shane Attwooll; Josh Cohen; Gawn Grainger; Playwright: Stephen Adly Guirgis; Director: Rupert Goold; Lighting: Howard Harrison; Music and sound: Adam Cork; Video and projection design: Lorna Heavey; Presented by the Almeida Theatre Company sponsored by Coutts.
This review appeared in The Hollywood Reporter. Photos by Hugo Glendinning.